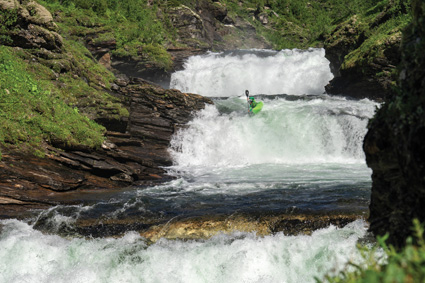 A shared dream to make a film that could help others to look at rivers in a new way inspired Joe Fender and Joe Rea-Dickens to make The River of Mirrors which will have its local premier at the Electric Palace in early May.
An engrossing trip from river to sea through peaceful flowing pools and white water rapids, the film is described as 'a modern revival of the soul and style of pioneering surf films of the 1970s—a paddlesports vision reimagined to create a world first cinematic experience that looks beyond adrenaline and ego.'
After meeting whilst kayaking in Scotland in 2016 the two Joe's quickly established that they both loved the medium of film as well as being passionate kayakers. Joe Fender was studying Painting and Printmaking at the Glasgow School of Art at the time and Joe Rea-Dickens had been making kayaking films and working as a videographer for Palm Equipment, a UK kayaking brand.
Fast forward to the first lockdown and after a few years of travelling internationally they found the time to sit down and write the dream film they had been talking about making for so long.
'The River of Mirrors was born out of a deep desire to create the film we wanted to see' explained Joe Fender. 'Something different that shared our experiences and vision of a life inspired by rivers. It's a push back against vlogs, social media and the same old story structure of extreme sports documentaries.'
Just a short time into the 38 minute film the viewer gets a creeping sense of other worldliness as a lone kayaker drifts slowly through sheer-cliffed canyons. A glimpse of nearby planets on the horizon and kaleidoscopic film effects reinforces the feeling that this is not a day trip down the Thames. The changing terrain of slow moving water, white water rapids and waterfalls are drivers of moments of eerie peace and white-knuckle excitement as the journey unfolds. 'We focus on the river as the main character and the kayaking takes place around this' said Joe Fender. 'It's not to be consumed, rather an experience that touches the essence at the heart of a river journey. Contrary to the mainstream sports media it is an art house film with kayaking—a meditation on water.' A phenomenal original score from Cardiff jazz outfit Slowly Rolling Camera adds a powerful extra dimension.
The pair's debut film, they describe it as 'a huge passion project' and hope that it 'acts as a springboard into the film world from which there will be opportunities to fund and make more films based around our love of water.'
They hope The River of Mirrors inspires people who don't have a relationship with rivers to look at them differently. Their wish is for those that do, 'to create new perspectives and motivate projects outside of well-travelled narratives.'
Joe Rea-Dickins is currently researching for a U.K. rivers guidebook while Joe Fender is dreaming up plans for a long river expedition while continuing to guide and teach kayaking internationally to help fund projects like The River of Mirrors.
The film will be shown at The Electric Palace in Bridport on May 3rd. The programme also features short films Vendor Beast by Finn Rabbitt Dove and The Invisible Water by Momen Nabil. 8pm. For tickets phone 01308 424 901.