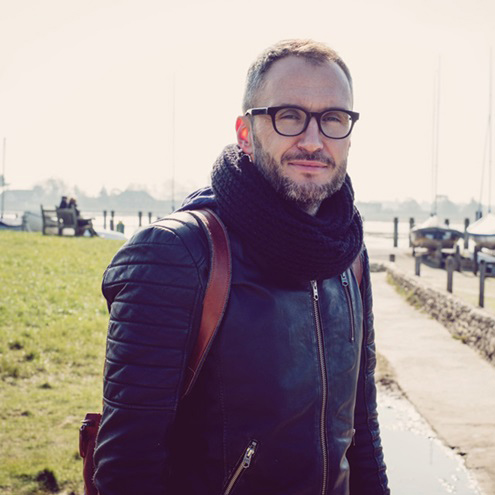 As a designer and photographer, Mike Kus finds inspiration comes from everywhere. He talked to Fergus Byrne about his journey from fine art to graphic design, and then coding. Mike will be selecting exhibitors for the Digital Media category of the 2023 Marshwood Arts Awards.
British graphic designer and photographer, Mike Kus, has produced work for clients as diverse as a Jason Flemyng vampire movie to the online ecommerce software business 'Shopify'. Once commissioned by Getty Images to produce a series of posters he used a combination of bold and colour graphic design, typography and imagery to create intrigue and impact. Mike says he was initially inspired by 'contemporary legend' American designer David Carson, a designer who once said that 'if everybody loves your work, you're playing it much too safe'.
Mike is a regular speaker at design and tech conferences and will be selecting exhibitors for the Digital Media category for this year's Marshwood Arts Awards and John Hubbard Prize.
While the word 'digital' denotes work that encompasses some form of electronic technology, Mike's background wasn't always quite so contemporary. 'During my college and university years, my inclination towards technology was rather limited' he says. 'While I dabbled in music production and utilised music editing software, my visual creative work predominantly involved traditional hands-on painting. I also did analogue photography. It wasn't until after completing my education that I jumped into the world of tech.'
He pursued a Bachelor of Arts with Honours at Chichester University, specialising in Related Art & Art and says that while his primary focus revolved around fine art and painting, the course encompassed a diverse array of creative disciplines. 'While painting remained the core of my artistic endeavours, I drew inspiration from a multitude of creative areas of the arts.' It was only when he took a position at The Body Shop after University that he began to use design software which would then become 'integral to my work over the next 25 years.'
His passion for music and album artwork fuelled his creative drive and his use of digital photography led to a commission for a book. He was approached by Laurence King Publishing to write a book which initially didn't revolve around mobile photography. 'However, I Iove the idea of lowering the barrier to entry to the creative fields' he says. 'So consequently, I decided to shift the focus of the book towards mobile photography. This adjustment aimed to create a photography book that is accessible and empowers individuals to express their creativity.' The book The Pocket Photographer: How to take beautiful photos with your phone was published in 2021.
Empowering people to express their creativity is one of the reasons for the very existence of The Marshwood Arts Awards and the Digital Media category—which includes film, digital photography, graphic design and digital illustration—today benefits from a range of software facilitated enhancements that includes artificial intelligence. The recent story from the Sony World Photography Award, where one of the winners elected not to accept his award as his entry was produced using AI shows that the category needs to embrace the complexity of our creative future. Mike says that over the past decade he has greatly benefited from advancements in photography and film editing software. 'These technological innovations have made significant contributions to both my artistic output and creative process. Currently, the notable tech revolution is AI, which is causing both excitement and fear in the creative space. I am actively experimenting with and assessing its potential impact as it continues to unfold.'
But for him the jury is still out on AI. While he has experimented with it and found it enjoyable to use he is still in the process of determining how it can integrate into his own workflow. 'I have used AI for generating ideas and as a kind of stock image generator. But I'm still trying to work out my relationship with it. I do however believe that AI will leave a more profound impact on our society than even the internet. It's undeniably the next technological revolution. I think it will change many aspects of our lives in a big way.'
In his own work Mike aims to craft distinctive and meaningful work for his clients, often venturing into creative areas that may not come naturally to him. He believes that taking on challenges and stepping outside his comfort zone is good for both personal and professional growth.
So what does he say to aspiring photographers and designers? 'For aspiring creatives and designers of the future, my advice is to remain authentic to yourself and pursue the work that truly resonates with you. The work you choose to share plays a significant role in showcasing your unique creative identity to potential clients or employers, as well as demonstrating your capabilities. Also, I would encourage you not to shy away from exploring new tech. Embracing new tools and techniques can often lead to unexpected opportunities and open doors that you may not have initially expected.'
He also sees the benefit of entering initiatives such as Arts Awards. Many selectors over the years have echoed the suggestion that the process of having to focus on entering an Arts Award competition has been very beneficial in galvanizing artists and makers who are often working inside a bubble. Mike goes beyond that: 'Participating in arts awards offers many benefits beyond just showcasing your work and potentially winning accolades' he says. 'It provides the opportunity to engage with a vibrant artistic community, receive valuable feedback, and make new connections and friendships.' He says that while 'gaining visibility for your work is undoubtedly a good thing, the true value lies in the meaningful connections and relationships formed during such events. The chance to interact with like-minded individuals, share insights, and build a supportive network is often the most rewarding outcome of being involved in arts related events of this kind.'
All photographs © Mike Kus.
Entry is now open for the 2023 Marshwood Arts Awards and John Hubbard Prize. To enter visit www.marshwoodawards.com or email info@marshwoodvale.com to request more information.