Shining the spotlight on artist's cinematic landscapes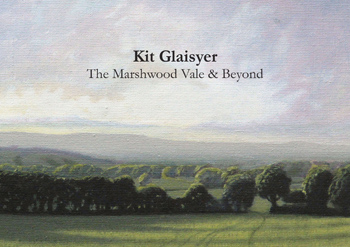 Artist Kit Glaisyer has just brought out a book featuring his striking paintings of the West Dorset countryside. Margery Hookings finds out more.
The vast cinematic landscapes by Kit Glaisyer make an instant impression.
They capture the magical majesty and unquestionable beauty of this special part of the world. There is something about the light, the composition and their sheer size that make them a match for the very countryside they represent.
His new book presents a series of his oil paintings of the Marshwood Vale and beyond from 2005 to 2021. It's a body of work inspired by his childhood in North Dorset and his love of the West Dorset countryside, where he has lived for more than 20 years.
He says: 'I've been an artist all my life, devoting myself full-heartedly to my art. I've struggled, persevered and surmounted many challenges facing an artist, using a combination of passion and conviction, along with a tenacious entrepreneurial spirit, in order to realise dreams I've had since I was a boy.'
He describes the series of landscape paintings as 'an earnest and enthusiastic hybrid of past and present'.
He started out as a plein air painter, nurtured by his parents who were both talented artists, though neither went to art school or pursued art as a career.
'My father, a GP based in Cerne Abbas, West Dorset, would carry a small watercolour set in his car so that he could stop and paint local landscape views between visits to his patients,' Kit recalls.
'At home, he would then explore the views from nearby fields and, once I was old enough, I began to accompany him on his painting excursions.
'After working for an hour or so at opposite ends of a field, we would meet up to see what the other had done, and this was really how I began to learn what did and did not work in a painting, and thus to develop my abilities to better achieve painterly expressions of mood, drama, and nuance.'
Those early experiences made him appreciate how creating an accomplished outdoor painting was not just about capturing the likeness of a scene but deeply examining the subject matter and using his imagination to create something truly distinctive and memorable.
'Working alongside my father's highly accomplished paintings also made me demand more of my own work, striving to accomplish something truly distinctive and surprising by tweaking the composition, improving my observational drawing and honing my palette to maximise the visual impact of the image.'
As a child, Kit won an art scholarship to Sherborne School for Boys.
He says: 'I'm lucky to have benefited from a private school education, but I didn't particularly enjoy my school years, and I've never utilised any 'old boys' network, only really feeling that I'd found my 'tribe' when I joined the Foundation Studies Course at Bournemouth & Poole Art College.'
He went on to Farnham Art College to study fine art but dropped out after a term because he quickly realised his time would be better spent honing his talents in the 'real' world.
He moved to London, where he spent six years as a figurative painter before turning to abstract art. But he missed the lush countryside of Dorset and sometimes came back to paint familiar views.
He moved to West Dorset in 1998 to an attic room at Oakhayes, Symondbury, which back then was a collection of artist residences and workshops. It closed in 1999 so Kit set out to find another studio in Bridport. After a short search, he discovered an old, half-empty warehouse on the semi-derelict St Michael's Trading Estate and moved in to two rooms on the first floor next to a Bikers Bar, above a junk shop, a stonemason and an upholsterer.
Over the next few years, other artists began to move into the building, and it became the St Michael's Studios, a thriving work and exhibition space for a wide range of artists until it was sadly damaged by a fire in July 2018.
In 2011 Kit became Director of Bridport & West Dorset Open Studios and continues to play a pivotal role in arts events in the area.
His current series of Cinematic Landscape paintings began in 2006, when he found some slides he had taken four years previously on a journey back from London to Dorset. "I always love the feeling of finally returning to the West Country as I head high over the hills from Dorchester towards Bridport with a sense of ever-growing grandeur as the Jurassic coast gradually opens up to reveal the sweeping arc of Lyme Bay.
'And on that autumn day, just before descending into Bridport, my attention was unexpectedly taken by a glimpse into the Chilcombe valley, where, far below, a gentle mist had settled over freshly ploughed fields, and then gradually dispersed below the surrounding hills towards the Bride Valley.
'Those deeply atmospheric photos inspired something deeply significant and profound within me, and it occurred to me that I had encountered a critical point of decision in my life as an artist. I knew that somehow, I now had to create paintings that did full justice to my unique personal perceptions, and so I made a commitment to take as much time as was necessary to create paintings that achieved the 'impossible', whether it took me several weeks or even months of work.
'As it turned out, I spent five months working on three paintings of the Bride Valley and the experience completely changed my life. A successful exhibition of these new works then led to more sales and commissions, and then to my current series of increasingly ambitious Cinematic Landscape paintings. Most of these paintings now require six to nine months of work and the same total commitment to my painterly realisation of my passionate experience of Nature.'
Kit now combines traditional and contemporary techniques, extensively researching the subject, exploring, walking, sketching outside, as well as using photography and digital collage for reference. This gives him a compelling vision for the painting and a definitive plan on how to proceed—with clear ideas about dynamics and atmospherics at play.
'After working-up the paintings with precise compositional designs, I discard my preconceptions, allowing something original and organic to grow from the solid foundations. Whilst developing a painting, I constantly break down and gradually rebuild all aspects of the landscape – every field, pathway, tree—according to the mood I'm looking for. This personal process of painting is both improvised and exacting.
'I deliberately incorporate chance and accidents into my working process so that innovations and inventions can take place on the canvas of their own accord. Intriguing new directions are found or fortuitous juxtapositions presented. One final and crucial aspect of my working process is that the painting always has to surprise me in some way, regardless of how much research and preparation I've done. This is where the magic of oil painting really shines through. It is a medium that is endlessly versatile and illuminating. So, for me, creating these paintings is as much a process of discovery as it is of creation.