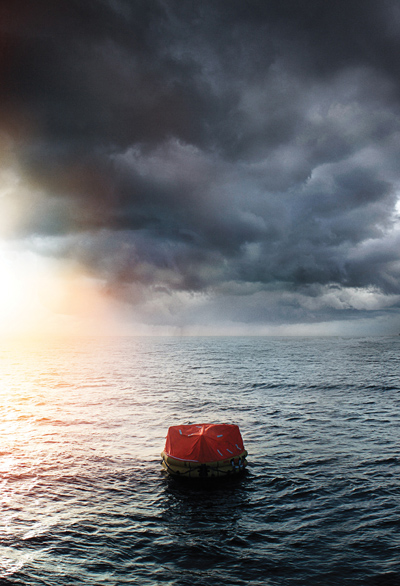 Netflix
FILM OF THE MONTH
Lost Daughter (2021)
"This sinuous adaptation of the novel by Elena Ferrante marks a supremely confident feature directing debut from Maggie Gyllenhaal, who also penned the screenplay. The two timelines—Leda present (played by Olivia Colman) and Leda in the past (played by Jessie Buckley)—are woven in serpentine coils that twine together, in this portrait of the kind of motherhood that isn't afraid to bare its teeth.
In 2018 Elena Ferrante wrote an article published in The Guardian headlined: 'Maggie Gyllenhaal is filming one of my books. It's her story to tell now'
"It's important for me—for her, for all women—that her work be hers and turn out well. Mine already exists, with its strengths and defects… So I don't want to say: you have to stay inside the cage that I constructed. We've been inside the male cage for too long—and now that that cage is collapsing, a woman artist has to be absolutely autonomous. Her search shouldn't encounter obstacles, especially when it's inspired by the work, by the thought, of other women."
Munich The Edge of War. (2021)
Well received at The London Film Festival in 2021. Jeremy Irons is impressive as Neville Chamberlain. Ben Power (Hollow Crown) has adapted Robert Harris' novel.
"Harris up-ends conventional Churchillian wisdom to give appeasers some of the best tunes. We feel the public horror at any return to the carnage of 1914-18, and see why the canny Chamberlain could appear to majority opinion across Europe as a Messiah of Peace, robed in the drab costume of an elderly accountant". Boyd Tonkin The Financial Times.
Amazon Prime
All is Lost (2013)
Deep into a solo voyage in the Indian Ocean, an unnamed man (Redford) wakes to find his 39-foot yacht taking on water after a collision with a shipping container left floating on the high seas. With his navigation equipment and radio disabled, the man sails unknowingly into the path of a violent storm.
"In his late seventies, Robert Redford has never held the camera as magnificently as he does in the survival-at-sea thriller All Is Lost." David Edelstein. New York Times.
Capote (2005)
In 1959, Truman Capote learns of the murder of a Kansas family and decides to write a book about the case. While researching for his novel In Cold Blood, Capote forms a relationship with one of the killers, Perry Smith, who is on death row.
"The mesmerizing performance of Phillip Seymour Hoffman as the celebrated writer dominates every scene, while director Bennett Miller and screenwriter Dan Futterman's penetrating study enthralls in every aspect." David Rooney. Variety.
Love Story (1970)
To some this will be a trip down memory lane. Number 9 in The American Film Institute List of The Most Romantic Films of All Time. It is also one of the highest grossing films of all time.
"Love Story is a three-handkerchief movie if you are hard boiled. Otherwise, it rates six hankies." Tony Mastroianni. Cleveland Press.
Apple TV+
The Tragedy of Macbeth
Joel Coen's first outing without his brother and regular co-director has adapted of Shakespeare's play for the screen. Denzel Washington and Francis McDormand play the leading couple.
"Of all Shakespeare's plays, Macbeth may be the best-served by cinema, with terrific, distinctive adaptations over the years from Welles, Akira Kurosawa, Roman Polanski, and most recently Justin Kurzel, with Michael Fassbender and Marion Cotillard." Robbie Collin. The Telegraph.
"The movie hits its stride immediately with a taut, athletic urgency and it contains some superb images—particularly the eerie miracle of Birnam Wood coming to Dunsinane, with Malcolm's soldiers holding tree-branches over their heads in a restricted forest path and turning themselves into a spectacular river of boughs. This is a black-and-white world of violence and pain that scorches the retina." Peter Bradshaw. The Guardian.