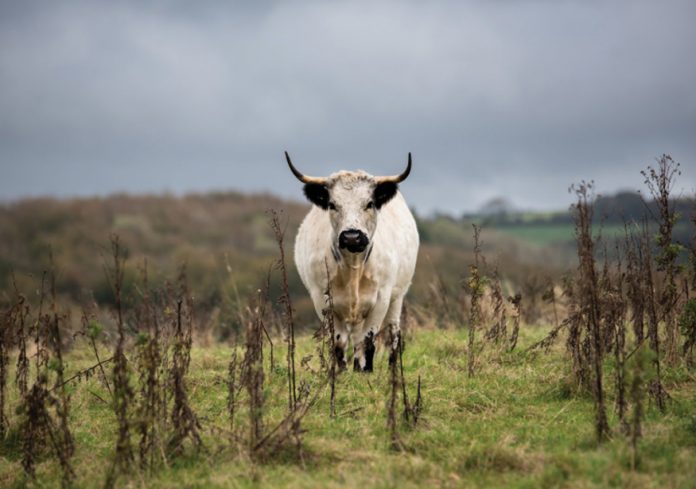 The concept of Rewilding has been written about in the many thousands of words. But how easy is it to visualize? Dr Sam Rose, former CEO of the Jurassic Coast Trust has been talking to Fergus Byrne about his new exhibition.
n a short blog piece about leaving his job as CEO of the Jurassic Coast Trust, Dr Sam Rose admitted that many people saw it as the best job in the world. And it probably was. But as he went on to explain, 'the best job in the world is the one in which you feel that you can be your true self, happy, confident and relaxed, whether that is a CEO, gardener, carer, Prime Minister (hah!) or train driver.'
It was a statement that will have struck a chord with many, especially after the last two years where a rethink of priorities has seen many people take a leap into the unknown. Sam described the change as 'daunting' and a little bit terrifying but also 'very liberating.' Thankfully, for him it wasn't quite the unknown. Two particular interests were about to combine and help him present something he had developed a great passion for.
He decided to go back to university 'after a mere 23 years', and enrolled as a part-time MA student in Commercial Photography at the Arts University Bournemouth. Now, combining his love of photography and his interest in 'rewilding' he is launching his first exhibition at the university in February. It is said to be the UK's first photography exhibition exploring the concept of rewilding.
Rewilding is taking the UK by storm. The 2019 bestselling book Wilding by Isabella Tree has raised public awareness of the idea, as has a storyline on The Archers. Sir David Attenborough is a supporter of rewilding and even Ed Sheeran says that he plans to rewild as much of the UK as he can!
Despite the publicity and soundbites, many people are not sure about what rewilding really means, and this exhibition intends to 'unwrap' the concept and help people to find out more; and encourage them to get involved themselves.
But what was it that drew him to rewilding? He is a geographer, and his PhD was all about Tropical Forest Biodiversity, which then led on to managing biodiversity research projects in South America. 'So by then, nature and biodiversity and wilderness areas were firmly in my DNA' he explained. 'However, careers are funny things and I spent a little time away from the subject in International Development, and then returned to nature conservation—but geodiversity, not biodiversity—in managing the Jurassic Coast World Heritage Site for 15 years.'
'In 2019, I decided that I needed to move on from that, and so started the Photography MA part time. As part of that, I had to choose a major project, and I had just started to read Issy Tree's book, Wilding, in which I was utterly absorbed, and it was just a lightbulb moment—I should do my project on rewilding.'
He considers it as probably 'one of the best professional decisions I have ever made, as it has drawn me back into nature, taught me more than I ever thought possible, and allowed me to meet, photograph and interview some amazing and inspiring people, and spend time with the camera in some really amazing places.'
He has created a website whatifyoujustleaveit.info, a podcast of the same name and now a book, and is also helping to establish a rewilding charity in West Dorset.
'I think now that the measure of being in a role I really like has become how much I get out in the countryside with my wellies on—and the fact that I need new wellies is a good indicator that things are going well.'
Photography is something that Sam has always loved. Whether with a point and click Olympus film instamatic back in the 1980s, a pinhole camera, Digital SLRs or a high tech drone, he has always taken pictures. He says: 'The simple act of capturing a scene, person, place or action on film or digital is both easy and difficult at the same time; easy to do, difficult to get right!' He describes it as an amazing feeling to make an image 'that not just feels right to me, but most importantly, is loved by the viewer.'
About 10 years ago Sam decided to take photography a bit more seriously, doing a couple of short evening courses at the Arts University Bournemouth (AUB), then making, and occasionally selling landscape photos. He has also worked with Yeovil Hospital Charity and done work for display in the hospital, including photographing some of our finest paralympic athletes from the 2016 Olympics. So when he decided to move away from his day job in 2019, he applied for the Masters in Commercial Photography at AUB and was accepted onto it, leading to what he describes as 'the steepest learning curve of probably the last 20 years, but a fabulous experience and opportunity.'
The gallery is hosting a range of more than 40 images, including the animals that are the 'ecosystem engineers' and make rewilding happen, the people who choose to rewild, and the landscapes that result from rewilding. It also includes some drone photography of some areas being rewilded, and a range of fine-art black and white images that explore the 'messiness' and uncertainty that surrounds rewilding. Sam will also set out a couple of surprise exhibits as part of the display.
Tim Smit, founder of the Eden Project and the first person Sam interviewed for this project says: 'This exhibition is quite simply marvellous. Sam Rose has a highly unusual gift… his camera becomes an extension of himself revealing landscapes, wildlife and people as if you are inside his head and that his head is playing host to a wormhole of thousands of years of experiences, rather than simply a question of framing, light and mathematics. He has a painterly eye and you are left with a sense that he is revealing something more than what is immediately visible.'
The exhibition is gratefully supported in part by Heal Rewilding and the Fine Family Foundation, and created in collaboration with the Arts University Bournemouth and Bournemouth University. It will be on show until March 31st in Poole House, the main entrance to the University's Talbot campus.