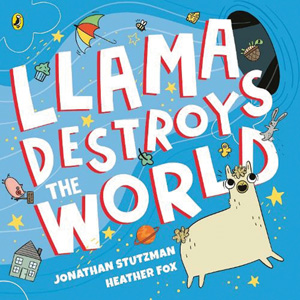 Picture Book
Llama Destroys the World by Jonathan Stutzman.
Illustrated by Heather Fox.
Penguin Books, RRP £6.99
Review by Antonia Squire
Any child who happened to go to a primary school in Bridport during the week of World Book Day 2019 will be very familiar with this particular Llama as I read Llama Destroys the World to each and every one of them. Now it's available in paperback I think you will all enjoy it as much as I do (and hundreds of kids aged 4 – 11 seemed to enjoy as well!)
Llama is a simple llama, who enjoys the simple things in life—like cake and dancing, and painting and Black Holes??? But Llama especially likes cake, 'more cake than any llama should ever eat'. In a series of simple yet catastrophic mistakes over the period of a single week, Llama Destroys The World!
Over the top scenarios, fabulous illustrations and hilarious text with great opportunities for 'voices'—you will love to have this book in your collection. Or just stop by the shop and I'll read it to you…I do that a lot!
Middle Grade
The House on the Edge by Alex Cotter
Nosy Crow RRP £7.99
Review by Nicky Mathewson
Faith's life has changed dramatically in the last four months. Her dad "upped and left" leaving behind a trail of family destruction. They are all falling apart, and to top it off, their house is very close to falling off the edge of the cliff it stands on!
Her friends now give her a wide berth, her teachers are paying her too much attention, and while her mum is withdrawing further into herself, it's up to Faith to look after her brother Noah. Noah is convinced that there are sea ghosts in the cellar, and they have told him the whereabouts of their hidden treasure.
There is only so long that Faith can keep covering at school for her brother's absence and her mother's lack of contact with the world beyond her bedroom. Can she fix everything? Is there really hidden treasure to be found and will it help to save their family home? Most importantly, will it bring dad back?
The House on the Edge is an outstanding debut, which will have young mystery lovers engaged from the start. Very pacey and contemporary, it has all the elements I look for in a children's book: believable characters; great twists in the plot; tension and changing dynamics. It also has an easy to read typeface, which will help reluctant readers or those with dyslexia. Perfect for readers aged 9+.
Teen
The Supreme Lie By Geraldine McCaughrean,
Illustrations by Keith Robinson
Cover by Leo Nickolls
Usborne Books, RRP £8.99
Review by Nicky Mathewson
"Madame held sway over the great walled city of Praesto, with its forest of factory chimneys and its swarming, soot stained streets. But her realm was far larger than that. Beyond the city's ancient, encircling walls lay the whole of the Furca river basin, the cliffs and forests and wetlands and farms of all Afalia. These, too, were the Suprema's domain."
Madame Suprema, a cold and unflinching ruler, tells the city what it wants to hear. The rains will soon abate and life can go back to normal. But she is also a liar. It has been raining for two months and the River Furca has already broken its banks. It's only a matter of time until her realm is submerged and the city walls surrounded by water.
The Supreme Leader secretly flees the city, leaving her downtrodden husband, Timor, to pick up the pieces.
What he proposes to do is reckless beyond belief. If discovered he would be executed for treason. Timor asks Gloria, Madame Suprema's maid, to impersonate his wife temporarily, to help keep the peace until her return. What neither of them know is that Madame Suprema will not be returning.
In this timely dystopian story, we follow Gloria's path in her pretence within the city walls, trying to do some good though completely out of her depth. Whilst also following the journey of Heinz, a dog separated from his family in the floods in the forest.
In a world just like our own, populated by believable characters and real dangers, Geraldine weaves a wonderful suspenseful story which at once had me gripped. I love her writing and I love this book. Ideal for ages 12+