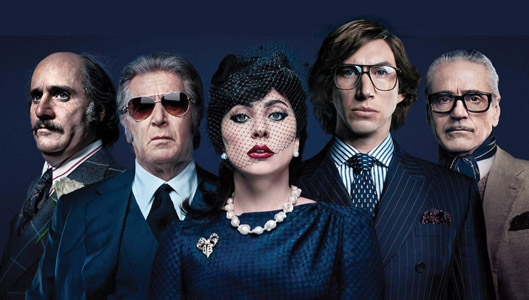 Cinema
Plaza Cinema
House of Gucci (2021)
No reviews yet. The Book from which the film is adapted had as its by-line A Sensational Story of Murder, Madness, Glamour, and Greed. Even better the Observer headline of the review of the book ran as 'How a Family Empire Went to Hell in a Handbag'.
This film is a class act. Ridley Scott has come a long way from being a trainee set designer on Z cars. At 83 he is still making films and has many more lined up in the future. Last month he released Last Duel also with Adam Driver. In House of Gucci he has a top cast with Jared Leto, Al Pacino and Jeremy Irons with Adam Driver and Lady Gaga in the two leading roles
Odeon Cinemas
Dune (2021)
Denise Villeneuve directed Blade Runner 2049 the follow up to Ridley Scott's Blade Runner and here he follows on from David Lynch's 1984 adaptation of Frank Herbert's novel. "I'll always love Lynch's "Dune," a severely compromised dream-work that (not surprising given Lynch's own inclination) had little use for Herbert's messaging. But Villeneuve's movie IS "Dune." Glen Kenny. Roger Ebert.com.
BBC iPlayer
The Mother (2003)
BBC has a tribute to director Roger Michel who died in September and directed a host of fine films (Notting Hill, Venus, Enduring Love). In The Mother Daniel Craig demonstrates his craft away from the Bond franchise and there is a wonderful performance by Anne Reid. "Every element of The Mother, directed by Roger Michell and written by Hanif Kureishi, fits together with perfection." Kevin Thomas Los Angeles Times
Netflix
Passing (2021)
Passing is the directorial debut of the actor Rebecca Hall. An adaptation of the novella by Nella Larson it was a nominee for the grand jury Prize at this years Sundance Film Fesitval. "The muted elegance of Passing's design proves to be a deft feint for a film full of passion and profound longing, highlighted by two controlled but devastating performances." Tim Grierson Screen Daily.
Bruised (2020)
Halle Berry not only direct this but also takes the lead. Originally Blake Lively was to lead on this with Nick Cassavettes directing then Halle Berry took over the role of director and shortly after the lead character of Jackie Justice. No reviews available so may be it is a question of whether a MMA fighting drama is what you wish on a night in.
Once Upon A Time in America (1984)
"A film as epic and rich as Sergio Leone's imagination, Once Upon a Time in America sits at the head table of gangster movies." BBC. In 2015, the film was ranked at number nine of Time Out's list of 50 best gangster films of all time, while in 2021 The Guardian cited it as the fourth greatest mobster film ever made. However, one film critic on its re-release in 2014 said "But to this day the misogyny remains indigestible." Donald Clarke Irish Times.