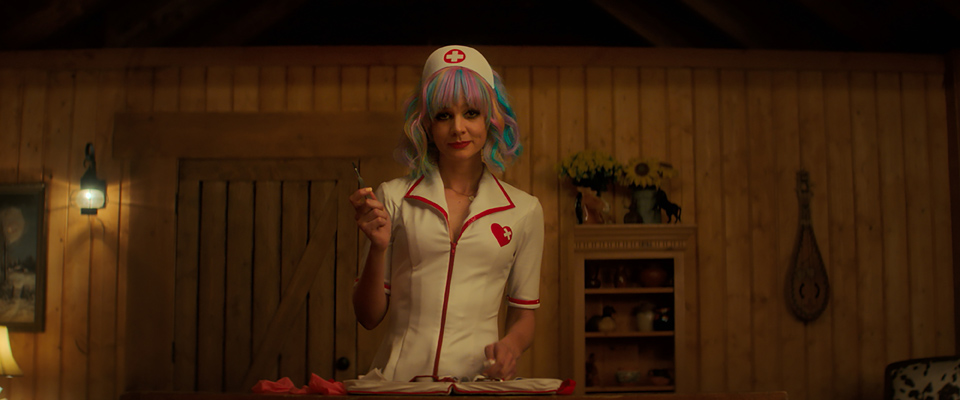 Amazon
Promising Young Woman
Carey Mulligan (Dig, Far from the Madding Crowd) is superb in this fascinating film written and directed by Emerald Fennell (Killing Eve). Lots of great reviews for this but I especially enjoyed this one:
"Apart from the excellence of the film, Fennell may have tapped into something tonally that truly expresses the moment we're in. Point being, we're in a time of horrible ridiculousness, and ridiculous horribleness. The revelation of Promising Young Woman is that it is heightened reality feels more real—closer to actual reality than comedy or drama."
San Francisco Chronicle. Mick La Salle.
Netflix
Pieces of Woman
Not only does this have the brilliant Vanessa Kirby (The Crown) but as her mother Ellen Burstyn (Alice Doesn't Live here Anymore) is already a favourite for the Oscar for Best Supporting Actress.
"Pieces of a Woman is grounded and intensely personal. Much of that is due to the towering and heartbreaking performance by Kirby." The Wrap. Steve Pond.
Truffle Hunters
Bitcoins maybe more valuable than gold but so are truffles and this film follows a bunch of the best hunters who will take the secrets of their woods to their graves.
"Michael Dweck and Gregory Kershaw (The Last Race) directed, produced and shot this captivating vérité documentary, which finds humor, charm and poignancy in the crusty eccentrics and their adored canine companions who sniff out the aromatic tubers, usually under the secretive cloak of night."  Hollywood Reporter  David Rooney.
The Mauritanian
A new political thriller by director Kevin Macdonald with standout performances from Jodie Foster (Silence of The Lambs) and Tahar Rahim (A Prophet).
"Macdonald, who has oscillated between documentary and feature throughout his career, has often directed polished, if somewhat forgettable fictional films (The Last King of Scotland and State of Play being prime examples). The Mauritanian pulls from his work on political documentaries, including his Oscar-winning "One Day in September," making it the best feature he's directed, so far." The Playlist. Christian Gallichio.
BBC
All the President's Men (1976)
Won four Oscars in 1977. The Washington Post reporters Bob Woodward and Carl Bernstein uncover the details of the Watergate scandal that leads to President Richard Nixon's resignation. Seemed shocking behaviour by a President of America at the time!
"It provides the most observant study of working journalists we're ever likely to see in a feature film. And it succeeds brilliantly in suggesting the mixture of exhilaration, paranoia, self-doubt, and courage that permeated the Washington Post as its two young reporters went after a presidency." Chicago Sun Times Roger Ebert.
Morvern Callar (2002)
Lynne Ramsay's second film after her debut Ratcatcher stars Samantha Morton, one of the most exciting actors of her generation.
"Ramsay is experimental, unconventional, and forever reaching at the gorgeousness in grief and despair. Her film moves slow as molasses, slow as paint drying – and all the better to see the colors and the complexities." Austin Chronicle. Kimberley Jones.