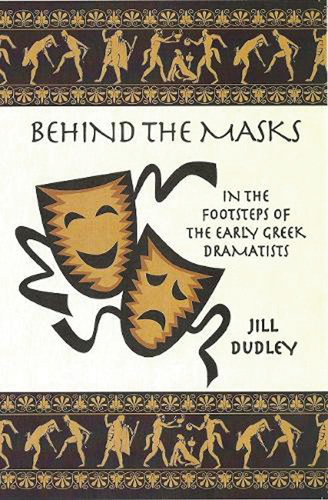 When East Devon author, Jill Dudley, was researching her latest book, Behind the Masks, she was looking at a time when the now-ubiquitous facial covering had a very different role. The masks that Jill was seeking were part of an age not immediately concerned with modern viruses. They were designed to enhance the characters in ancient Greek theatre and were part of an entertaining live event. Something that is beginning to feel somewhat alien.
Although the most recent years of her life were given to travelling and writing, Jill claimed that it was just beginner's luck' that saw her first play performed at the Leatherhead repertory company while she was living in Iraq in the late fifties. Born in Baghdad and educated in England, she says that she learned very little' and that her real education only began when she was thirty. Today, with a growing selection of books, as well as a series of guides to Greek mythology to her credit, that humility seems unnecessary. She has become a much-admired writer and explorer of Greek mythology and religious beliefs.
In her most recent venture, tracing the footsteps of the early Greek dramatists whose tragedies and comedies told stories she had not previously investigated, Jill became absorbed with the vast landscape of Greek drama. It opened up yet another fascinating avenue for her interest in the subject. The book is the latest in her series of investigations into Greek mythology.
'Behind the Masks is written for those, who like me, paid little attention when told at school about Greek dramatists or such legendary figures as Theseus, Oedipus and Heracles' says Jill. 'I never became interested until middle-age when I wanted to learn Greek. I attended evening classes at Exeter University and there met Greek enthusiasts who had exciting stories to tell about the country and their travels and adventures. The whole vista of Greek legend and mythology suddenly blossomed for me; I planned my first journey, and so my travel-writing about Greece began.'
Behind the Masks required several trips to Greece where Jill sought to explore the areas where the first dramatists had lived and worked. Readers familiar with her past adventures will note a change in travelling companions. Her husband Harry, deciding to stay at home in Devon, has been replaced by two keen companions whom Jill described as invaluable—one drove while the other navigated.
'We flew to Athens to see the small theatre of Dionysos, god of wine and drama, whose tiered stone seats rise fanshaped up the slope below the sheer rockface of the Acropolis in the south-eastern corner. It was where the Great Dionysia festival was held where the best fifth century B.C. dramatists staged their work' explained Jill.
They then sailed to the island of Salamis where Euripides was born. Climbing up the mountainside to the cave where Euripides wrote many of his tragedies in peace and solitude on the southern tip of the island.
From Salamis they then took a ferry-boat to the Peloponnese to see Troezen, a vast archaeological site a few miles inland from the sea; a rarely visited site with a backcloth of mountains whose higher reaches are bare crags soaring up against the cloudless blue sky, its lower slopes clothed in olive groves. It was there that Euripides set his tragedy Hippolytus in which Phaedra (wife of King Theseus) hangs herself because of her unrequited passion for her stepson Hippolytus.
'We then drove on to see the amphitheatre at Epidaurus where Aeschylus' trilogy the Oresteia was recently staged by the London National Theatre, the cast wearing masks and costumes as in its first production in Athens' said Jill. 'From there we drove to Corinth, the setting for Euripides Medea—another tragedy where passion turns the mind.'
The group visited Thebes, home of legendary King Oedipus about whom Sophocles wrote several tragedies, one of which was Oedipus Tyrannus where Oedipus discovers he murdered his father and was married to his mother which resulted in him blinding himself.
But Jill is quick to point out that Greek drama is not all doom and gloom. 'The comic playwright Aristophanes brought much-needed laughter' she says. 'He was born in Athens but spent his adolescent years on the island of Aegina, an hour's sail from Piraeus. He would have seen (as we did) the amazing temple of Aphaia, standing high and solitary on its terrace to the east of the island, majestic against the skyline and in perfect harmony with the landscape. Aristophanes never wrote about historical events, but applied himself to topical subjects, frequently poking fun at the public figures of the day, such as in his Clouds in which he lampoons Socrates and Women of the Thesmophoria where Euripides is the butt of his humour.'
Their final journey was to Macedonia where Euripides lived the last years of his life at the court of King Archelaus who wanted to bring Greek culture to his kingdom. 'We ended finally at Dion, the religious centre of the kingdom, where Mt. Olympus (home to the twelve Olympian gods) looms large as a natural backdrop to the ancient site. In both tragedy and comedy the gods played their part; and in the fifth century B.C. their presence was part of everyday life.'
For those who have given little thought to Greek drama, Jill Dudley's Behind the Masks opens up a whole new world of extraordinary imagination and legendary stories and is a welcome follow-up to her last travel book Gods & Heroes (on the trail of the Iliad and the Odyssey).
For a complete list of all Jill Dudley's books, see: www.orpingtonpublishers.co.uk