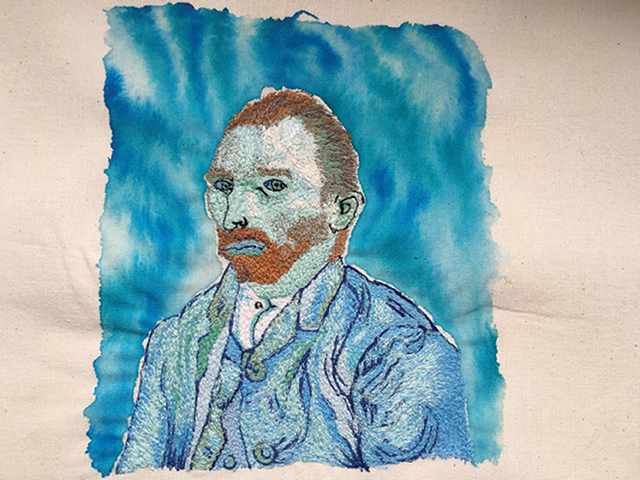 A winner in the 2015 Marshwood Arts Awards Lewis McDonald's interest in his art came about due to an administrative blunder. Katherine Locke has been talking to the student who is one of only a handful of people working on free embroidery.
Artists come in many guises, but they don't usually pose as Ancient History students. Lewis MacDonald is the exception. In his second year at Exeter University, Lewis is no ordinary student, and no ordinary artist. His chosen medium is free embroidery. Unusual enough in itself (he is one of only a handful practicing in the country) and even more unusual for being the only male in this field that we know of.
And to think it all started by accident. 'When I was younger, back in Year Nine at school, I was at a technology college. We were told that as part of our GCSE's we must pick a technology subject and I chose food. Unfortunately, I was told that the course was full so I'd have to pick another, but before I handed in my second choice (mechanics) I was put into textiles'. This happy administrative blunder, resulted in Lewis discovering 'he had a knack for it', and a passion was born.
He continued with textiles at 'A' Level and this is when he started to see machine embroidery as artwork, rather than just a technical skill. 'One day I wanted to recreate a pattern that I had seen on a coat that was part of an Alexander McQueen collection.  Unfortunately, the CAD/CAM machine that does the embroidery for you was being used by someone else and I've never been known as a patient man. I decided to get a spare piece of fabric and see if I could recreate the design myself. Surprisingly I did and on that same day I went home to see what else I could turn into free machine embroidery.'
Lewis started ambitiously with an old family photo. He readily admits 'it wasn't his best', but it got him interested in trying more. When asked why he didn't go down the more conventional fashion route, he replies 'when I am working on a free piece, it is very intuitive. I almost just see where the line takes me. However, sewing a straight line (as required for fashion textiles), is beyond me!'. Lewis puts this down to his dyslexia and the fact that he just isn't interested in making clothes.
For him, the process of making a piece usually starts with a photograph. Lewis sews directly onto cotton calico, as 'it is a hardy material, that doesn't stretch and warp'. He uses a homemade lightbox (an old drawer fitted with strip lights and lined with tin foil) and draws the basic outline with a colour wash pen. After the preparation, he starts to sew. 'Each tiny movement creates a different picture', he explains. 'I can use the same colour cotton in a different direction or speed to change the final result'. Lewis describes the process of making a piece of work as almost automatic—'it is as if my brain knows what to do', he says.
He is particularly keen on making portraits, of people and animals, although he says that 'animal's eyes are easier!'. He is also drawn to buildings and architecture, while he says his dream is to travel to wild, natural places to take photographs from which he can make his work, 'At the moment I haven't even got a studio', he says, 'I work out of my messy student bedroom, so it would be amazing to have my own space'.
However, Lewis is a man with a vision and it easy to imagine a studio and travel being part of his future. He already has the backing of Janome, the manufacturer of the sewing machine he uses. 'I wrote to them to ask their advice on the best machine for the job', he says, 'they liked my work so much they gave me a sewing machine'. Janome are very keen to promote sewing and using their machines in new and unusual creative ways. These sewing machines are not like CAD/CAM equipment, where you can computer programme a design and the machine will realise it, Lewis explains. Those machines hate going over the same line twice and free embroidery is all about building the picture up by the layering of stitches.
When asked why he chose an Ancient History degree, rather than art, he has an interesting reply. 'My father advised me to study the subject I loved second', he says. 'His reasoning was that if you study the subject you love best, there is a danger of it becoming stale and can lessen your passion if you do it every day. He was worried that it would destroy it for me'. In spite of this, one of the reasons Lewis chose Ancient History is the opportunity to deliver an artistic interpretation of the subject for his final dissertation. It sounds as if this is going to really get his creative juices flowing.
'I am planning a massive tapestry of art through history', he says. It sounds very ambitious, but there is no doubt that Lewis will pull it off in his quiet, unassuming way.
He says he has been very influenced by Epicurus, the ancient Greek philosopher, who he has been studying as part of his course. 'Epicurus was concerned with living a good life by living modestly', he explains. To live a modest life and limit one's desires would lead to a state of tranquility, or ataraxia, according to Epicurus and it is a philosophy that appeals to Lewis.
It chimes with Lewis' attitude to being an artist. 'Although, technically, I do consider myself to be an artist', he says, 'I am very keen to distance myself from the perceived introspective egotism associated with artists and artistic practice'. It is clear Lewis sews because he loves it and it will take him wherever it will. Although he has creative ambitions, he is a young man open to what life has to offer and what could be more genuinely creative than that?
'Not what we have, but what we enjoy, constitutes our abundance.'  Epicurus