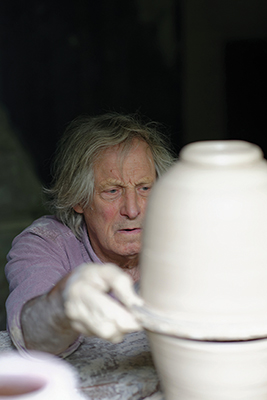 A booklet written by Anna Powell celebrating the work of Richard Batterham at 80 offers fascinating insights into both the potter and his work. Based on a series of interviews and discussions, it is published to coincide with a new exhibition of Richard's work at Slader's Yard in West Bay.
Photographs by Ben Boswell.
'We use Richard Batterham's pots every day. They bring us so much pleasure.' Comments like this have poured in from people all over the world ever since we started showing his work at Sladers Yard.
Richard Batterham is a beacon of hope for those of us who despair at the way craft is heading. As ceramic departments close in schools and art schools, and children are growing up without learning the pure pleasure of using their hands, it seems that objects are regarded as lesser artforms if they have a function.
Yet here is the internationally acclaimed Mr Batterham whose unmarked earthy practical pieces celebrate how wonderful pots can be when you hold and use them every day.
Richard has been working quietly and industriously just outside Blandford since 1959. Whether it is his ambitious exhibition work or more scaled down domestic ware, his pots have a purity and elegance that is deeply satisfying.
At eighty years old he is still working fulltime, firing his big kiln about five times a year and producing exceptional work. He makes all his pots himself, and does all the processes on site at his Dorset workshop from mixing the clay to firing his big wood and oil-burning kiln overnight. 'My favourite is the making,' he tells me in his soft voice. 'I'm always in a brighter frame of mind when I'm making—throwing, handling, putting spouts on, assembling teapots and all that sort of thing. Once I get going I can't be stopped!'
His pleasure in making is that of someone who does something very well with absolute concentration. 'You get into the right frame of mind and just do it,' he says as if that was the simplest thing in the world. 'What is that frame of mind?' I asked him once. 'You have to get rid of your ego,' he replied.
Richard Batterham's pots are a direct link back in time to the greats at the beginning of the British Studio Pottery movement, Bernard Leach and Michael Cardew, and beyond them to centuries of traditional English pottery. Pottery that was functional, beautiful and often quietly made by craftsmen whose names have been forgotten.
One of the most profound influences came when, in 1957 fresh from National Service, Richard Batterham went down to St Ives to work at the Leach Pottery under Bernard Leach. There he worked alongside Atsuya Hamada, apprentice and third son of Japanese potter Shoji Hamada, one of the main sources of Leach's inspiration. Richard found Atsuya's way of handling clay was 'kinder, gentler, more fluid.' It suited Richard's nature, 'It's a kind of attitude. Very gentle, not aggressive.'
Shoji Hamada and philosopher Yanagi Sōetsu, had coined the word Mingei meaning the hand-crafted art of ordinary people. In his seminal book The Unknown Craftsman: A Japanese Insight into Beauty released in UK in Bernard Leach's own adaptation in 1972, Yanagi put the case that real beauty is to be found in craft made before the culture of individualism became current, craft that was made over and over again by workers in a culture of 'modesty, restraint and inwardness, an aesthetic based upon simple naturalness and reverence.' This quiet way is how Richard makes his pots, and it is the reason they shine out in our egocentric world.
Richard was born in 1936. His father taught at a prep school in Surrey that was evacuated during the war to Whatcombe House, a large fine eighteenth century house outside Blandford. Later Richard went on to Bryanston school, where he spent a great deal of his time making pots. His teacher, the appropriately named Donald Potter, was a student of Eric Gill who had also worked under Michael Cardew at Winchcombe.
From the very start, Richard was well taught and left to work on his own. He wishes young people today could have the same space. 'Students need to have the time just to make. No drawing or planning—the freedom to see what happens,' he says. 'The thing is to make and make…  looking at what you do all the time, making adjustments, looking for possibilities… You develop by focusing on the really good pots.'
At the Leach Pottery, Richard also met Dinah Dunn. Six years his senior, she had been to art school and worked under Bernard Leach for six years. Jaundice kept Richard in bed most of his second year at St Ives. Once he recovered, at the age of 23, he returned to Dorset, with Dinah, to set up his own pottery outside Blandford.
He worked in one room of the cottage he still lives in until they had four of their five children. Then they were able to build the big pottery at the end of the lane where he has worked ever since. 'You don't have to have it all planned out and you don't need perfect kit. The kit arrives as you need it.' He says gently. 'It's a kind of acceptance of who you are, a confidence that you are something in yourself… It's not to do with selling. You're not part of a market. You don't need business plans and huge investments…. It's to do with making the pots. They have to come out right.'
Working alone, Richard's skills are not being passed on. His youngest son Reuben is a potter in France with five sons of his own. Reuben has recently been over and helped Richard to fire the salt glaze kiln. 'He's better at salt glaze firing than I am,' he says.
Looking at the pots we have selected for the show, Richard turns to me, 'They're things to hold not to gawp at,' he says. 'It doesn't have to be anything very amazing. Sometimes, you look at a pot and it just does it and you think, that was worth it.'
Richard Batterham at 80 is at Sladers Yard until 4 September. The booklet written by Anna Powell, Director of Sladers Yard, is based on a series of interviews and discussions with Richard Batterham.  It includes photographs by Ben Boswell, Nigel Dutt, Anna Powell and Brian Garwood and is published to accompany the exhibition. All pots can be viewed on www.sladersyard.co.uk