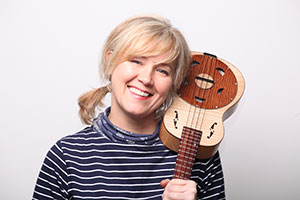 Katherine Locke meets Sally Vaughan and Andrew Dickson to learn about the the world's first and only community musical theatre written for the ukulele.
If you listen very carefully as you walk around the streets of Bridport and beyond, you may just hear the gentle sound of strumming. Ukulele fever has hit West Dorset with force and is gathering momentum at an astonishing rate. Spear-headed by Sally Vaughan, who founded the Bucky Don'ts in 2010 when she was looking for some pals to play with, she describes the group as a ukulele social club, the trend shows no sign of slowing down.
'I think it is because it is such a simple and versatile instrument' says Sally, 'and it really brings people together'. It was the principle of getting people involved, even those with little or no musical experience, which led to the idea of putting together a community production. And when it comes to Community Theatre, West Dorset boasts its best and most accomplished proponent, Andrew Dickson.
Andrew is well known for his ground-breaking work with film maker Mike Leigh. He won the European Composer Award for his score for the 1988 film High Hopes. He was also at the forefront of the Community Play movement in the late 1970's as part of the Colway Theatre Trust.
'Andrew had been really supportive of the Bucky Don'ts', says Sally 'and was always asking questions like "Aren't you getting fed up with playing You Are My Sunshine yet", and "When are you getting rid of your music stands?"'. It was inevitable that the pair would eventually creatively collide and the result is a very exciting piece of musical theatre written in celebration of the ukulele. However, it has been quite a journey so far and it isn't over yet.
'We started with a very simple idea', says Sally, 'The word ukulele literally means jumping flea because the fingers on the strings mimic the action of jumping fleas. I had spoken to Anna Golding who runs a dance group called No Limits for physically disabled people and mentioned that it would be great to combine and create a Dance of the Jumping Flea'. That original idea morphed into a flea circus and suddenly there were four threads—ukulele's, fleas, circus and dancing.
There was no money to support the project, but a generous friend lent them a house in France and Andrew and Sally went off to work on the idea ('It wasn't as romantic as it sounds!', says Sally). It was there that they thrashed out the plot. Both Andrew and Sally are clear that it is not a French show, but it definitely has a European feel. 'We tried turning expectations around', says Andrew, 'for example in this show dogs don't have fleas, the fleas have dogs'.
Once the creative juices were flowing, Andrew was prolific in writing new tunes. 'This isn't the first ukulele opera', says Andrew, 'but the others have tended to be reworking of existing operas for ukulele. As far as we know, this is the first opera that has been written specifically in celebration of the instrument'.
The play tells the tale of the rise and fall of Madame Celine (Ring Mistress), her sidekick Vladimir and the journey of young Grub. 'Grub is a young flea who goes from star struck naivety to ukulele mastery', says Andrew. 'It is a story about the power of small over huge, of simplicity over celebrity and proving that musicality is in all of us and that the so called X Factor is available to everyone'.
At this point serendipity stepped in. 'I was sitting at home one night when an email popped into my inbox from Hester Goodman', says Sally. For those of you not in the know, Hester Goodman is an extremely well known ukulele player and member of the Ukulele Orchestra of Great Britain. The orchestra was formed in 1985 and is largely credited with bringing the ukulele into the public eye and challenging expectations of the instrument. 'Hester had just moved to Bridport and was looking to get involved with ukuleles locally'.
Sally couldn't believe the coincidence and was thrilled at the prospect of meeting Hester. 'There is a misconception that it is easy to make new friends when you move to a small town', says Sally, 'but I know from experience it is hard to get involved when you are new to an area. We all need opportunities to make meaningful connections—even world renown ukulele players!'. Hester was immediately on board with the project and was the natural choice to play the role of Madame Celine.
The next step in the journey of the Ukulele Opera (a working title, but the way, and not necessarily the one it will end up with), is to raise the funds needed to realise the production. 'We have already been supported by Bridport Town Council and WDDC, both of whom have given us small sums to help with venue hire and setting up a community outreach programme' says Sally. 'We were also fortunate enough to receive Arts Council England funding for the Research and Development phase of the project. We are now looking to move everything forward in order to run workshops etc and are hoping that the community will step up to help'.
'There are many opportunities to become involved with the Ukulele Opera', says Andrew. 'The core actors will be made up of professionals, but we will need a chorus of twenty ukulele players and another twenty dancers on top of the band and main parts. The Claque (a group in the audience who add their voice to the play) will require people too. There will also be a huge range of behind the scenes help required, ranging from costume making to publicity and everything in between'.
However, the production is still a long way from casting and as the fundraising begins in earnest, there will be a series of public presentations to explain how people can get involved.  A Crowd Funding Campaign is also about to be launched. 'We are hoping to stage a series of events over the next few months both to raise awareness of the project and raise funds for the next phase', says Sally. They have a number of ideas, including a Strumathon, a Hula-Hoop-a-thon, and a sponsored dog walk. The pair are aiming for an Autumn showing and it will take place in an indoor venue to include the planned vivid audio and visual backcloth.
People who have been in the area for a long time (since the 1980's) will remember the profound effect community theatre had locally, both for those involved and the audiences who came to watch. There is no doubt that bringing people together in this way can be powerful and transformative. It is inclusive, free, fun and a perfect way of immersing yourself in the neighbourhood. So Roll Up, Roll Up and don't miss the opportunity to be involved with the world's first and only community musical theatre written for the ukulele!
If you would like to get involved, visit www. www.ukuleleopera.org.uk or for more information email; sally@ukuleleopera.org.uk