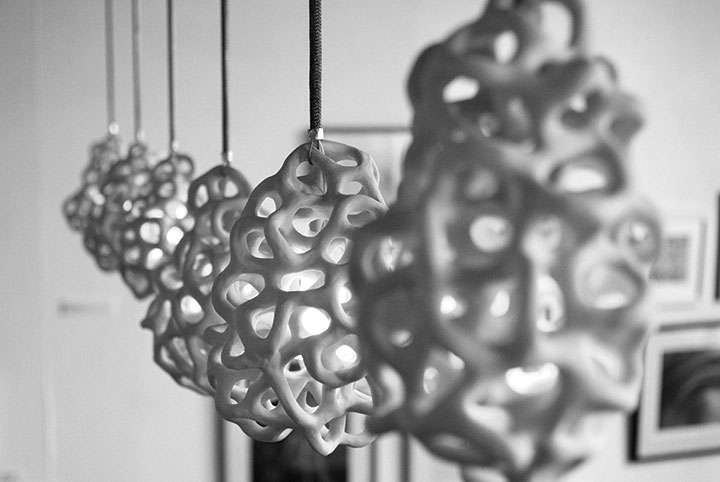 Walt Disney is quoted as saying 'Get a good idea and stay with it. Dog it and work at it until it's done right', and Isla Chaney epitomises the determination of an artist doing exactly that. Her sculptures explore the idea of surface and form existing simultaneously. She works in one colour in clay or porcelain and eschews the idea of paint or decoration. The result is work that is intriguing and contemplative.
Having started out as a garden designer, Isla is primarily concerned with creating spaces and experiences in three dimensions. It was whilst she was working as a garden designer that she started a ceramics evening class. She was quickly seduced by the possibilities of working with clay and applied to Bath Spa to start a degree in Ceramics and 3D Design. She graduated with first class honours and was immediately offered a residency at Plymouth University.
'The residency gave me the opportunity to use the university facilities and work alongside students. The idea was that the students had the opportunity to see an artist at work', she says, 'and it was a fantastic chance to push my own work further'. Isla ended up completing only six months of the residency, as she was awarded a place at the Royal College to start a MA in Glass and Ceramics.
'London was a wonderful place to study', she says, 'it was great to be near all the galleries and exhibitions'. However, Isla's determination was tested to the full when she became pregnant during her first year. 'It was gruelling and exhausting working whilst I was pregnant. I kept falling asleep at my desk, so I decided to take a year off and we moved to Dorset during that time'. However, after a year at home with her baby, she went back and finished her Masters. 'It was a tricky time', she says. 'I would go to London for three of four days a week and leave the baby with her father. Although it was hard I was completely resolute that I would finish the course'.
One of the reasons she was so clear about continuing her artistic practice at the Royal College, was because 'we were encouraged to create without purpose and to fully immerse ourselves in the creative process'. Isla is aware that being an artist could be viewed as being self-indulgent. 'The desire to work is a priority and one that becomes harder after motherhood, when the children should become the priority', she says.
Isla moved to Bridport a few years ago, after she became a single mother to two children. Juggling motherhood, work and finances is not an easy mix and it is testament to her strength of character and her absorption in her ideas that she continues to work at a high standard and be awarded commissions. She has recently completed her first site responsive work in the form of a bursary from B Side Multi Media.
'This was an amazing commission that helped me make a shift in my work', says Isla. 'It is the first time I have moved away from gallery based work, into large public spaces'. She is clearly very enthusiastic about the possibilities of large-scale public art. 'It was very exciting to make work in situ', she says. 'It really made me think about using new materials—moving away from clay and looking at the possibility of metal or concrete or even wood'. Being given the time and space to explore her ideas through the project on Portland has clearly given her a new artistic avenue to explore and one that has obviously fired her creative imagination.
She stared to take a welding course to help her with the new skills required to make the larger, outside pieces, but quickly realised that it could take years to perfect the skills needed to be really proficient. 'It would take a very long time to get to a standard I would be satisfied with', she says, 'so I am looking at the idea of making clay maquettes and getting the experts to realise the piece'. She says of her domestic scale work 'in my mind they are bigger. Spaces that you can actually get into—almost room sized', so looking at the possibilities of scaling up her work is very exciting.
On the other end of the spectrum, Isla has also makes sculptural lighting. Continuing her themes of chaos/control/contradiction and the spaces between them, the lights are glorious objects that look fantastic in any room. When asked about what gave her the idea of turning her sculptural work into objects with a purpose, she replies that it is the result of 'playing with light'. Shining lights through the pieces and realising how it enhanced the spirit of the work.
Isla Chaney continues her fascination with the relationship between the internal and the external throughout all her work, whatever the scale. She has a studio at St Michael's Trading Estate in Bridport and fully appreciates working in a supportive, artistic environment. 'I could have chosen a larger studio space, but I was drawn to the sociability of St Michael's', she says. Isla also continues to be amazed at the diversity of the arts scene in West Dorset. 'For example, last weekend I went to see cabaret at the Marine Theatre in Lyme Regis on Friday, saw bands at The Lyric on Saturday and went to a book launch on Sunday'.
Isla continues to stay true to her concepts around dualism and tension and is eternally committed to the ethos of 'beautiful objects, beautifully made'.
Isla Chaney was chosen by both David Worthington and Kate Malone to exhibit at the 2013 Marshwood Vale Arts Awards. The 2015 Awards details will be announced next March.