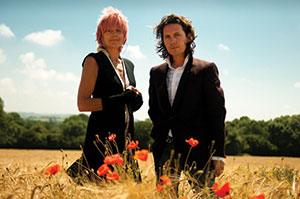 Dreaming big and keeping it real with The Gravity Drive
Is there a better doubt than one dispelled?
"My husband writes songs," Ava said in passing. "You should check him out." I'd called by the Bridport cottage she and Elijah share to interview Mrs Wolf for a book I'm writing on Duran Duran. She'd grown up around the quintet in Birmingham, her brothers having managed and sunk just about everything they had into launching the band, so it was an interesting afternoon. Elijah had disappeared, to give us privacy. But hearing Ava's significant other was also musical—well, let's just say it was a few weeks before I checked him out.
I played the demo of Cherry Ripe. Then again, and again. Four times I played that track back to back, high on the buzz—that supernatural zing you get only from pop music.
Believe me, like all love, the older you get the rarer it becomes—that intensity. But it's alive and well, and…  Elijah and Ava became The Gravity Drive. Trick Of The Light appeared next. Should have been a hit, but they were just finding their feet promoting themselves. Then I ended up interviewing Pete Schwier. As an engineer, he'd worked with Duran and, by coincidence, living a few hills over from The Gravity Drive had ended up producing some of the duo's new material. "Wait until you hear the next single," he enthused. "It's even better."
We'll see. They'd set their own bar high already. But I'm man enough to admit I was wrong. Circles really was better. And to prove it, Radio 2, BBC6, and indie radio stations across the south all got onboard.
The Gravity Drive is taking off. And recording at home, working their own self-financed cottage industry, if what I've heard of new album Testament is anything to go by, Elijah and Ava are about to dispel the notion that only giant label machines generate great music.
How did you meet?
Elijah: I had a management deal with Ava's brother, and I was living in a field in a tent on his land, rehearsing and recording with my band.
Ava: I was over from LA, visiting my brother in Dorset for the summer—and there he was.
Elijah: I set eyes upon Ava, and talking and getting to know her, fell in love in the asparagus patch.
How does it work as a husband and wife team?
Elijah: We have no time for indulging emotions; it's straight to the point. Nothing sits and festers. And we have a rule: if one of us doesn't like something we listen to the other person and find out why.
Ava: We share common interests, which really helps. Usually manage to keep any debate to a minimum, and find a solution. And if we can't agree, the idea gets dropped.
What can people expect from 'Testament' your debut album?
Ava: You can expect cinematic, alternative pop songs; each song is its own world. It's catchy, immediate; upbeat. Lyrically, it's quite honest and heartfelt—and hooky.
Elijah: All albums are products of circumstance—so it's a mixture of us, our location; the people we've worked with. The album is called Testament, because it's just that.
Who inspires the Gravity Drive musically?
Elijah: Hunky Dory by Bowie; Nirvana's Unplugged, for its honesty; Rumours by Fleetwood Mac. Our goal when we first started, our hope and dream and aspiration, was that one day we could create an album as extraordinary as that.
Ava: The Everly Brothers: two strong voices and an acoustic guitar delivering some powerful and punchy pop.
Best moment so far?
Elijah: The first time we were played on Radio 2.
Ava: The station has a weekly playlist meeting to decide which tracks get rotation; and it was nothing short of a miracle that we even got in the room. All those major acts with their massive promotion budgets and labels, versus us with our independent DIY ethic. Since then, we've had some fantastic feedback and support.
Elijah: Every time we get a positive response, it's a little victory.
Why go the independent route?
Elijah: We decided we just wanted to concentrate on making music. And that should be the priority. Not, what's the quickest way to get famous.
Ava: It's not for everybody. But we are pretty tenacious, and we felt we had the skills to give it a shot.
Elijah: You have to think outside the box and use all your resources. We've spent about a tenth of what labels spend on making albums. And have absolutely no budget for marketing or promotion at all. So we've learnt to be efficient—there's no waste.
Why the south-west, not London?
Elijah: It's an amazing area to live in as a singer/songwriter, because there are so many venues to play, and sharpen your craft. And living in such a beautiful part of the country has a major impact on what we do. I can't express how exactly, other than, every day we get to look at the epic natural beauty of the area, and that energises us.
What next?
Elijah: We're in rehearsals with our band. We've got an album launch gig at Bridport Arts Centre on Friday 3rd October.
What can people expect from The Gravity Drive live?
Elijah: We have a great live band, so they can expect commitment
Ava: Energy
Elijah: To hear us sing songs we believe in.
Ava: And to dance.
If you could have one wish what would it be?
Ava: Strictly Come Dancing…
Elijah: I'd love to work with Rick Rubin; a long career of making great music, with great producers and great people. I'd also like to be able to take our live show to its full potential, bigger…
Ava: A wider stage would be nice.
'Testament' the debut album by The Gravity Drive will be available from Bridport Music on October 3rd or pre-order from www.thegravitydrive.com.
For tickets to the album launch gig at the Bridport Arts Centre, Oct 3, visit www.bridport-arts.com/events/gravity-drivedebut-album-release-party-gig/