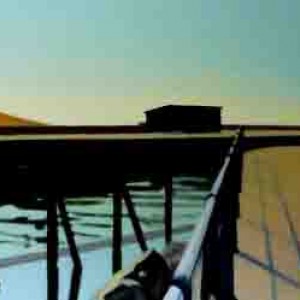 Selection is at the heart of Alex Lowery's way of painting. Elements of place are distilled, the image is reduced and concentrated. Mary Talbot meets the artist that gives the banal and ordinary a surprising beauty.
Look at an Alex Lowery painting and you are likely to find the unlovely buildings, the car parks and bollards, remnants of human activity that most painters edit out, transformed by brilliant sea light into something beautiful. Extending the range of what might be considered attractive, these everyday structures are typically set against seas or skies infinitely beyond the human.
Look at Alex Lowery and you are likely to find a private person who doesn't seek to impose his own intellectual rigour on others. Here is a man with an easy smile, a gentle, diffident manner and intelligent eyes, an artist who floats his paint effortlessly over simple rhythmic compositions. However, it doesn't take long to realise that these dazzling paintings hold their fascination through an underpinning of clear-headed thought and understanding.
Alex Lowery started painting West Bay some twenty years ago and has made his name nationally and in Europe arguably through painting this one unassuming seaside resort. His paintings are entitled only with their place name and a number. The name West Bay is both specific and universal, rather like Portland, another local area which has caught his imagination over the last ten years. 'I don't look for the obviously picturesque,' he explains. 'I am drawn to the randomness, the awkwardness of West Bay. And yet there is a sort of cohesion… perhaps its very randomness is its integrity… it enables selection of the things you can use.'
Selection is at the heart of Alex Lowery's way of painting. Elements of place are distilled, the image is reduced and concentrated until it fires the intense hit that characterise his paintings. 'You have to sustain that immediacy of the moment when you connect with that elusive something. At the same time there needs to be something more, something which will bear prolonged looking. Matisse refers to wanting to reach "that state of condensation of sensations which constitutes a picture".'
The design and abstract qualities of the picture are clearly crucial to his work. How much of his mind is made up before he starts? 'For me, the subject must be the stimulus when you begin a painting but you don't necessarily know why. That's the frustration of it,' he laughs. 'On the one hand, you try to be direct and immediate with your response to a place but then, you don't want it to become overly naturalistic, so on the other, you are considering the means and matter of paint itself, although too much thinking about the artifice of painting is, I think, a dry game. It's always a question of finding a balance.'
Lowery was brought up in London, with parents who had themselves met at art school before going on to become teachers. He studied at Bath Academy and the Sir John Cass School of Art before taking his BA in Fine Art at the Central School of Art in London. Graduating in 1982, he immediately began working seriously as an artist, setting up studio in the east end of London and exhibiting sporadically before being taken up first by Rocket Gallery, and then by Art First who have now represented him in London for over a decade. Well acquainted with West Dorset through family connections of his partner, the painter Vanessa Gardiner, they both moved to Dorset in the mid 1990's.
Alex Lowery's work has often been compared to that of the American painter Edward Hopper for a stillness, strongly contrasting light and shadow, and a way of finding in the banal and ordinary a surprising beauty. Both create a powerful emotional atmosphere, Edward Hopper's perhaps oppressive and closed in, but Alex Lowery's opening out with an extraordinary feeling of freedom. His luminous skies seem to offer escape.
'I have a childish wish to break out, shake the bars,' he smiles. His work has evolved over the years. 'You don't want to be stylistically bound in,' he comments, 'but it's not a straight-forward progression. I tend to reach out and then step back a bit, act and react to my own work. You try to learn how to do what you want but then you have to break out when things become predictable or prescribed.'
In 2008 he took up the opportunity of a residency at the Ballinglen Foundation in County Mayo, Ireland, which offered him a month alone in a studio surrounded by staggering scenery. It was a departure from his usual subject matter but luckily the ubiquitous Irish bungalows were there for him. The Mayo pictures have a robustness and ruggedness which has brought back ideas of texture and of structural breakdown which he first played with some years ago in his Dorset Heath series. The acid greens of Ireland injected a new zest into his painting which continued once he returned and found he was inspired in a new way by West Bay, Portland and Heath.
Since then he has taken part in some interesting projects. At the Estorick Collection of Italian Art in North London, he took part this year in 'Another Country' a show looking at connections between contemporary British artists and aspects of Italian modernism. Of Italian artists the paintings of Morandi have particular relevance to Lowery who treats buildings rather as vessels in a seaside still life, painted in subtle colours creating a dreamlike metaphysical atmosphere.
Andrew Lambirth, who described Alex Lowery in The Spectator as 'the poet of the Dorset coast', selected his work for his 'Critic's Choice' exhibition this year at Browse & Darby in Cork Street. Alex's success does not go to his head. 'This morning I have been thinking about how not to think,' he says cryptically, 'learning not to know how to paint.'
Alex Lowery's paintings can be seen at Sladers Yard, West Bay, Bridport from 14 November in 'Sea Light' with paintings by Jeremy Scrine, Stephen Jacobson and Rufus Knight-Webb.
www.sladersyard.co.uk t: 01308 459511.