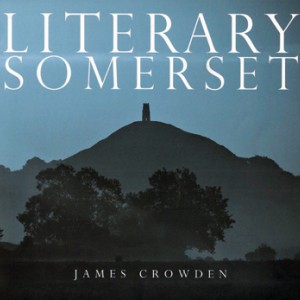 In the introduction to his new book, Literary Somerset – A readers' guide, author James Crowden plays down the significance of his work, calling it a 'first trawl' of a county teeming with literary anecdotes. He suggests that his work may be a source for readers to begin their own research. He may be right, there is plenty of room for each reader to do their own further research, but Literary Somerset is quite an extraordinary first trawl.
From Thomas Hardy's time spent living in Yeovil to John Le Carre's time spent teaching at Millfield, James Crowden has packed his book full of fascinating facts and anecdotes. Through the highways and byways of Somerset, including the cities of Bath and Bristol, he has created a literary road map from Anglo Saxon times up to the present day.
Who would have guessed, for example, that Johnathan Dimbleby ran an organic farm near Bath for some years or that Thomas Hardy's former home in Yeovil is now a private car park for a shop that specialises in 'cheap knickers, blouses and skirts'. What would Hardy have made of that?
Not everyone would have known that JRR Tolkien honeymooned in Clevedon or that Roald Dahl went to boarding school in Weston-super-Mare, the same town in which John Cleese was born and Jeffery Archer grew up. James Crowden recalls spending four weeks in the Himalayas with John Cleese, who fell over and sprained his ankle whilst doing a silly walk over a pass at high altitude.
He devotes five pages to TS Elliot who became a pen pal of the comedian Groucho Marx, even requesting a portrait which he proudly hung in his home.
The book covers more than 300 writers: early chroniclers and opium addicted Romantic poets, philosophers, pirates and playwrights, eccentric clergymen, diarists and herbalists, novelists and historians, travellers, chefs and scientists – from Gildas to George Bernard Shaw, Fay Weldon, Margaret Drabble and Terry Pratchett.
Many of these literary connections are well known: TS Eliot and East Coker, Wordsworth and Coleridge in the Quantocks; but did you know that John Taylor, founder of the Guardian lived in Ilminster; or that Virginia Woolf had her honeymoon in Holford; or that John Steinbeck lived near Bruton to research the Arthurian legends; or that the weird electrical experiments of Andrew Crosse at Fyne Court inspired Frankenstein… or that the vicar of Isle Brewers was once sold for 25/- and then walked naked across Afghanistan; or that Arthur C Clarke was born in Minehead or that Cheddar Gorge inspired Helm's Deep in Lord of the Rings?
Literary Somerset is broken down into manageable chapters, many with quirky names such as 'Three Wise Men', 'Two Herbalists and a Leg Stretcher' and 'Hacks and Scribblers'. One chapter, 'Four Waugh and a Herbert' about Arthur, Evelyn, Auberon, and Alexander Waugh, and Aubrey Herbert, has the author remembering how Arthur Waugh became his father's godfather. He points out that Waugh's deep interest in books and publishing rubbed off on his own family and how the Waughs all had a great sense of humour – an art that James Crowden has mastered and uses with great effect in this book.
Irrepressible, energetic and passionate about the West Country, James Crowden has produced yet another excellent addition to a library of Somerset literature that is already bursting at the seams.