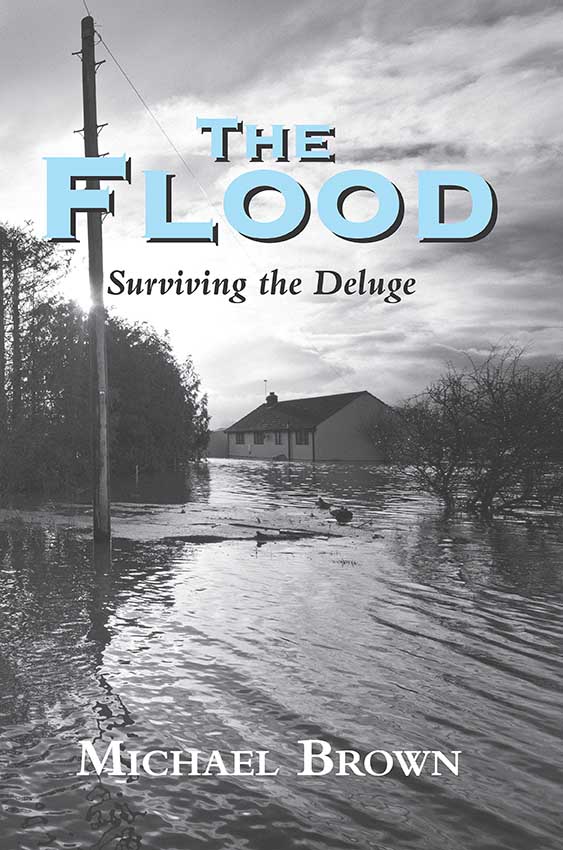 To some people flooding is like a biblical plague, a once in a lifetime occurrence like avalanches, locusts and earthquakes, but in parts of South Somerset, flooding is a way of life.
Indeed for thousands of years it is the annual winter floods that give the water basin of the River Parrett its unique character. Four rivers flow into one river and then there are the high tides in the Bristol Channel. Flooding is inevitable and it is the flood sediment that gives the fields a rich covering of fine silt which in turn give the summer pastures an early shade of green which can even be seen from Wales on a fine day. A rich pasture that fattens up sheep, geese and cattle and gives the milk an extra boost to give the fine cheddar cheese its rich creamy tang and makes the butter sparkle a deep yellow like buttercups. Then there are countless miles of pollarded willows, ditches and rhines, a great environment for waders and wild fowl, plovers, ducks, swans and eels. All very picturesque on a fine summer's day with a glass of cider and cow parsley coming out of your ears.
But what happens when the authorities stop dredging the rivers for twenty years, it rains for a month and you are marooned and surrounded by miles of water? What happens when you do battle day and night with an array of pumps and sumps, and you spend all your time up to your waist in waders and then after weeks and weeks you know that the flood has finally snuck in round the back and comes into your kitchen and sitting room?  And finally you surrender and turn the pumps off and there is an eerie silence and the water then stays for months on end in your house like an uninvited guest…  What does that really feel like?
Most people would simply want to banish the experience from their memory like a bad dream and run away. But it takes a brave man with great sensitivity like Michael Brown, the well known eel smoker, to give us a raw, detailed and heartfelt account of the floods. Someone who is finely tuned to nature and the natural world, who can express the triumphs and tragedy, the poignancy and enhanced feeling of community spirit that the floods bring in their wake. And like a true Somerset man he stubbornly stayed put. He and his wife Utta camped within their own house and Michael kept scribbling away upstairs making notes, retrieving his possessions, trying to get electricity re-connected, fighting bureaucracy and phoning all and sundry to come to their rescue or at very least just to notice their plight.
But in the village of Thorney he was not alone. Many of his neighbours had also flooded and they compared notes, dined out in wellies, visited each other in tractors, canoes and rowing boats and generally became more and more desperate and philosophical in equal measure. He charts their emotions, up and down, like tides as if there were neaps and springers. The flood becomes a living organism as if it has a mind of its own.
The Flood is a masterpiece of understatement and many men would have thrown in the towel and abandoned the house to its fate and gone to live on dry land in a mobile home or local B&B, but Michael Brown has a fine ear for dialogue and he recounts conversations with his neighbours like a true story teller. And as the flood progresses he becomes more and more philosophical. What I really like are the added bits of family history, people he has bumped into over the years and the re-discovery in the attic of his mother's letters about retreating from Burma in the war. A man of teak. It is the narrative which is compelling.
But the book is far more than just one man's diary of a flood, it is a portrait of a village in crisis, and the village pulls together in a way which is very impressive. Eventually a journalist appears, Martin Hesp of the Western Morning News and then he is followed by film crews from around the world. Thorney is on the map at last. Even the Bishop of Taunton comes out in a rowing boat. And when the floods eventually recede they invite a seasoned drainage engineer of the old school called Dan Alsop to visit them and give his advice.
Solutions? well there are a few. Dredging has restarted in earnest after twenty years. The Dutch were called in with their pumps. The village of Thorney now has bund, an earth bank, to protect it and roads have been raised. What is extraordinary is that few of the villagers of Thorney would have in the end missed the experience, and it shows the restorative power of narrative. They all have stories to dine out on for years to come.
A book not to be missed.
The Flood – Surviving the Deluge
by Michael Brown
Published by Merlin Unwin Books
ISBN: 978 1 910723 20 3.
Price: £14.99