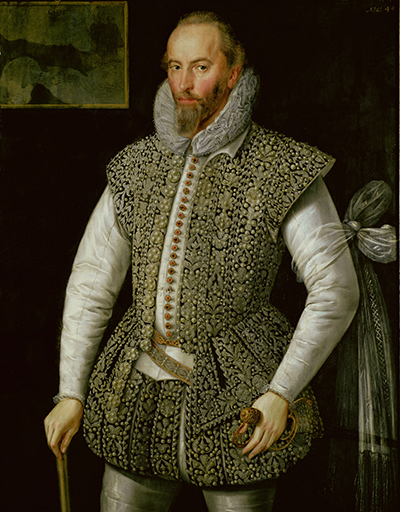 It was probably my birthday present, with a view to riding the two miles to the Grammar School if I obtained a scholarship. The Hercules was second hand and I could not reach the pedals, so they were enhanced by wooden blocks, later removed as my legs grew longer. Bicycles apart, there was a famous Raleigh.
Walter Raleigh was born about 1554 near the River Otter, at East Budleigh, South Devon, possibly at Hayes Barton farm, and may have studied at a school in Ottery St Mary. He grew up a staunch protestant and anti-catholic. Raleigh fought in France as a cavalryman, and may have returned financially better off. He studied at Oxford University, but left without a degree and joined the Inns of Court in 1575. Raleigh became Captain of the Falcon, sailing the coast of Africa, returning in 1579, to take an unpaid post at Queen Elizabeth's Court in 1580. By 1581 he was in charge of 100 men in Ireland, but soon returned to Court.
There is an unproven story that Raleigh cast his cloak on mud to keep the shoes of Queen Elizabeth I clean. Certainly the Queen gave him charge of a troop of soldiers in Ireland, but paid him to stay at Court, possibly as her personal secretary. He held substantial lands in Ireland for some time. The Queen leased Raleigh a substantial residence, Durham House, off the Strand, in 1582/3. She liked to be surrounded by personable young men. Raleigh was described as being vain, ambitious and "damnably proud", with a superior manner, but not of noble birth. His "wit" was his greatest asset and he wrote poetry, some to the Queen describing her as an "Oracle" and "Shepherd of the Ocean". This may have endeared him to the Queen, but not to her other favourites whom he had displaced.
Raleigh kept his Devon brogue, and the Queen mocked him by calling him "Warter" or "Water". She knighted him on Twelth Night 1585. In I587 he was made Captain of the Queen's Bodyguard, and in 1588 when the Armada threatened he was in charge of defences. He strengthened the defences at Portland and Weymouth, and organised beacons along the coast. Raleigh built a ship called "The Ark Raleigh" but renamed it "Ark Royal" and passed it to the Queen for the navy.
On his rides from the West Country Raleigh had seen Sherborne and its castle, built originally by a Bishop of Salisbury and part of the See of Salisbury. It was a massive building, with 4 three-storey towers, a banqueting hall, drawbridge and moat, in a shallow valley of the River Yeo, surrounded by a beautiful deer park. He wanted it and asked the Queen to help him obtain it. He gave her a jewel worth £250 to facilitate the appointment of a new bishop. The castle was leased to the crown for an annual rent of £200 and in 1592 she reassigned it to Raleigh. Tarleton, the Court Comedian, said "The Knave commands the Queen." A Jesuit Priest called him "The Darling of the English Cleopatra".
Meanwhile Raleigh had become enamoured with Bess Throckmorton, Maid of Honour to the Queen. Bess became pregnant and they were married secretly in 1591. When the Queen learnt of this she imprisoned them both in the Tower of London, but released him in a month, banishing them to Sherborne. Bess and Walter found old Sherborne Castle damp, cold and too large. They built a new house on the site of an old hunting lodge, across the River Yeo, with orchards, gardens and eventually cedars from Virginia. A stone seat near a cascade is reputed to be Raleigh's favourite place to smoke his long pipe, and legend has it that a servant once doused him with a tankard of ale. The same story is repeated elsewhere, but with water!
Raleigh helped expose Jesuits, e.g. Fr. Cornelius at Chideock, whose hanging he is said to have participated in at Dorchester in 1594. In 1595 he led an expedition to Guiana returning with tobacco and a little gold. In 1596 he joined a raid on Spanish Cadiz. Raleigh became MP for Dorset in 1597. He did not introduce tobacco or potatoes to England, as has been suggested, but he helped popularise tobacco and introduced potatoes to Ireland.
Queen Elizabeth I died in 1603 and the life of Raleigh became miserable, culminating in imprisonment, illness and finally execution in 1618. (King James may have taken an instant dislike to Raleigh). Accordingly I am leaving the life of Raleigh in 1603. King James gave Sherborne first to Robert Carr, then to Sir John Digby. Sherborne old castle was slighted by General Fairfax in 1645.
I have referred to several books for this history, notably by John Buchan, Paul Hyland and Raleigh Trevelyan. John Aubrey (a contemporary of Raleigh), in Brief Lives said of Sherborne "tis a sweet and pleasant place and site as any in the West: perhaps none like it".
Now for a piece of modern local history: Bridport History Society was formed 20 years ago last month at a meeting in Bridport Museum on 25th May 1995. The next meeting of Bridport History Society will be on Tuesday 9th June at 2.30 pm in Bridport United Church Main Hall, East Street, being an illustrated talk "A Wing and a Prayer" by Barbara Gilbert, Archivist, Fleet Air Arm Museum.