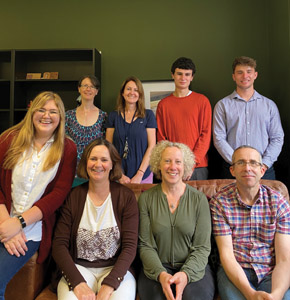 An initiative to convince Dorset organisations to support the use of sustainable palm oil is gaining traction. Fergus Byrne has been talking to members of Efeca.
Palm oil is versatile and efficient and used in up to 50% of products in an average UK supermarket. It can be found in foods, cosmetics, soaps, and cleaning products and it produces up to nine times more oil per unit area than other major oil crops, therefore having the potential for enormous environmental benefit—but not if its production causes deforestation.
Unsustainable production of palm oil has wiped out huge areas of rainforest in order to provide the ingredients for these products in the UK and around the world.
Almost 100 globally-renowned conservation organisations including WWF, Conservation International, Chester Zoo, Save the Rhino and The Jane Goodall Institute signed a statement in September 2021 committing to driving the palm oil industry in the right direction, and supporting a move to sustainable palm oil rather than a blanket boycott.
Efeca, a sustainability consultancy based in Dorchester and Bournemouth is hoping that businesses and organisations in Dorset will champion the use of only sustainably produced palm oil to make the county the first in the country to stand against the enormous environmental damage caused by deforestation for the production of palm oil. However, an outright boycott of palm oil is not the answer. In a recent statement, Efeca pointed out that a blanket boycott could lead to more deforestation and not less, as palm oil is such a high-yielding crop. You would need up to nine times as much land to produce the same amount of a different vegetable oil, potentially worsening deforestation and other impacts.
A blanket boycott of palm oil could also drive the price down, which could increase demand, especially in markets that have less interest in sustainability. This reduces the incentive to produce environmentally sustainable palm oil.
Efeca points out that all agriculture has an impact: bananas, beef, cane sugar, chocolate, coconuts, coffee, pineapples, soybeans, tea, and vanilla are all produced in previously forested tropical areas. And with over 4.5 million people in Indonesia alone relying on the palm oil industry as their primary source of income, palm oil is here to stay. 'What we need to do is ensure that it is cultivated in a sustainable way, that will have a positive impact on environment and local communities', says Efeca Operations Director Lucy Cullinane. 'Oil palms do not need to be grown at the expense of forests and other sensitive natural habitats. Instead, we need to break the link between development and the degradation of natural ecosystems.'
In 2019, Chester Zoo started the Sustainable Palm Oil Communities initiative. Since then, five other towns, cities, and villages have joined the project: Saltash, Oxford, Plymouth, Newquay, and Mochdre in Wales—and in August 2021, Efeca added the first county, Dorset.
'However, we need help to achieve the status of the world's first sustainable palm oil county' says Lucy. 'We want Dorset schools, colleges, universities, council food outlets, hospitals, restaurants, hotels, fast food outlets, cafes, tourist attractions, leisure facilities, manufacturers, workplaces that offer staff catering services and retailers to get involved.' Lucy is asking these organisations to sign up to the initiative, become a champion, and make a pledge to find out where they source their palm oil from, as well as make changes where possible to ensure that they only use certified sustainable palm oil. And then shout the message from the rooftops!
Emily Fripp, Founding Director at Efeca, said: 'Having worked with multinationals and governments on sustainable palm oil for many years, everyone at Efeca wanted to give something back to our local community. We worked alongside Chester Zoo and Chester as they achieved their Sustainable Palm Oil City status, so we now want to help Dorset become the world's first Sustainable Palm Oil county. We already have some champions on board and know that our community here on the sunny south coast will continue to grow over the next year.'
Organisations like Bournemouth University; Coconut and Cotton, a zero-waste shop in Shaftesbury; St Osmund's Middle School in Dorchester; Fish n Fritz in Weymouth; Local Food Links in Bridport, Blandford and Weymouth; Warrior Agency, an ethical PR company in Bournemouth and Forerunner Personal Catering, a school food provider in Bournemouth have already committed to sourcing only sustainable palm oil.
The Roundtable on Sustainable Palm Oil (RSPO), a not-for-profit organisation that unites stakeholders from seven sectors of the palm oil industry has set up certification criteria. To be RSPO certified palm oil must be deforestation-free. It must also meet certain standards, which include assessing land for its conservation value before developing new plantations; including wildlife corridors; improving working conditions for producers; prohibiting illegal and child labour; and gaining permission from communities beforehand.
Chester Zoo has compiled a shopping list of certified businesses which they make available on their website at: https://www.chesterzoo.org/schools/resources/sustainable-palm-oil-shopping-list.
Lucy explained that although the hospitality industry will play a big role in increasing demand for sustainable palm oil, Efeca is also aiming to get representation from organisations in a variety of sectors across Dorset. To reach their objective of becoming the world's first Sustainable Palm Oil county means recruiting fifty 'Champions' before the end of 2021, which Lucy admits is a 'big ask'—but in terms of benefit to the planet, it's really not.
There are so many easily available options to switch to sustainable palm oil and Efeca believes they shouldn't cost any more than businesses currently pay for food products and ingredients. 'We also have free toolkits and resources to help at every stage of the switch' said Lucy. 'Even if you don't have a canteen, you can switch your cleaning products so that they only have sustainable palm oil in them, or you can write a policy to say that you will check that the products or ingredients you do use only have SPO in them.'
'But this initiative is not necessarily just about increasing the number of certified businesses in Dorset' said Lucy. 'It's about getting people to ask for sustainable palm oil, creating that market demand and thus telling producers, traders, manufacturers and retailers that there is a demand and to turn away from conventional.'
If you're interested to learn more about the Dorset Sustainable Palm Oil Community project and want to send a positive message to your customers, your employees, your students, and your community that you are doing something to reduce the impact of climate change email Efeca at dorsetsustainablecommunity@efeca.com.