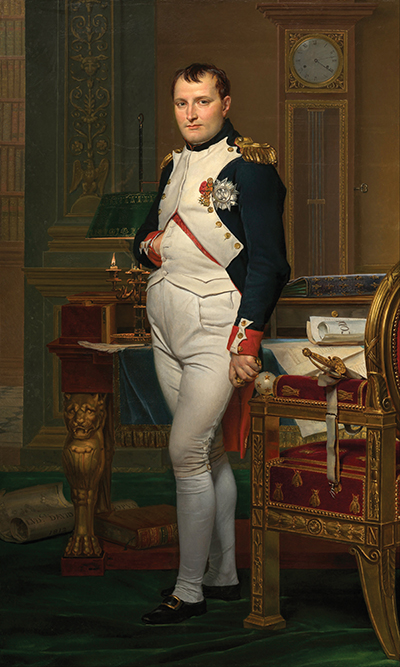 If you watched Broadchurch on TV a few months ago, you may have noticed an unusual building on top of a hill. It was where sordid characters Claire Ripley (Eve Myeles) and Lee Ashworth (James D'Arcy) fought and cavorted. The building had been constructed originally as a lookout and signal station, for possible use against invasion by the French under Napoleon Bonaparte around 1800. If you travel along the B3157 coast road from Weymouth to Bridport the building can be seen on Beacon Knapp, a hill near Swyre. The lookout provides a view of Lyme Bay, from Portland to Start Point. Another lookout was erected at Charmouth and others along the south coast. If an enemy ship was sighted, either by the lookout or by one of our ships signalling back to land, the signal station was to communicate with the nearest officer of our land forces. A beacon of tarred wood was ready at each station, to be lit if required, forming a chain of beacons along the coast.
A notebook written in 1884 by Rebecca Thompson, (nee Stephens) described her parents recollections of the war. They kept a drapery shop in East Street, Bridport. Rebecca wrote  that 'being on the south coast it was considered necessary to plant cannon on the cliffs and I have often listened to the tales of alarms that the "Fierce French" were near upon landing'. The Thompsons were obviously too well brought up to say "Boney", as most people did. Napoleon had assembled an army of about 150,000 men at Boulogne, with a fleet of barges ready to cross the Channel. It was said that with a good telescope these could be seen from the south coast.
As a result of Napoleon's threat, in 1793 the Volunteer Dorset Rangers were formed, shortly to become the Yeomanry Corps of Light Cavalry in the County of Dorset. Members had to find their own horses and clothing. The Government provided arms and accoutrements. The original uniform was a green jacket and waistcoat, with yellow buttons, leather breeches, long black boots and a round hat, with a green feather. Captain Richard Travers of Uploders was appointed to lead the Bridport Troop formed in 1794. Training was not more than two days per week and none during harvest or sheep shearing. In 1795 Travers had the men 'practice with the carbine, motions requisite for light cavalry, mounted or dismounted'. Absence on parade was liable to a fine. Each man was ordered to bring a feed or two of corn for his horse and his own provisions.
The Government decided that a count should be taken of population and available stocks. In 1796 Captain Travers was requested to investigate the country from Abbotsbury to the western county boundary. This included 22 parishes two and a quarter miles from the sea, covering 224 farmers, with 1,238 horses, 3,910 cows and 26,709 sheep. Crops included 2,903 acres of wheat, 1,375 of barley, 1,386 of oats, 205 of beans, 282 of peas, 61 acres of hemp, 485 of flax and 8,707 of hay. The farms could provide 255 servants mounted on horseback to drive stock and another 217 servants on foot armed with picks and spades. Owners of 10 horses had to provide one equipped horseman. In 1797 ball cartridges were issued and thousands of pikes were ordered for the civil populace, so the threat was considered serious.
It has been said that the government made the Dorset investigation a model for the other southern counties. The scope was extended so that in the event of an invasion people could be moved back inland for ten to twelve miles and fed. Mills and bakers were essential for this and were included in the listings.
Something more sophisticated than a beacon was required and eight Signal Stations were erected from Ballard Down (Purbeck) to Golden Cap and inland at Toller Down and Lambert's Castle. These had a roof mounted telegraph, a framework of movable shutters, black with a central white spot, operated by ropes and cranks inside the building, by an officer and two men, aided by a telescope. They could display 63 combinations of letters or numbers. Flagpoles carried a red flag, a blue pennant and four black balls, three feet in diameter. Mistakes were made and the Sherborne Journal in 1799 recorded that a message from the Signal House received by the Bridport Commanding Officer was of an enemy landing in the west at 10pm. Drums 'beat to arms' and three companies of Volunteers were under arms all night, to learn it was a mistake at 7am. Thomas Hardy wrote of a similar mistake in his novel The Trumpet Major. In 1804 the Signal Station at Verne, Portland gave a false alarm in fog, 'causing great panic throughout the country'.
This information is partly from Records of the Dorset Yeomanry by C.W. Thompson, 1894, based on Col Frampton's memoir.
Bridport History Society does not meet in August. See you in September.