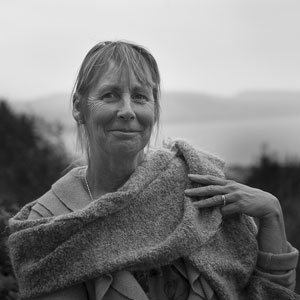 Robin Mills went to Lyme Regis to meet Fran Williams. This is her story.
'My family weren't originally from Bridport; we moved there when I was very young. My Dad was a teacher with young people who had behavioural difficulties. A striking memory I have from that age, of about 7, was going to a bakery in Bridport with a Jamaican friend, standing in a queue for a long time and not being served. When we got back to the car Dad asked where the doughnuts were, and when we said they wouldn't serve us he took us back in the shop and made sure that they did. All a bit shocking but that stuck with me. Dad was David Marsh who was well known throughout all the local schools and communities; he knew all the tiny villages. He would take us round the depths of the countryside telling us fantastic stories about these schools, some with only 15 children, and about the families they came from. Mum has retired from being a traditional upholsterer; she's always been creative, a good thinker and an amazing Mum. I'm the middle one of three sisters and we all work with young people. After Bridport we grew up in the Marshwood Vale.
I went to primary school in Bridport, then Colfox, and finally Woodroffe, and although I wasn't unhappy at school it wasn't really where I wanted to be. So I used to get into trouble a bit—not serious trouble—but in a way that period of my life made me who I am today. My family fostered and that brought a lot of joy and gave me a real insight, living with children who'd experienced major challenges in their early lives. The environment I grew up in was formative; and from that came a really big philosophy which was that whatever your background everybody can shine at something. As a family we never felt a particular responsibility to do something about inequality, we just did and always have.
A good thing about growing up in the Marshwood Vale was that because my sisters went to different schools we knew many different people from different places, which meant that if we threw a party it was always a good one. That was from quite a young age and it was then I met my future husband Tax and his family, at the age of 14. At school I wasn't really fitting in; in fact I often skipped school. My reports would say "could do better" and I think I began to get fed up with reading that. I realised that actually there was something I really liked doing and that was working with young people. So aged 14 I organised myself to work in a children's home in Lyme Regis. I asked school if I could do work experience there, as well as work in the reception class of the local infant school with Tax's Dad, Peter Williams. The one day a week had a dramatic effect on my enjoyment of school life; it all began to make sense which was fantastic. I met a lot of good people on the way many who became great friends.
After a spell in London as a nanny, I worked in Dorchester in a children's home, Hawthorn Lodge, where I met a fantastic group of people also working there. That was another significant learning period of my life because I was there during something of a turning point in the way children in homes were looked after. Not that these places were unkind to them, but the children hardly ever got to go out, ate the same food every day, and at that time all that was changing. I remember taking a group of kids on holiday to a caravan on a farm. I will never forget these children just having the time of their lives—eating food we'd cooked together, hanging out in the caravan having a laugh, even sitting in a puddle.
I went to Portsmouth to train as a professional social worker; I wanted to go somewhere I'd never been. Over half of my training, and it was a fantastic course, was practical. One of my long placements was in Bridport Social Services, which was interesting coming back to work in the town where I'd grown up. Before long I began to feel it was time I flew the nest and work away from the area. I found myself a placement in London working with young offenders and at an assessment centre in Battersea. In the city I was meeting people working in very different ways and it was challenging, exciting, fun and occasionally quite heavy. I'd find myself knocking on someone's door 10 stories up a draughty tower block and scared to death, but the minute you're working with the young people it's fine because they're just part of families trying to get on with their lives like everyone else. That was when I began to develop a way of working with young people using the arts—photography, film, music—and with some counsellors and therapists whose skills I have great respect for. It was the beginning of my London journey and where I met more long-term family friends. I was there 7 years working all over London in different fields; a drug and alcohol dependency unit, family centres, a homeless hostel in Camden Town, and agency work, just to widen my experience. Some of it was pretty tough for someone in their 20's. I often wished I'd somehow recorded the life stories of some of the people I worked with, survivors; profound, tragic and with great humour, really those stories belonged to the people concerned.
Tax and I have two daughters, Georgie and Maddy, now 23 and 25. I sort of wanted to bring up our children in London and keep working there, still do in many ways, my Mum having come from London and having spent a lot of time there with my Nan. When I was a level 3 senior practitioner, heavily pregnant with Georgie, and due to give birth in Mile End hospital, something clicked and I felt the need to return home to Dorset. We found a house eventually in Bothenhampton, a little pebbledash place that was perfect for us. Then Maddy was born there, and while I took time off work to bring up the children, Tax travelled to London to continue his job as an emergency night duty social worker. He still does that but also does mackerel fishing trips from Lyme Regis and runs a small inshore fishing vessel. I've also done work experience with a cabinetmaker; making things from wood is something I'd really like to pursue again sometime. I used to throw myself into work for a year and then go off traveling for 6 months. It was all done on a shoestring and we'd have to work to earn money to live.
My work is a big part of my life, so are family and friends. I used to run Bridport Youth Centre which I loved. In Bridport we set up a skate park and an alcohol-free nightclub, following much discussion with the young people about what they wanted in their lives. Bringing young people together led to them coming out with loads of ideas, like training each other as DJ's. This approach became a model of working which was about asking young people what they want, how they want to make it happen and then supporting them to do it. That model was probably the beginning of the idea for B Sharp. We moved to Lyme, a beautiful place to live and a great community, but one which hides a lot of struggles and a lack of affordable housing and employment, forcing local young people and families to move away. On winter nights there are more and more dark empty houses, 42% I believe, whole streets in some places and that is a real worry. Wanting the best for everyone, fairness is what's always driven me and is something I have in common with a lot of people I know and work with. I met a charismatic young busker who was fed up with being told to move on; there were no places to go for young people, and a lot of bad press. So we held a public meeting and from the enthusiastic response by both young people and great team of adults, the early days of B Sharp began. The busker, Jacques, is a founder member and now music leader with B Sharp. Music is the focus of our activity because it cuts right across the demographic; mixing people, mixing music and finding people who want to contribute is what we're about. Ayvin, my long-time friend, works tirelessly behind the scenes with others to make it happen. My dream is one day we will find a secret millionaire so we can get on with the job. I've always had a passion for meeting and bringing people together whoever they are.'