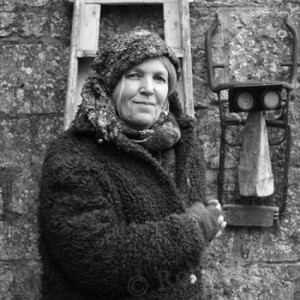 "I'm the middle one of three children. My parents both went to Cambridge after the war – my mother read history, my father mechanical engineering. He'd been wounded in the Normandy Landings. Talking with my mother only recently, she said that today my father would be diagnosed with post-traumatic stress disorder, but then there wasn't a name for it. Most of my childhood I was aware of him painting; he was painting around the theme of war, as if he was trying to paint his way out of trauma. This really carried on for most of his life, although he switched from painting to writing and back again; his surreal imagery was all around the house as we were growing up. I was also aware of his rather dark presence – this person who could be unpredictable and sometimes explode. My mother was the opposite, as if she was trying to counter that; she was sunny and bright, and tried to protect all of us, including my father, from the outside world. So it was quite a strange upbringing; it was very privileged, but in another way kind of deprived, in that we were always a bit cut off from other people. We always lived in isolated places, and there was a sense that the rest of the world was slightly contaminated; perhaps what we were deprived of was relationships; we had friends at the private schools we were sent to, but I think there was a sense of society at large being a rather threatening place. All this, along with my father's imagery, has been a strong influence on my brother and I – he's a singer/songwriter. As artists, I think we both have our roots in surrealism.
I was sent to a very enlightened private boarding school, Bedales, which has a great reputation for the arts, and is coeducational, but I was homesick. It was a misguided thing which so many middle class people did at that time – parents thinking they were doing the best for their children, when actually it was possibly the worst. I couldn't wait to get home, and after I left school and went to do my foundation year at Winchester School of Art, I lived at home and walked in to college along the river every day, as if I still needed that umbilical connection. After Winchester, I went to Newcastle Poly, as it then was, to do a Fine Art degree. That was in the seventies, so it wasn't as exciting as the decade before, when Brian Ferry, Alan Price, et al, were strutting their stuff, but it was before all the cut-backs, so there was no limit on materials. I was experimenting with, and wasting loads of materials like clay, and resin. I hate to think how much resin I used.
Newcastle then was just on the cusp of becoming a really exciting, vibrant place and I loved the landscape of Northumberland, and Cumberland, which we explored at weekends. I think somehow I missed out on popular culture. At boarding school there was no television, and at art school, half the time I lived in places with no electricity, and I think it just passed me by. I don't know where I was; I think I was living in my imagination, and I wasn't really aware of what was going on out there. I began to like Newcastle more and more; I had a good circle of close friends, and I might have stayed there but for the fact I had a boyfriend in London, so I moved down south again.
And then I got pregnant, and had my daughter Ruby, and we moved to Sydling St Nicholas here in West Dorset. That was over 30 years ago. We'd been visiting Dorset when I lived in Winchester; it seemed to have a magic about it then – ancient earthworks and forgotten hamlets with damp and collapsed cottages. Walking into a pub you'd get stared at, for not being a local, and none of the footpaths led anywhere, they were all so overgrown. It was frustrating, but there was something really mysterious about it, as if you really could still get lost.
I set up a printmaking studio, and found I could sell etchings quite easily. They were small and intense, and mostly based on landscape. Coming here was that classic artist thing of trying to find a retreat to work in, somewhere up a track, although actually we lived in the village. I didn't drive, and Ruby and I would take the bus once a week to Dorchester to do the shopping, or if we wanted to go further afield, we'd walk the two and a half miles over the hill to Maiden Newton, (Ruby aged 2) to get the train. Without a car, you get to know an area more intimately, but I think I did feel a bit trapped, especially with a small child and not really knowing anyone. I became disenchanted with my work too, probably because I wasn't being experimental enough. But because it sold well, it was hard to give up.
When Ruby was five, we went to live in Rampisham with George, her father, who'd moved from London. He'd bought a derelict farm, and that was up a track; I found it really liberating, and began to get back into 3D work. I needed to get away from the straight, tight, controlled part of me that was coming out in my etchings, and play about a bit. My son Edmund was born, ten years after Ruby, and I was very bound up with looking after him. I was growing vegetables and keeping chickens as well. And then my father died.
When Edmund was four, I left George, left Rampisham, and came to live here at Mapperton, and I went into therapy. That connects with my life now, because I'm training to become a psychotherapist. While I was in therapy, I began to work with the flotsam and jetsam washed up on Chesil Beach. Making sculpture out of rubbish, I now realise, was a kind of metaphor for what was happening to me in therapy; I was trying to redeem myself by connecting up all the different parts, and making myself into something whole. The therapeutic part was never knowing what I was going to make until I was actually making it. With the etching there was always a feeling of failure, of not being able to do justice to the landscape, as if my only option was to replicate it. Also the process of etching involves a kind of commitment; once you've put the metal plate in the acid, it's very hard to reverse anything; you can add, but it's almost impossible to take away. But with the beach detritus I can endlessly add bits or take them away again. I love working with worthless materials, I get self-conscious and a bit scared using anything new. Blank sheets of paper intimidate me. When I go to the beach, I try not to look for specific things, but inevitably I have a kind of unconscious wish-list. I feel very ambivalent about the sheer amount of 'stuff' there; stuff we throw away, or lose, or somehow manage to forget. We're using the sea as a dumping ground, yet my work wouldn't exist without it. It's a strange kind of symbiosis. How these things arrive here, and what part of the globe they come from, never fails to intrigue me, as does the mystery of how the sea sorts them out – left footed flip-flops on one beach, right footed on another. Every beach has a theme, depending on the tide and the season.
I started running workshops with kids about fifteen years ago. I encourage spontaneity; try to get them to play around with different objects, different imagery and associations. They learn the skills of construction; how to join things, make them balance, stand up, or move. More importantly, they learn how to overcome difficulties – there always comes a point in every piece of work when I feel I've reached an impasse, and I can't see a way of resolving it. But eventually I do find a way, and I try to encourage children to do the same. It's like a microcosm of life – constantly confronted by obstacles, and trying to learn how to overcome them. It's very satisfying when you do."