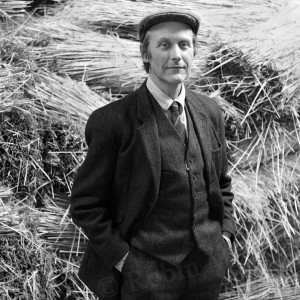 "I was born and brought up here at Manor Farm, but my father's side of the family had Cornish roots. He grew up in Bournemouth, but his father was a GP, who came from Cornwall. He was the son of a shopkeeper, had lots of brothers and sisters, and one of his sisters was the housekeeper on St Michaels Mount, home of Lord and Lady St Levan. So my grandfather, who was in his forties and unmarried, happened to be visiting his sister at the castle, where a female relative of Lady St Levan was staying. The relative was taken ill, so Grandfather's sister suggested he, as a doctor, take a look: the unwell relative, also in her forties and unmarried, and my grandfather got on rather well, and a sort of upstairs-downstairs romance blossomed. This caused considerable disapproval in her family, but it didn't deter them; Grandfather had been quite successful in his life, passing exams to become a doctor and working hard to expand his practice, but he was the son of a shopkeeper, a tradesman, and she had family living in a castle.
My father was lucky enough to inherit from the estate of a wealthy family friend, so, as he loved the countryside and farming, he found himself able to buy a farm. In 1937 he bought Manor Farm here in Godmanstone, partly because it was on the boundary of two hunts (the Cattistock and the South Dorset), but also as a devout Christian and a lay reader, he liked the fact it was close to the Franciscan Friary at Hilfield. I've always wanted to farm, never wanted to do anything else, apart from when I wanted to be an engine driver and play cricket for Somerset; I still love steam engines and cricket. So from a very young age I was the one to get involved in the farm, rather than my two brothers and sister. I remember vividly Fred Moxom and me on our David Brown Cropmaster tractor, which had a double seat; he'd sit me up alongside him, and he'd smoke while I steered, as we ploughed or rolled the fields. It was just bliss. I remember driving Tim Crabb's Fordson tractor, while the men picked up bales of hay. Tim said, "when I do shout, staaand on the clutch, and pull on th' brake!" I can't have been much more than about five, and of course couldn't really manage it, so was demoted for a while, though I was allowed to row up hay with the Cropmaster when I was 10. It was a different world then, when things seemed to happen slowly enough, so that children got to drive tractors.
After school, I went to Cambridge to read agriculture; not through any great desire on my part to go to Cambridge – it was expected of me as I'd passed the exams – but I did want to read agriculture. It was actually pretty hard work; people had made out agriculture to be a bit of a doss, but it was an honours degree like anything else, and we did all the agricultural sciences and I found it hard graft. Cambridge didn't suit me all that much. Then during my first year, my Mum died, very suddenly. Father was pretty lost without her, and said that if I wanted to run the farm, I could start as soon as I'd qualified. Then Pam and I got together, and so it was graduation in June '69, wedding July '69, started work August '69. In October 1970 I became the tenant, our first dairy heifers started calving, and Laura our first daughter was born. Kate came along a couple of years later and Patrick a few years after that.
Farming in the 1970's was very different, pretty dire really. My agricultural education, and the whole ethos of the industry, was about increasing production. Farmers were spreading more and more ammonium nitrate fertilizer, dosing the cows with antibiotics when they got mastitis, and there was aerial spraying on the hills around the village. We were looking for less intensive ways to farm, trying some nitrogen fixing crops like peas and lucerne; then Pam went on a homeopathy course in Devon, in about 1980/81. The people there were wondering why on earth Pam, as a farmer, was studying homeopathy, which is all about the effects of substances in tiny amounts, when we were using all these chemicals. That was really the clincher, that was when we said to ourselves "we have to do this", and go organic. I was saying we'd probably go bust, but my protestations went unheard and Pam said we'd just have to make it pay somehow; she's always been like that with what we've done, determined, positive, and brave, and none of this would have happened without her. The conversion took quite a long time because there wasn't really a model to follow back then, nor were there any conversion grants, so we were feeling our way. Conversion was complete by 1988, with the dairy, lambs for the freezer, and wheat. We grow a very old variety called Maris Widgeon, for the long thatching straw as well as the grain for flour. Thatchers really like it, and it fetches a good price, so it was a significant part of the business, particularly before the milk got going. It's also very beautiful; the binder cutting it, the stooks in the field and the ricks before it's thrashed, like land art where it all appears in the landscape, then disappears, and then it all happens again the next year.
Our organic milk went first to Unigate in Devon, on a pilot scheme for organic bottled milk which didn't work, then to Bussey's Farm in Sussex, where they were making organic yoghurt. They found they also had strong demand for liquid milk, and suggested we put in our own processing plant to supply that market, which we did in'92. We soon found ourselves, Manor Farm Organic Milk, with production of about 1000 litres a day, supplying all the branches of Waitrose and all the branches of Safeway from Penzance to Inverness. We were the only commercial organic dairy farm in Dorset for 10 years. Then it all began to run away from us when the market took off; we needed to make a massive investment to supply Waitrose's own label, which was far too scary, and we were bursting at the seams to process through the small plant we had. So eventually we contracted out the processing to Coombe Farm at Crewkerne; and then after attending a trade fair called Natural Products, at Olympia, we found ourselves with firm orders to supply our milk to a number of independent traders. That involved a delivery round in London, using our own vans and drivers, all of which completely changed our lives.
In the midst of what was probably the busiest time of my life, five years ago I suffered a subarachnoid haemorrhage. I was in Yeovil market, washing out the trailer, having delivered some bull calves for sale, when I collapsed. I was found unconscious, drenched in very cold water, and that was one fact that may well have saved my life, the cold slowing everything down. The other was that I finished up in Frenchay hospital, Bristol, where they specialise in brain injury. A day and a half after collapsing, I woke up to find my family all lined up round my bed, so then I knew the situation was quite serious. Later, I had an operation, in which they accessed the damage via a blood vessel in my leg, through the heart, to my brain where a piece of platinum was inserted to plug the leaky vessel. The surgeon told me there was a two percent chance of not surviving the operation, but actually my chances of surviving the haemorrhage itself had been less than 50:50. Pam spent 3 days and nights on the ward in a chair by my bed, so she could get help quickly if needed.
The process of recovery allowed quite a lot of thinking time, of trying to make sense of what happened. I found myself not only wondering why I'd survived, but also wondering at my good fortune in having survived, and of course wondering what I was meant to do now. The love and good wishes from family and friends at the time, confirmed to me that what I do, as an organic farmer, as a Dad and a Granddad, is what I am meant to be doing, and so having been lucky enough to come through all of it, I'm carrying on as before. We sold the milk business a couple of years ago now; we're still very busy farming, but trying to make life a little simpler these