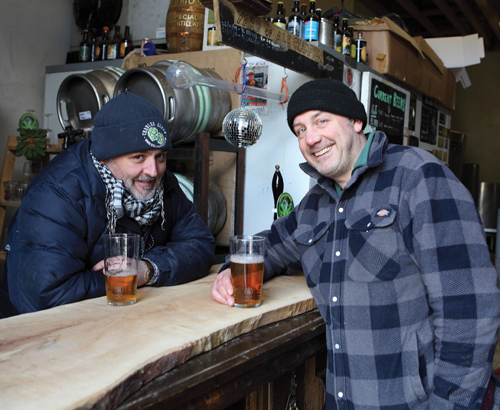 On the day I meet Vic Irvine at Cerne Abbas Brewery he receives a worn copy of an old school report in the post. It details the end of year marks from when he was ten years old. Inside the envelope, there's also an earlier photograph of him as a child with one of his best friends sitting in a high chair behind him. Although the A's in his report outnumber the B's by a long way, and there are effusive comments from his headteacher about his abilities, there is no mention of the fact that one day he might run a successful brewery. But that's no surprise. Unless you are educated by beer-making monks it's unlikely that any educational establishment would be able to predict that particular career path.
Today, sitting in the taproom just outside Cerne Abbas at the brewery he runs with business partner Jodie Moore, he admits with a chuckle that he probably had more interest in being a racing driver in those days.
In an average week, the Cerne Abbas Brewery in Barton Meadows Farm produces up to 3,000 pints of traditional real ale. About a third goes to bottles and the rest comes fresh from hand pumps in pubs around the area.
Talking about his beer it's clear that Vic's passion for producing a unique 'traditional' ale means there is no room for getting over creative or too fancy. Today there might be a certain popularity in what is termed 'craft' beers but that's a word that elicits a derisive snort from Vic. He describes it as an umbrella term for smaller breweries. 'A lot of it is keg driven' he says, 'which is stuff that is force-fed with CO2 so it can last longer.' He describes many of them as 'hop forward' where he points out that the hop is the main characteristic of them. 'They are cloudy beers, stronger beers—American west coast IPA style. We're more of a traditional brewer' he says, 'a balanced beer between the hop and the barley'.
But it's not just the traditional methods that make Cerne Abbas Brewery beers unique. They have a secret weapon in their arsenal—nearby farmer Will Best's barley. Will grows Maris Otter barley which has won many awards and his product is the backbone of the brew. 'The amount he grows is what we brew' says Vic. If Will's acreage goes up, then they brew more. 'He's getting fantastic returns' he explained. 'His yield is quite high. Of course he's farming organically. A lot of farmers spray everything with fertilisers and weed killers. Whereas he rotates his farm organically and does everything the correct way and gets fantastic returns.' Vic says that the extract that they get from Will's barley to turn into beer is fantastic.
Their relationship is a great example of grower and brewer working together, caring for the land, and ensuring a high-quality product at the same time. Using only Will Best's barley also keeps everything local and ensures a continuity of quality. 'It's a big cohesion' says Vic. 'If we expand, Will grows more.'
It's a cohesion and collaboration that he says also extends throughout relationships in his industry. 'We're a bit of an incestuous bunch us brewers' he says. 'We're a band of brothers and sisters really. I've never known a trade like it. Everyone's out to help each other. No one's out there to stitch each other up'.
But the path to hop and barely has had its fair share of twists and turns for Vic Irvine. After a period traveling up and down the country selling carpet in a business he had bought from his father, he decided that dealing with irate people and beige carpet was 'dull and unfulfilling'. He ran a couple of skateboarding shops, tried full-time farming, and when a job came up as chief brewer at nearby Piddle brewery he recognised his calling. Buying a brew kit from someone who was downsizing he worked with Jodie to slowly create just the right brew—in time finding the perfect home for his business in the farmyard he had worked in previously.
Barton Meadows Farm, he tells me, is where it really started for them. 'Breweries are rooted in people coming to the brewery, seeing the brew kit, and drinking the beer' says Vic. In the last summer, they ran events to celebrate local food, music, and beer. One of the highlights was the launch of the Skimmity Hitchers new album The Revolution will not be pasteurised.
The history of brewing in Cerne Abbas is said to have been started by Æthelmær the Stout and his Benedictine monks when they founded a monastery in Cerne Abbas in 987, and the last brewer, James Northover, hung up his apron in 1883. So, Vic and Jodie's enterprise is rooted in a deep tradition, one that Vic is loath to tamper with and one that he doesn't want to see consumed by the rush to modernity and growth. 'The business has evolved organically' he says. 'The growth's been done basically bit by bit. We don't want to be a beer factory, just a small brewery.'
Not wanting to be Cerne Abbas's 'fourth pub' either, the Cerne Abbas Brewery taproom is only open three nights a week and they are looking forward to running further events. Vic says to keep an eye on their website and Facebook to keep up to date on what's coming up.
And if you're short of a smile on one of those three evenings that they are open, pop in and ask him to recite his favourite quote from when he was interviewed by the New Yorker magazine last summer. Nuff said.