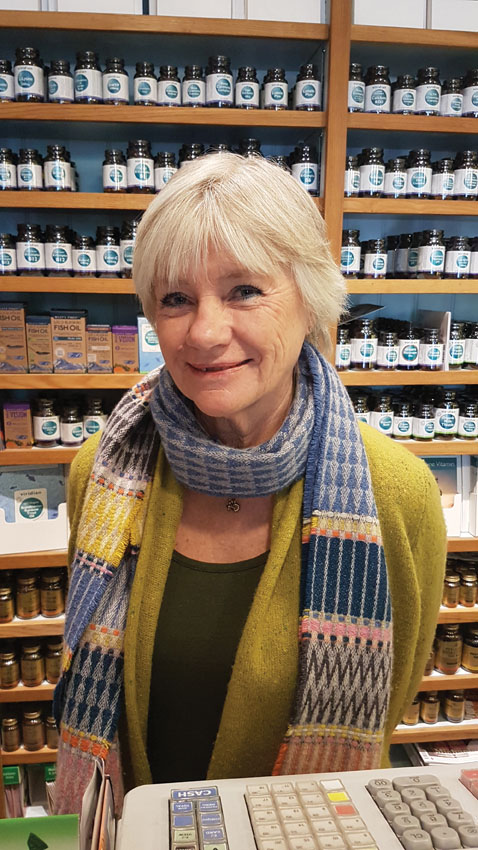 A smile will always greet you from behind the counter of Naturalife in Bridport, and more often than not it will belong to Kim Biss. She welcomes all customers, new and regulars alike with a calm and bright approach, ready to dispense her wisdom and advice to all. Founder of the health food and supplement shop, Kim is celebrating 20 years since it opened, offering carefully curated products to help her customers live a natural life.
Kim started dispensing from behind a counter when she left school, working for Boots when she was living in the Midlands. When she moved to Merriott with her young family, Kim did a professional catering course at Yeovil College. She was introduced to natural and health aligned products when she took on a job at Holland & Barrett in Yeovil, qualifying as a product advisor. However, the branch had to close and she became redundant. This provided Kim with the opportunity, and push, towards opening up her own health shop in a little unit in Crewkerne, which she'd spotted some months previously. From there another shop was opened in Dorchester, which Kim also ran for a number of years, before a fresh new start was in order.
Always taken with Bridport, Kim decided to open Naturalife in South Street. She relocated and settled with her husband Martin round the corner from the shop. Loving the variety on her doorstep, Kim is ideally placed to pursue her love of food, ignited when she did the catering course and enjoys eating out regularly. She also has a love of glitter, so you may see the odd sustainable card for sale in the shop, sparkling in the light.
Hannah, Kim's daughter-in-law is also now an integral part of the business. She also helps run the shop and goes to trade events with Kim. Working hard to get to where she is now, Kim is grateful that she can carry on doing what she loves, in the knowledge that the business will continue, indeed already is, in safe family hands.