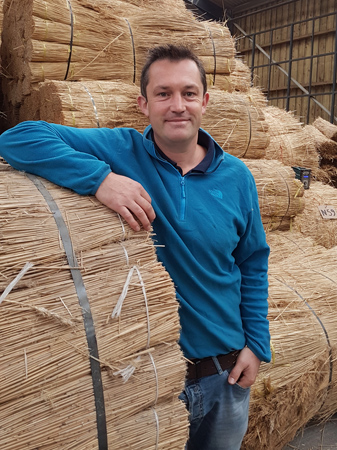 Gavin Wakley's father started Inthatch Ltd over 35 years ago, supplying materials to the thatching industry. He began by growing his own thatching straw on their farm on the Blackdown Hills but soon found that there was a demand for more thatching materials than he could supply. So, he started sourcing additional wheat straw from local farms and importing water reed from abroad. In 2012 Gavin took over the day to day running of the business, which is now one of the largest suppliers of thatching materials in the country.
Gavin had prepared himself well for taking over the company as he spent his working life following university immersing himself in imports and exports. To gain experience he travelled to Poland and Turkey working for businesses exporting materials such as pumice stone to timber and frozen vegetables. Then, for 15 years he lived in London working for Tate & Lyle, trading sugar in Africa and the Middle East, and latterly managing the raw sugar purchasing for their European refineries. But, eventually, or, as Gavin states, "inevitably, the call of the West Country became too strong", and he moved back to his home ground with his wife and two young daughters, to take over the family business.
Now, Gavin enjoys being able to fit in family life around the business. The girls are 9 and 11 years old and learning to sail in Lyme Regis at the weekend, and Gavin has also taken up lessons. Back on the farm, he still uses traditional methods to grow, reap and thresh 125 acres of long-stemmed straw with vintage farm machinery which allows the straw to remain undamaged. And although travelling less than he used to, he visits the countries he buys reed from, to check on the quality of his stock, and is off to Ukraine in December. But it could be to Austria, Turkey or even China that he travels to. And with his determination to produce and source the best quality reed he can, he helps to ensure the future of thatching practices around the country.