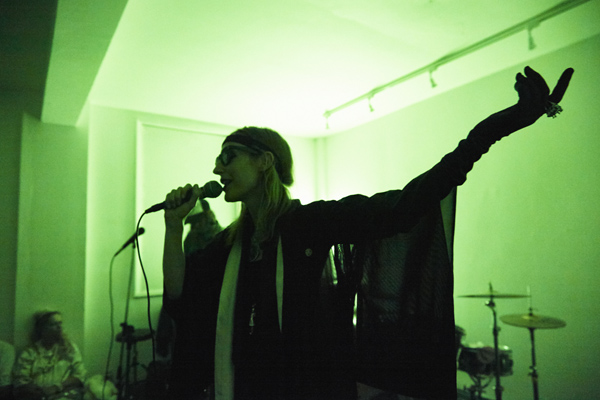 There is a quote by the Argentinian writer, Jorge Luis Borges that often comes up when there is debate about the respective merits of lyrics and poetry: "Truly fine poetry must be read aloud" it reads. "A good poem does not allow itself to be read in a low voice or silently. If we can read it silently, it is not a valid poem: a poem demands pronunciation. Poetry always remembers that it was an oral art before it was a written art. It remembers that it was first song."
This is a quote that may be pertinent for those venturing along to one of the events at the inaugural BridLit Fringe, which surfaces around Bridport from Monday 12th to Friday 16th November. Organiser Roy Gregory, from Clock Tower music, explained that the event was born out of a conversation with the poet Kirsty Allison, who felt that her particular performances were not an ideal fit for more traditional literary festivals. On November 14th at the Lyric Theatre Kirsty will be exploring the dappled light that lies somewhere between lyrics and poetry.
Billed as 'Kirsty Allison and the Children of the Midnight Sun' the evening at the Lyric is a collaboration between Kirsty and musical artist Gil De Ray. It follows on from their absorbing and engrossing film Double Play which was shot partly in New Orleans and partly in the Hellfire Caves. Kirsty chalked up a graffiti poem around New Orleans' industrial Crescent Park which she then recited in a haunting monotone over Gil's musical accompaniment.
The format of the evening's performance stems from Kirsty's infamous 'Sylvia Plath fan club' nights in Shoreditch, where different musicians and writers were invited to come and perform their work. 'There's complications between what is poetry and people being snotty about what is poetry on the page' explains Kirsty. 'The whole Sylvia Plath fan club thing that I did was exploring the difference between lyrics and poetry and getting different musicians to come down and perform. That was part of the thesis of running that night.'
Currently working on the final edit of her first novel Vagrant Lovers which is published by Wrecking Ball Press next year, Kirsty explained that her performances with Gil are part experiment and part exploration. 'There needs to be room for that' she says. 'It's kind of storytelling and proposition. There's different styles within it. One piece was written as a folk song and it's transposed into more of a soul piece. There's some more upbeat, party hip-hop and there's a really gothic piece that I call "'super gothic". It's my Frankenstein story about East London called Ghosts of St Leonards.'
After an early stint as a DJ Kirsty began her writing career as a music journalist and has since written for Vogue, Dazed, Elle and a wide range of other magazines, including her own Cold Lips. She didn't start performing until 2009. 'I needed to break up the style of commercial writing' she says. 'I needed to break out of the confines of commercial writing, which is when I started performing poetry.'
At times compared to Pattie Smith, Kirsty says John Cooper Clarke was a big influence. But she also cites what she calls the Soho Poets; Jock Scott, Phil Dirtbox and Gary Fairfull whom she used to run a club with. 'They're very much people that you have to have an ear to the ground to know of' she says. 'For some reason, they've kind of guided me into whatever I'm doing now.' She gets associated with punk. 'It's the attitude of trying to instil that kind of subcultural thing that I was part of, growing up in London.' Although there has always been subculture, Kirsty sees it changing. She sees it as being a lot harder to be involved in 'because the hegemonic, demonic society has just increased to such a degree that kids supporting themselves outside of capitalism is very, very difficult.' She believes that the club culture has become such an industry now that 'it's more rebellious to go to Weatherspoon's and to shop in Primark. It's almost like a badge of honour. I certainly see that in Peckham where I live now.'
Though living in Peckham she is no stranger to Lyme Bay. Her parents live in Lyme Regis and when she's not involved in exploring the boundaries of lyrical communion in London's subterranean East End, she can be found holed up in the relative peace of her parents' home where she can write, edit and breathe air shared more by seagulls than a cacophony of cultural envelope stretching.
Despite the prominence of her part in experimenting with words aloud, Kirsty is strangely reserved about her role in Children of the Midnight Sun. She is working towards an album that's a mixture of short stories, 'an attempt to find a balance between hip-hop and lyric' but is keen to point to the importance of Gil De Ray's role. 'I'm just a poet—where he's an artist in music.' If Gil brings music then Kirsty's poetry, writing, fashion design, DJing, publishing and infectious entrepreneurial initiative must count for a huge chunk of balance.
Kirsty Allison and the Children of the Midnight Sun appear at the Lyric Theatre, Bridport on November 14th.
For more information visit www.bridlitfringe.co.uk.