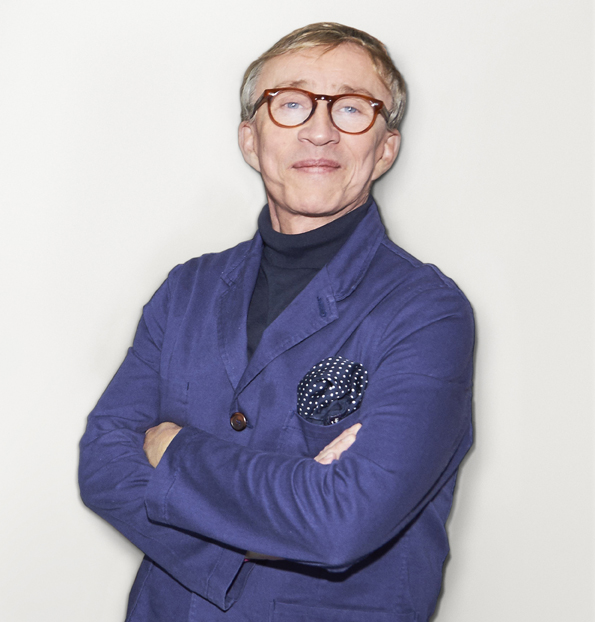 This year The Marshwood Arts Awards & John Hubbard Prize is again being brought to the attention of Art collectors who will look at the exhibited work and award a prize to their chosen winners.
Jasper Conran, OBE, will be choosing a 'Collector's Choice' winner from the 2019 exhibition. Having trained at Parson's School of Design in New York, he was a founding member of the London Designer Collections—subsequently renamed London Fashion Week. From 'Designer of the Year' in 1986 to 'Retailer of the Year' in 2013 he is no stranger to awards and commendations and is looking forward to seeing the 2019 exhibition. 'I am honoured to have been asked to help judge this year's Marshwood Arts Awards & John Hubbard Prize' he said. 'The work is always of an exceptionally high standard, and I look forward to seeing 2019's entries.'
Sibyl Fine, Director of the Fine Family Foundation which supports Dorset-based charities working in the environment, arts, health and the community will also be selecting a 'Collector's Choice' award from the exhibition. Sibyl was involved in setting up the KUBE Gallery in Poole and chaired it from 2000 to 2010.
As well as being a keen art collector, she has, through her work with the Foundation, been able to actively participate in projects which add to the quality of our environment and our lives, including numerous visitor centres, commissioning public art, and most recently establishing a charity called ParkYoga.
Over the past ten years many selectors have commented that artists often work in isolation, and that the opportunity presented by joining a group show can be of great benefit.
In 2017, Laura Cockett, the then Director of Bridport Arts Centre said that it is 'aspirational for the artists to be able to share the same space as the judges who have been involved in the selection process.'
Furniture maker Rupert Senior agreed that while working in isolation it is hard for an artist to know where they stand in their world without engaging with exhibition selectors and curators. Whilst John Makepeace, who along with ceramicist Kate Malone is selecting for the Applied Arts category this year, believes that artists working in isolation often don't have the opportunity to communicate with other artists in varying fields, so an initiative that brings their work to public attention, as well as the attention of other artists, is hugely beneficial.
As the Marshwood Arts Awards has grown and encompassed the John Hubbard Prize the value of developing a venture such as this has become more apparent, as both selectors and artists make their views clear about how important public and private support is to the future of our artistic culture.
Kate Malone, always captivated and emotionally involved in her role as a judge on The Great Pottery Throw Down, is excited by the work that artists are involved in. 'How wonderful it is that all these artists and people are being brought together to see and experience the joy of art for all' she said. 'A piece of craft, a piece of art, however one would refer to it, is never quite complete until it has been viewed by others. How can it otherwise exist? So this fabulous competition and exhibition bring alive and together a wonderful group. It is art fulfilling its reason to be. I am very much looking forward to being one of the judges in this event.'
Once quoted as someone who 'let instinct fly' Kate has said that she trusts her subconscious. She described her method of working as summed up in a comment that she once heard from Grayson Perry when he said that artists should trust their ability and feed their ideas 'like little pets, stroking them from time to time and trusting that they will turn into something.'
It is that emotional connection to art that so often stands out in a mixed exhibition. In the Applied Arts category which includes: 'furniture & works in wood, ceramics & glass, fashion & textiles, jewellery, metalwork or decorative arts' both selectors Kate Malone and John Makepeace have enormous experience to guide them.
That same experience and passion for his craft apply to Dave White, who is selecting painting & drawing. He believes that to be a good judge; you have to be quite eclectic. 'I would be looking for quality, individualism, a uniqueness and a spark—something that shows passion, integrity and honesty—people who enjoy what they do and love what they do' he says.
Brian Griffin, who is selecting photography, points out that the process of just looking at work to send in can take a photographer on an unexpected and often gratifying journey.
While Tania Kovats, who is selecting sculpture, explained that becoming visible is very important. 'They call it an artwork and some of that work happens in the studio with just you and the object, but so much of it happens beyond that. Engaging with the world, being present, making the work present, that's all part of the artwork.'
The Marshwood Arts Awards is an open competition and the deadline for submissions is the 19th September 2019. For full entry information, visit www.marshwoodawards.com.