Brian Graham talks to Katherine Locke
Brian Graham is an artist, an archaeologist, an anthropologist and a knight in shining armour. He is, of course, primarily a painter. His work delves into the ancient subconscious of human origins. At first glance seemingly free and abstract, but on closer inspection his work is a tightly controlled experiment in layering and discovery.
'I am interested in the way our primal, basic needs are exactly the same as ancient people', he says. 'We have evolved, but our basic needs for warmth, food and shelter remain the same'.
His roots as an artist began in the commercial sector.  He was a graphic artist in the advertising industry for most of his working life. It is a training ground he is profoundly grateful for. 'It was rigorous', he says, 'I was doing hand lettering, before computers, that had to be millimetre perfect'. It was also an extremely exciting time to be working. 'In the late 70s and 80s some of the most creative minds in the country worked in advertising'. Many art school graduates found their way into the industry and were attracted by the security of a brief and deadline (as well as a decent pay packet). 'It's where I learned my craft', says Graham.
By the end of his time in the advertising world the weekend urge to paint had turned into an itch, which in turn became a burn. 'It increased as I got older', he says. 'It is a need and a commitment to say something'. The children leaving home gave him a chance to relocate and he decided to move to Swanage. Visiting his studio, it is easy to see why.
A classic north facing (where the light is steady and less variable) attic room, the view is stunning. Across the rooftops of Swanage (a view to make Ben Nicholson weep with joy), there is clear sight of the ancient Ballard Down, as well as a stunning view through the houses of the sea and the Isle of Wight. But what sparked his interest in ancient people and the relics they leave behind?
'As a child I was fascinated by churches', he says, 'particularly ancient Saxon or Norman buildings, a little bit like John Piper (Piper spent much of his childhood travelling around the countryside on his bike drawing churches).  But I started wanting to look further back, to the beginnings of humanity'. He began to work around ancient sites. 'I am fascinated by the tantalising fragments of evidence these early peoples have left behind. A shard of bone, or a sliver of a spearhead; these tiny signals, or suggestions, are all that we have to go on. We have to rely on our own invention and interpretation of the past'.
This is where artist turns into archaeologist and anthropologist. 'I started to mix with scientists at digs', he says 'and found that they were able to open up to me as an artist in ways they might not feel free to do amongst their peers. We were able to hypothesise about these ancient worlds in a way that was fascinating'. One commentator on Brian Graham's work noted that we need the eyes of artists to interrupt the past, as well as those of scientists and this, it seems, is at the crux of his work.
He has become something of a cause celebre in the science world, being asked to deliver a lecture with Professor Chris Stringer, Head of Human Origins at the Natural History Museum. He has got to know many eminent scientists in the field and they, in turn, are naturally drawn to his work.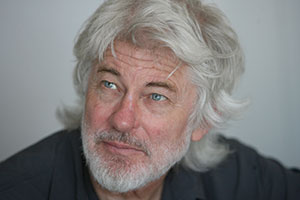 His paintings are layered explorations of landscape and narrative, telling the story of human existence through paint and paper on canvas. The surfaces of his work are textured and invite human touch, as pleasing as an unusual pebble found of the beach, the paintings include rough and smooth and blurred borders taking us to the edge of our imagination of the past.
He works and re-works his paintings, saying, that like an archaeologists dig, there are objects below the surface that are no longer visible. These objects might include ancient tools, burial sites and early settlements. 'I have two essential needs', he say, 'Firstly the landscape and secondly the lives of ancient people'.
Some of his work refers to his early graphic training and there are the ghost lines of an archaeologist's dig plan floating through. Others have more obvious starting points, like the tibia of an ancient man juxtaposed with relics and landscape. Graham is interested in the fluid nature of paint and time—both elastic and fixed simultaneously.
When asked what it means to him to be an artist, he is clear that 'art is a serious business'. It is obvious that for Graham it is fundamental to how he functions as a human being. 'There is so much irony, derision and flippancy in this world', he says. 'Art is way of adding a serious voice. There is a need to get something down and explore and develop it'. He certainly doesn't feel that his (considerable) commercial success defines him as an artist. 'That is entirely out of my hands', he says, 'the work comes from within'.
Brian Graham's new show at the Sladers Yard Gallery, is eagerly anticipated. It includes over fifty works and will be 'an interesting hang', he says with an ironic smile. He is thrilled to be associated with the gallery, which he holds in very high regard. 'My work had taken me to London previously (he showed with the Hart Gallery for many years), but I am delighted to coming home to Dorset'. Born in Poole, Graham describes his Dorset show as a 'return of the native'.
He has new work in gestation and is looking forward to a period of consolidation and quiet, reflective time to work through his new ideas. 'It is too early to talk about it', he says, but it is clear that he has something he is excited about and ready to work through.
So, that is the brilliant mind of Brian Graham—artist, archaeologist and anthropologist, but knight in shining armour? On my way to visit him my car broke down on a very dangerous corner. Within minutes, without being asked, he was in his car to come and get me. Both an artist and a gentleman.
Brian Graham will be showing at Sladers Yard March 1st-April 27th 2014.
Brian Graham and Peter Hayes Talk: Friday 28th March 7pm followed by dinner at Sladers Yard Licensed Café. Tickets: £8 / £20 with supper.
Phone Sladers Yard on 01308 459511.