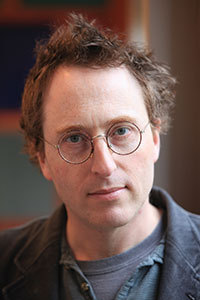 Jon Ronson has been to the dentist and he is sitting in his Manhattan apartment, feeling rather sorry for himself. 'It was only a clean', he says, 'but it was really painful'. The American dentist couldn't believe her eyes, he goes on, 'She described it as the Mt Kilimanjaro of plaque and said she wished her students had been there to witness it'. American dentists are always amazed at British mouths and it is just another example of being a Brit in New York, something Jon is getting used to after eighteen months in the city.
Despite the distance and his discomfort, Jon is tremendously excited about being the guest curator for the 2014 From Page to Screen Festival. The festival began in 2009 by Bridport Arts Centre and was inspired by the fantastically successful Bridport Prize—one of the UK's most prestigious literary prizes. The festival is the only one in the UK that focuses entirely on literary adaptations. It is also gathering a seriously remarkable roster of curators—including Joe Dunthorne and Kazuo Ishiguro. Indeed it was the calibre of previous guest directors that drew Jon to the role. 'I was really impressed. Especially by Jonathan Coe, who is a fantastic writer. What a Carve Up is a firm favourite of mine'.
Jon Ronson comes with his own impressive set of credentials. As an award winning journalist, documentary maker and best selling non-fiction writer, he is extremely well qualified for the job of curator. 'I think we have done a good job' he says. 'I really am brimming with pride at the programme'. And there is no doubt it is very exciting; Jon's hand is plain to see, with many of his interests  and pet subjects represented.
Highlights include Stanley Kubrick's Lolita (a dark adaptation of the Nabokov novel), being shown alongside Jon's 2008 documentary Stanley Kubrick's Boxes. The documentary explores Kubrick's extraordinary personal memorabilia, including over one thousand boxes containing snap shots, newspaper clippings and letters, which gives the viewer a fascinating insight into the mind of the great director. If that wasn't interesting enough, Stanley's wife Christiana Kubrick will also be a guest speaker.
Another of Ronson's preoccupations is his fascination with psychopaths. In 2011 he published The Psychopath Test: A Journey Through The Madness Industry. The film he has chosen to reflect this interest is Badlands—a disturbing, but fantastic, film staring Sissy Spacek and  Martin Sheen. The film is loosely based on a real life murder spree, which took place in 1958 by a biker and his girlfriend. Jon says that the film is 'brilliant' and relatively unknown, so a huge treat for film fans.
Jon is no stranger to adaptation himself, having had his best seller The Men Who Stare at Goats made into a film starring George Clooney in 2009. The book is about the US Army's exploration into the paranormal and the title refers to attempts to kill goats, just by staring at them. Jon worked with renowned screenwriter, Peter Straughan on the script. 'Adaptation is a fascinating process', says Jon. 'It is an entirely different skill from journalism or non-fiction writing. Peter is a genius at it and I had a huge amount to learn from him'.
On the subject of writing, Jon says that 'creating order is the main job of a writer'. He gives a recent example: 'I was working on my latest book and realised there were at least 2,000 words that were just rubbish. I sweated over them and eventually just moved them to a different part of the book where they shone. It is all about juxtaposition'.
A centrepiece of the festival is, of course, a showing of Frank, a full month before general release. Frank explores the years Jon played keyboards in the Frank Sidebottom Oh Blimey Big Band. 'I worked with Peter Straughan again on the screenplay, which is a fictionalised version of a true story', says Jon. 'It was a great project', says 'Jon. 'I actually looked forward to switching on my computer and hanging out with the characters everyday. I was sad when it was over'. Jon will also be performing his one-man show Frank: My Story before the screening and will be in conversation afterwards with Peter Straughan and the director Lenny Abrahamson.
Jon has also attracted some fabulous guests to the event. Nick Hornby will talk with Jon about the adaptation of his novel A Long Way Down. Nick is an expert at having his work adapted for the screen, clocking up an impressive six novels that have been made it onto celluloid. Nick also worked on the screenplay of An Education, itself an adaptation of Lynn Barber's memoir.
Jon's fascination with pseudo science and the legal system leads him directly to Clive Stafford Smith, the civil rights lawyer who lives in Dorset. 'We have been friends for a long time', says Jon. 'We have had many conversations on both subjects'. For the purposes of the festival, Jon and Clive will be in post film discussion after the 1962 To Kill A Mockingbird, a particularly relevant choice as this classic film exposes the entrenched racial intolerance of America in the 1930's. A subject close to Clive's heart, it should make for a great exchange.
As Jon ponders the juxtaposition of a cutting edge film festival based in rural Dorset, he confesses how much he is looking forward to coming. 'I will be in the UK for about three weeks and four days of it will be in Bridport', he says 'West Dorset is new to me and I am fascinated to meet the festival goers'. He hopes that the festival will attract a wide audience, as there is something for everyone, also that 'people will come from beyond Dorset, drawn by the strength of the programme'.
There is no doubt that it is an exceptional line up of films and guests. There are over twenty films showing and as Jon says, they are all 'either great films or exceptionally interesting ones'.
Look forward to seeing you there.