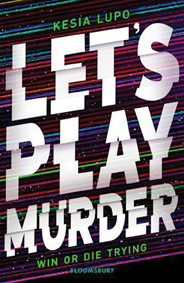 Veronica and her half-brother Max are at the hospital waiting for Max's test results (which are going to ruin their lives) when suddenly Veronica blacks out. She had agreed to play a Virtual Reality game with Max even though she really hates them, and when she awakes, she is no longer in the hospital. Veronica is surrounded by snow and wearing someone else's clothes.
Veronica is inside The Game, the new Virtual Reality sensation shrouded in mystery. Beat The Game and you could be very rich; but it's not that simple. There are other people playing the game and they are not Veronica's friends.
There has been a murder in the VR world and the players must solve the mystery of who committed the crime in order to win and then leave the game. There are non-playing characters throughout but they can't hurt you. The other players, however, well that's a different story. Who's playing the game?
Charlie is brimming with confidence and sass and will stop at nothing to win.
Yasmin has a kind smile but she's hard to read and instantly buddies up with Charlie.
Aaron has no desire to be there and just wants to leave.
Nate is too cool for school and appears to have an ulterior motive. Veronica doesn't trust him one bit.
Veronica is terrified and knows nothing about The Game. Can she survive the world of VR, or better still, can she win?
This is a fabulous "Who Dunnit" for young adults which is full of suspense and plot twists. I thoroughly enjoyed it.