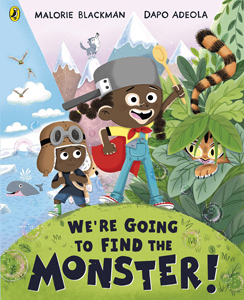 Picture Book
We're Going to Find the Monster By Malorie Blackman,
Illustrations
by Dapo Adeola
Puffin Books, RRP £6.99
Review by
Antonia Squire
The ever awesome, former children's laureate and author of the Naught and Crosses series, Malorie Blackman has turned her talent to the youngest of children with her very first picture book, and it does not disappoint! As Charlie and Eddie are playing in the garden one morning dad calls them in for breakfast. Ever adventurous they know that first they need to find The Monster as they traverse oceans and mountains and jungles and encounter whales, wolves and tigers as they embark on their quest. When finally, they approach the deep, dark (kinda stinky) cave to find the monster. Furious when they wake him the hungry, tired and grumpy monster chases them all the way past the tiger in the forest, over the wolf at the top of the mountain, down the mountain, around the whale in the ocean and into the kitchen where they are caught by the monster and tickled into submission—only to be rescued by mum and dad! Dapo Adeola's gorgeous illustrations bring to life the glorious imagination of childhood as Eddie and Charlie transform stairs into a mountain, family pets into fearsome beasts and the terrifying (not really) deep, dark cave that is the bedroom of their older (teenage) brother—the eponymous 'monster' of the tale. Perfect for children aged 3 and up, this is a fun and funny story that children and adults will enjoy reading over and over again.
Middle Grade
The Bewitching of Aveline Jones
By Phil Hickes Illustrations by Keith Robinson
Usborne RRP £6.99
Review by
Nicky Mathewson
The fun of reading fiction for children is that you can often be drawn into the story within moments of it starting. A really good children's author will get you hooked in the first few pages and I love that. Phil Hickes does just this, after an exquisite opening line and a subtle hint toward the temperament of the main character, he has set the scene before the end of page two. Wonderful. I'm in and I need to know more! This is his second Aveline Jones mystery beautifully and spookily illustrated by Keith Robinson. As with book one, it is set in the school holidays, but this time she is on holiday with her mum in a small village not far from their home in Bristol. It's the best her mum could manage with her busy work schedule and although Aveline would rather be on a hot beach somewhere, she's happy to be spending time with her mum. With her interest in the macabre and the mysterious, it is a pleasant surprise for Aveline to find that there are "Witch Stones" at the end of the garden. What do they represent and who put them there? Whilst exploring them she meets a local girl called Hazel who is very keen to be friends and show off the "magic" of the stones. It seems like harmless fun, but something about Hazel makes Aveline feel rather uncomfortable and it's not long before she finds herself way out of her depth. This is a perfect mystery for young fans of spooky and don't forget to check out our fabulous window painting by Keith Robinson himself when you're passing by the shop! Suitable from age 9.
Teen
S.T.A.G.S
By M.A. Bennett
Published by Hot Key Books, RRP £7.99
Review by
Nicky Mathewson
S.T.A.G.S is the first in a 4 (so far) book series, and the first book recently came out. I was going to pass on it, but my sales rep told me it was really good, and to put her money where her mouth is, sent me a review copy of the first book to read. Five days later I'd whizzed through the entire series and by god the whole thing is simply thrilling!
When Greer McDonald is heading off to sixth form from her school on the 'wrong' side of Manchester she thinks she's really lucky to gain a scholarship to the exclusive St Aidan the Great boarding school in Northumberland. With her Mancunian accent, confidence and pride in her working-class roots Greer struggles to fit in and finds herself becoming more and more isolated amongst her peers—the 'so-called' elites. So it is with great surprise that she receives an invitation to a stately home from one of the most elite of her peers for a weekend of "Huntin', Shootin' and Fishin'"
As she sets out to Longcross Hall, alone except for the taciturn game keeper, the weekend gets stranger and stranger as she soon begins to realise that she is not the only misfit to have been invited on this long weekend and danger is all around. There are definitely blood sports on the weekend agenda, but what becomes less clear is the nature of the prey. Greer soon begins to suspect that she's in danger and has very few options as to who she can trust…