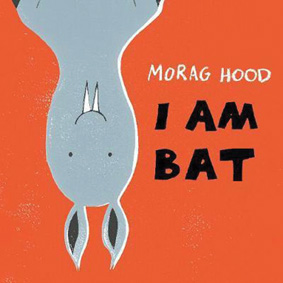 Picture Book Review
I am Bat by Morag Hood
Two Hoots, RRP £6.99, Ages 2+
Reviewed by Antonia Squire
'I am Bat. I do not like mornings. I like Cherries!'
And with that wonderful non sequitur begins the delightful adventure of Bat and his cherries (which he loves) and his other animal friends who may or may not be stealing them.
When someone loves cherries as much as Bat and someone else then takes them, it only follows that someone like Bat would be heartbroken by his loss. Is there anything that could possibly make him feel better?
With gloriously simple, yet vibrant illustrations this hilarious story of a Bat who knows his own mind, loves his cherries and hates to share is a perfect read aloud for very little ones (and one of my favourites to read to unsuspecting people coming into the shop).
Genius!
Middle Grade Review
The Highland Falcon Thief
by M. G. Leonard
and Sam Sedgman
Illustrated by Elisa Paganelli
Macmillan Children's Publishing, RRP £6.99, Ages 9+
Reviewed by Antonia Squire
Harrison Beck lives happily in Crewe with his Mum and Dad, but our tale begins at Kings Cross Station where Harrison is due to join his Uncle Nat on the trip of a lifetime. At least it would be if Harrison had any interest in trains. Or if he knew his uncle very well at all. But Harrison's Mum is about to have a baby, and Harrison's Dad is very worried about her so Uncle Nat volunteered to take his nephew on the trip until the baby is born.
And what a trip it's to be! The last journey on the historic Highland Falcon, a steam train that will travel around Britain, carrying the Prince and Princess as they wave this former Royal train farewell.  That would be exciting enough, but there is a jewel thief aboard the train, and with wealthy passengers, as well as royalty, there are jewels to be thieved and Harrison, along with his new friend Lenny find themselves embroiled in both the mystery and the investigation.
A truly rollicking read for anyone who loved mysteries, adventure and of course—trains!
Teen Review
The Call by Peadar O'Guilin
David Fickling Books, RRP £7.99, Ages 14+
Reviewed by Antonia Squire
The island of Ireland has been cut off from the rest of the world by an impenetrable fog and the boundaries between the world of the Fey and the world of the humans have weakened dramatically. Now, beautiful, twisted and cruel, the Sídhe roam the land, taking young people back to their world for sport. From the age of 10, to the age of 18 these kids train for the day they too will be taken. For it will happen, and while they will all return, only one in ten return alive.
The school doesn't even know why they are training Nessa. She can't possibly survive, she can't run, she can't even walk without her leg braces and those will be left behind when she is taken. Along with the rest of her clothes.
But Nessa has other strengths, she knows how to make crutches, her arms are extremely strong and she is very, very smart. She is sure that she has as good a shot at survival as any of her classmates. Not that one in ten is a very good shot.
Fast paced, creepy as hell and brilliantly written this is a the first in a fantastic duology. We are all fans at The Bookshop.
10% off RRP exclusively for Marshwood Vale Magazine Readers
at The Bookshop, Bridport.