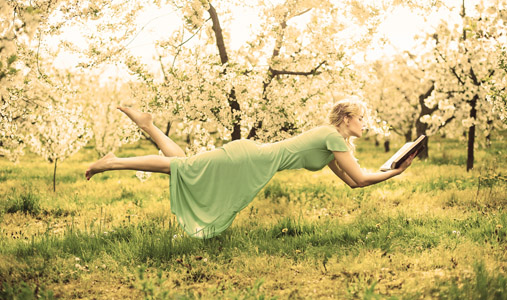 With the potential for a less sociable Christmas than last year,
East Devon author Bruce Harris has a few suggestions to lift your mood.
Many people are likely to be finding this Christmas quieter than most, with less hospitality both offered and taken. One of the few upsides will be an increase in 'me time'; and those who dedicate some of their me time to reading will perhaps be unusually well off during this festive season.
Some people, of course, tend to read within the same genre, venturing only rarely out of their comfort zone. Fortunately, this country produces vast quantities of books in all genres to cater for those staying where they're happy as well as anyone daring enough to take a Yuletide walk on the wild side.
None of the books mentioned is new; it usually takes a book at least weeks, and sometimes years, to make an impact. But they are all books I have read and enjoyed recently and they are all widely available, so any of them could conceivably unlock treasure troves of new reading to open-minded readers.
The Funny One
The Road to Little Dribbling
by Bill Bryson
Published Transworld Publishers 2016
Paperback RRP £9.99
Twenty years after Bill Bryson's resounding success with Notes from a Small Island, he has British as well as American citizenship and a British wife and family. Curious to know 'what's the furthest you can travel in a straight line without crossing salt water', his ruler indicates a line from Bognor Regis in the south to a Scottish promontory called Cape Wrath.
His journey along this line forms the structure for this book, but of course, the real subject of the book, like most other Brysons, is Bryson himself. His reactions to the places he visits and the experiences he has are sometimes caustic and incredulous, but more often than not, very funny.
Observations on the area where the reader lives are perhaps going to be most carefully read, and Bryson travels extensively in the West Country, through Dorset, Devon and Cornwall. He passes through Lyme Regis with a pleasant nod to the history of Mary Anning and her dedication to fossils: 'the house where she lived is now the site of the local museum, and it is, let me say at once, a perfect little institution'.
A word of warning, however, in case you're thinking of presenting a copy to your favourite aunt. Bryson's humour and language can be muscular. Any strong language is entirely in context and contributes to the humour, but there are quite frequent instances of it.
However, readers who can live with the muscular and are interested in a subjective, honest and sometimes very funny comparison between Britain in the nineteen-nineties and Britain in the twenty-teens will get an absorbing festive read from this book.
The True one
The Spy and the Traitor
by Ben Macintyre
Published Viking 2018
Paperback RRP £8.99
Ben Macintyre, who is extremely good at books like this, has chartered in detail the extraordinary achievement of MI6 in getting their top agent at the time, Colonel Oleg Gordievsky, away from KGB interrogation and out of Russia altogether in 1985. With his typically meticulous research, Macintyre tracks the process by which Gordievsky, a remarkably intelligent and cultured man, becomes a double agent. Colonel Gordievsky has managed to place himself in charge of Russian secret service activities in Britain. When the Kremlin finally smells a rat and summons him back for lengthy interrogation intended to wear him down, an MI6 team gets him out of Russia and into Finland in a car boot, and thereafter, more comfortably, back to Britain.
Gordievsky's immense contribution, which is in some ways directly responsible for the détente between Reagan and Gorbachev, is also made clear, as is the price he paid for it in his matrimonial and family life. It is the kind of book which, once picked up, is very difficult to put down.
The Autobiographical One
Unreliable Memoirs
by Clive James
First Published Picador 1981
Re-published as Picador Classic 2015
RRP Paperback £9.99
Clive James, who died almost exactly a year ago, became something of a national institution via his writing and broadcasting and wrote several autobiographical books along the way. The difference with this one is that it deals with his Australian years, from his date of birth to his early twenties, when he emigrated to the U.K.
As one might expect, it is often screamingly funny, but also predictably, analytic both of himself and the world around him. The childhood and youth stages of autobiographies are sometimes people's least favourite bits of them and sometimes rather skirted over, but James, unlike some, is not out to acquit himself or talk up the genius he became. He is self-effacing, but hilariously so, and so eloquently descriptive of Australia in the 1920s and 1930s as to make this very foreign environment come alive in his readers' minds. At 184 pages, it is not a forbidding tome and it handsomely rewards those who take the trouble to read it.
The Intellectual one
Machines Like Me
by Ian McEwan
Published Vintage 2019
Paperback RRP £8.99
Ian McEwan is one of the leading novelists of his time, and many of his books have been turned into films or TV series, including First Love, Last Rites, The Cement Garden, The Innocent, Enduring Love, Atonement, On Chesil Beach, Solar and The Children Act.
Machines Like Me might well follow them. Set in an alternative nineteen-eighties, Mrs. Thatcher loses the Falklands War and the subsequent election sweeps Tony Benn to power in a landslide. Sir Alan Turing of Bletchley Park fame lives with a long term gay partner and has made been the major instigator in the development of a first batch of synthetic humans, all the males called Adams and all the females called Eves.
Charlie, a drifter and amateur stock market trader, blows a substantial inheritance on buying one of the Adams, the females being out of his price range.
For a lesser writer, this could have turned into 'McEwan does Frankenstein' or 'Labour Party Historical Wishlist'. But, of course, McEwan does much better than that; he makes this bizarre world credible, even commonplace, and the relationship between Charlie and Adam as they eat into each other's lives and those of others around them brings up questions and comparisons concerning the human condition which cannot fail to provoke thought in the reader, while carefully not providing easy answers or conclusions.
It is absorbing, and at times funny—McEwan is never humourless—and rather than go in for any sci-fi stock in trade 'parallel universes', it creates an entirely believable, if challenging and problematic, world to inhabit and ask questions about.
Happy reading and happy Christmas!