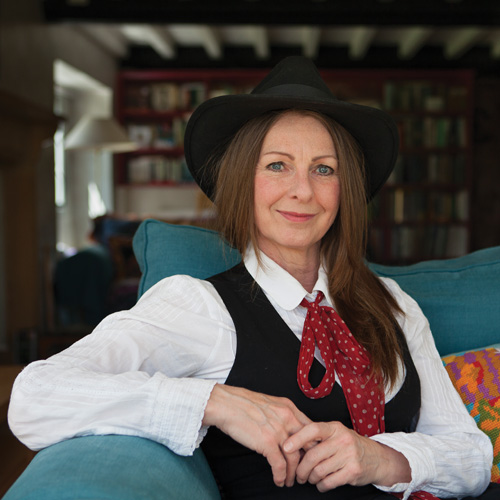 Coming to live here in Dorset 6 years ago has just been fantastic. I teach ukulele 2 days a week in Oxfordshire, usually arriving home on a Thursday night around midnight. I get out of the car, and before I even think about going indoors I stand outside the house and enjoy the peace—just the sounds of the countryside at night. And I love that there's no light pollution.
I was born in Stratford in east London, where my Dad comes from. My Mum, Vicki, came from Liverpool. At the age of 17, in the late '50s; she was with a group called the Vernons Girls, as a singer and dancer. They came to perform in London, and despite being strictly chaperoned all the time she met my Dad, the singer and guitarist Joe Brown, and they married. I was born in 1964, and we continued living in Essex until 1977. I have a brother, Pete, to whom I'm very close; although together we can be a bit frightening. If you met my Dad you'd know why, and if you met my Nan you'd know why even more. She was 6ft 1in and looked like John Wayne in True Grit, but she was a lovely East End lady, and ran a pub there.
In 1977 we moved to a village in Oxfordshire, and Nan came to live in a cottage nearby. My Dad still lives in the area. Mum became a session singer, doing backing vocals for people like T Rex, David Bowie and many other well-known acts; she was very good at it, became quite successful and that's really how I got into music. At the age of 13 I was writing songs, and learning classical piano. My Mum and Dad's involvement in the music scene of the day meant that our house was always a party house; however they both came from traditional working-class backgrounds, and Dad's rather Victorian attitude to bringing up children meant he could be pretty harsh at times. Given that it was the late '60s/early '70s, our house was always full of—for want of a better expression—"creative people", so life could be a bit bonkers. My Mum was lovely, very beautiful, but very sadly she died of cancer when she was 50. Dad could be a little distant at times but was and still is great fun. Pete, my brother, also very musical, became a sound engineer, and sings and plays guitar.
I started doing backing vocals with my Mum when I was 13 or 14; in fact that was when I started singing professionally. By the time I was 17 I had moved to London and rented my own flat. I loved working—I had a cleaning job, I was waitressing, and singing session work and backing vocals; it was the busy life in some ways I've always craved, and I began to write more and more songs. In 1986 I signed a record deal with A&M Records, eventually releasing the album Stop. I also had a publishing deal, which manages the publication and collection of royalties for the songwriting; the record deal is about recording, PR and selling of the records. Never having been a seeker of celebrity, I found the publishing deal the more dignified of the two, and in fact I'm still with the same publisher.
Stop took a while to achieve success, perhaps not sounding like the other music of the day. However, initially it took off in Holland, made No1 there, then after popularity spread to Spain, Belgium and Germany it started to get airtime on British radio and became a big hit here, eventually selling two and a half million copies. The next three years involved travelling the world doing PR, just me and my manager, doing photo sessions and interviews. It was fun, but I really didn't enjoy not doing any music. I worked on the second album, April Moon, before my Mum was ill with cancer, and then after she died I brought out the third album, 43 Minutes. It was a devastating time for me, and I became disillusioned with producing music under the control of a record company. What I loved the most was playing live and writing songs. 43 Minutes was a concept album, an expression of how things were for me at the time, and still sells; I have retrieved the rights back from A&M, so I market it myself.
In 1993 I became pregnant with my daughter Vicky, and bought a house in Scotland, where my ex-husband and I built a recording studio. In '94 I went on a world tour with Pink Floyd for a year, taking Vicky, aged 7 months, with me. A year later my son Mohan was born. I'd known David Gilmour through my parents, sang on their album of that time, Division Bell, and have worked with them over several years. David was one of the musicians who lived not far from us in Oxfordshire, along with George Harrison, Alvin Lee from 10 Years After, and Mick Ralphs from Mott the Hoople; it became a bit of a rock star neck of the woods, being close to London, but importantly for a touring musician, it's in the centre of the country with good connections. Before they were famous, the Beatles supported my Dad at the Cavern in Liverpool, and being Liverpudlian, my Mum had also met them through her work. In those early days, musicians would meet up in each other's houses, sit around with a drink and play guitars, and George Harrison and Dad became close friends, sharing a great interest in the ukulele—George had a collection of hundreds. And when Dad remarried, George was his best man. I knew George, had done some backing vocals for him, and when he was very ill, Jools Holland and I went to see him in Italy to put together a song called Horse to the Water on an album Jools was making. After he died, in 2001, Olivia Harrison asked Jools and me to perform it at the Concert for George tribute concert, at the Albert Hall, exactly a year after his death. It was for me, and everyone who was involved in that concert, the most incredible experience. Most of the musicians there that night were people I've worked with many times over the years, and although I don't know them as friends they were so lovely to me. The Hall had an amazing atmosphere that night, with incense burning and gorgeous silk drapes everywhere, making the space perfect for the Indian and western musical celebration that followed. I will never forget that night.
I toured with Jools Holland for 15 years, commuting from Scotland, and bringing up two young children. I worked too hard, eventually suffering a nervous breakdown, and my marriage fell apart. I was doing voice training, trying to look after my voice, but during a tour with my Dad in 2006 I was having big problems, finding I couldn't hit the notes or sing in tune, and by 2007 I had to stop working. I still don't know what exactly went wrong. Luckily I had some royalty income from the songwriting, but I had to do whatever I could to earn money, because I had a massive mortgage, two houses and two children. I started teaching ukulele, and it soon went mad, going from nine people in my living room to 20 people in a shed, to hiring a hall, all in about six months. I love teaching, and my performing career has taught me how to keep an audience's attention. And I love my students, who have had such a variety of interesting lives—some have been coming for 10 years. We've performed in various places, including Paris, but mostly we just have a laugh. I teach three clubs in Oxfordshire, but I have two clubs here in Dorset; one quite big group is in Sherborne, of 30-odd people. As a beginner, you have to learn quite a lot to start with, but being part of a group makes it a comfortable and fun way to learn. The other group is in Dorchester, at Tom Brown's pub. All my groups have been continuing on Zoom this last year, but soon we hope to be back together. And now I have 2 online clubs in London, and one in Western Australia!
I've almost become too busy through lockdown. It's lovely to be in Dorset, and it's helped me to start writing songs again, although it's a different process now, because before I would use my voice. So the music now, which I'm writing with a friend, is a little like 80s electronica, a genre I knew nothing about, and in time I will be quietly making a record. I'm loving it—something I'll never let go of.