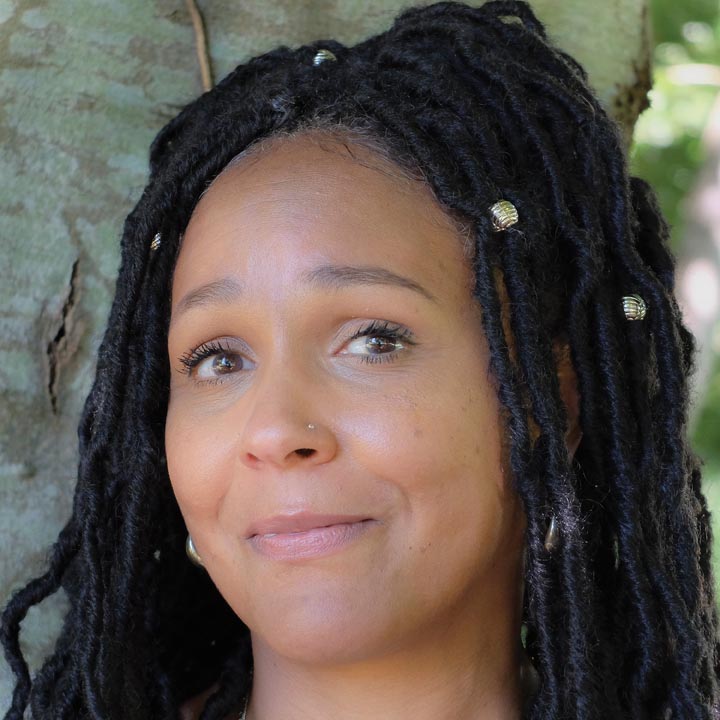 My Dad came from Accra, Ghana, to study nursing in the UK. He and my Mum, who is white British, got engaged not long after their first date, much to the disapproval of Mum's parents. They opposed the marriage because of the cultural differences as they saw it. However, much to my Mum's delight they turned up at the wedding, and totally accepted us kids when we arrived, although they were worried for us with good reason, because life was sometimes going to be tough.
I was born in 1972, the eldest of three children, in Doncaster, Yorkshire. Memories of early childhood are hazy, but at times it was challenging. There was domestic violence in my family, and in the community overt racism was all too common. It was a very difficult time for black and brown people everywhere.
Our next home was in Cambridgeshire, near Huntington. At that time, my English grandparents moved to Kingskerswell in Devon to retire. I have many happy memories of childhood holidays there. When I was seven, my Mum pulled me and my sister out of school because she felt the headmaster was prejudiced, and as a primary teacher herself, taught us at home. I loved the process of learning; I especially enjoyed learning French and English. I loved reading Enid Blyton's stories, and wrote my own stories as a young child in a similar style. Words were an escape route for me. The self-discipline that came from learning alone at that young age has stayed with me and makes writing at home perfectly enjoyable.
I decided I wanted to go to school, so aged 11 went to Hinchingbrooke Comprehensive. I was keen to integrate and make friends but found it difficult having been out of school for the last four years. Knowing what to wear, with so much peer pressure at that age was tricky. I had to reinvent myself quickly, something I've often had to do throughout my life.
When I was 12 my parents split up, something I was relieved about. Mum moved us to Paignton in Devon to be near my grandparents, but sadly, only six weeks after we'd moved my Grandad died of a heart attack, and my Mum really struggled to come to terms with that. Although I was upset, I coped with the loss, and began to enjoy living in Devon, up to a point. I felt safer without my Dad around, although I was conscious that racism was a huge issue in Torbay, perhaps worse than where we'd lived before as it was less multicultural. I was a sociable kid, and I made close friends with another girl my age in our street who stuck up for me. The local boys, however, treated me and my siblings very badly.
Although we lived in Paignton, I went to a Steiner School in Totnes. Paignton was a bit rough, but things were different at school. I had to reinvent myself again as a 'hippy' to fit in, so I got rid of the plastic earrings, and wore baggy jumpers and leggings. I loved the two years I was there, although it seemed a much longer part of my life, and it felt almost like another family. There was no uniform, we called the teachers by their first names, played recorders and did weaving. We did something called Eurythmy, a strange dance therapy pioneered by Rudolf Steiner.
But then the school had money troubles, so my whole class had to leave. That was traumatic for all of us, but I had been lucky to have had a teacher, Ian, who had seen some potential in me and encouraged me. I made two life-long friends there. My next school was King Edward VI Community College in Totnes. Another major reinvention for me after the Steiner School, and I struggled with the rules, trying to keep the identity I'd adopted in the last two years. I insisted on wearing dangly earrings, and would hand them over stroppily to the teachers when they caught me breaking the rules.
When I was 15 I began to get into drugs and alcohol. It was quite widespread in Totnes at the time, and I gravitated towards other kids who were a bit dysfunctional and like me had had challenging lives. I was quite depressed, and I had very low self-esteem. As a mixed-race kid in the South West I felt I didn't belong to any particular group, and my face didn't look right against a rural landscape. I did my best to keep my education together, and despite being stoned in one exam managed reasonable grades at GCSE. I began to move from smoking cannabis to harder drugs.
When I met the man who became the father of my oldest daughter, a new age Traveller, I moved into a squat in Totnes, which was above the Job Centre (handy, fellow squatters joked, for signing-on), although at the age of 17, I couldn't claim any benefits. There were criminals and addicts passing through the squat. My education inevitably suffered and I was kicked out of Sixth Form. I think these days there would be more support for someone in my situation, a troubled kid, but despite my best friends begging the teachers to let me stay, I had to leave.
Soon after that, my boyfriend went to prison, and I got a job at a restaurant, and sofa-surfed, but when he came out I slipped back to the same lifestyle. We were homeless, and lived in a bender by the river, amongst other places, then moved to the Forest of Dean where we first lived on a bit of carpet under a tarpaulin. In due course I found I was pregnant, and realising this life couldn't continue, I went back to live with my Mum. Before my daughter was born, I got my own flat. I knew that because I had the responsibility of a child, I had to turn my life around. I didn't want her growing up in such a chaotic lifestyle.
My Mum met another partner and together we moved to Lyme Regis, in 1992. I was seeing my daughter's father occasionally. When she was two he died of a heroin overdose. I felt safer in Lyme than I had anywhere else. I was a teenage single mother, and I went on to have two more children there. I'm aware I was judged about having children with different fathers, and for being a single mum (and being black). But I decided that although I'd made mistakes in my life, I was going to be the best mum I could be. Life was tough on my own with three kids, but one day I had a sudden realisation that instead of being a victim, and things happening to me, I could do something about my life and make positive changes.
A friend paid for me to do a distance-learning Sociology A Level with Weymouth College, and I found I absolutely loved the subject. During the exam, I had to rush out halfway through to breast-feed my youngest daughter, but I still got an A! I began an Open University degree in Sociology, and then finished the degree at Exeter University. It was like a dream come true, something I never thought I was capable of. Having to organise my kids' school day, and get myself to Exeter for lectures for two years, was difficult to say the least, but in spite of the challenges, the experience was fantastic. I couldn't have done it without the support of my good friends Maisie and Lisa, who helped with the children.
As part of my degree I studied racism and migration, a subject which changed my life. I found out there was a gravestone of an 18th century black person in Devon, and I'd been thinking I was one of the first! People often think immigration started with the Windrush, but the Romans brought black people with them to England; people from all over the world have been coming here for thousands of years. I began imagining ghosts of Africans in West Dorset, and, wanting to tell their stories, I co-wrote a book and exhibition with Lyme Regis museum called Ethnic Minorities: Lyme Regis & West Dorset, Past & Present. That was my first heritage commission, and from there I've written lots more about the experience of local ethnically diverse people for other projects.
I'd also started writing poetry whilst I was at university, and my career as a poet has gradually unfolded. As well as my writing and associated workshops and talks, I now also deliver equality, diversity and inclusion work. I have three books in the pipeline due for publication in the next year: a collection of short stories, a poetry pamphlet, and a coastal memoir, with Little Toller Books, a Dorset publisher of books relating to nature.
When I was 36 I met my husband, Pete, who's been a great stepdad to my children, Keziah, Jess, and Alicia, although adjusting to life as a 'blended' family was hard for all of us—the children were used to just being with me. I have three beautiful grandchildren, Maya, Leila and Harrison, and another on the way. With my family nearby, and so many friends and connections to the South West, with its stunning sea and landscapes, I finally feel this is where I belong.