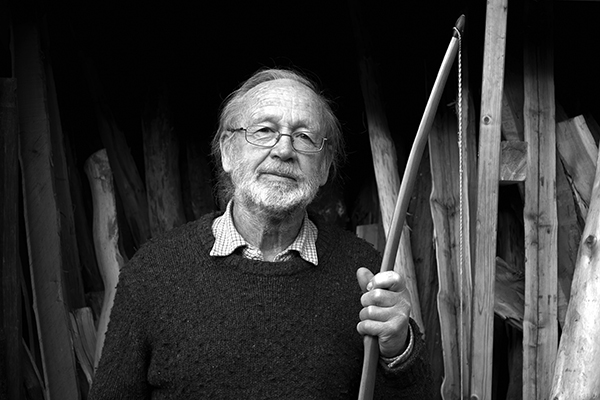 Julia Mear met Peter Whiteman in Axminster, Devon
'I was born in 1942 during the war. My father was a carpenter in a jig shop of the de Havilland Aircraft Company. My mother was a nurse but if you married you had to give up nursing. They moved from Worthing to Bognor Regis during which period I was born. We lived there until I was nine, my father's work took us to Drayton on the outskirts of Portsmouth. By then I had a brother and sister; David and Candy. I went to the local grammar school there and then on to read Botany at Oxford University. I recall my interest in toadstool and fungi was mainly from my father as he also enjoyed the outside life. I am still using tools today that were once his. I moved on to Bristol to do some postgraduate work but gave it up after a year as I realised I wanted to work outside.
I worked on a small family dairy farm in Carmarthenshire and also a vegetable farm in Kent. I became more clearly focussed on what I wanted to do which was helping farmers abroad. I was accepted by the Ministry of Overseas Development. As I was a mere botanist they packed me off to Cambridge to study agriculture for a year and then I was sent to Trinidad for another year to learn tropical agriculture. I was morally obliged to accept whatever they offered me and was sent on to Botswana. I loved it and spent a happy six years there. I developed an interest in dryland farming and in total I was privileged to work for 17 years in Africa and Asia. I drove back from Botswana, via boat to India, through Afghanistan and other countries, it took me six months to get home—full of adventure, but you couldn't do it now as it's too dangerous. I left my car in Delhi and did some trekking around Pokhara in Nepal. I drove on to Pakistan and then I flew up to Gilgit and Hunza to do more trekking in the Hindu Kush. I arrived back in Dover with just sixpence in my pocket.
I was offered work by FAO (Food and Agricultural Organisation) who were looking for someone to go to Ethiopia. I continued dryland farming, operating on behalf of the government, travelling around farms, devising, testing and demonstrating alternatives that we believed would be a relevant improvement to the farmers. I was evacuated from Northern Ethiopia because liberation fronts were kidnapping people. I was offered a job in Nepal working in mountain agriculture. Farmers had lots of the same problems but the habitat was mainly differentiated by slope and aspect. The amount of radiation from the sun had to be taken into consideration. Whilst there I was able to do some trekking to some forbidden destinations. As I was working for the UN, I was given permission to collect wheat and barley seeds that were endemic to the region. Whilst in Mustang, I was given a meal from the King and tea by the Queen whilst still wearing my grubby trekking clothes. I went back to Eastern Kenya working again in the dryland farm areas, managing soil in order to get as much rainfall in to it and then store it by partial clean fallow to be able to use it efficiently for different crop varieties at different stages of growth. Being a bachelor it was easy to move me around so I found myself back in Northern Pakistan. It was just sheer mountains and glaciers. Everything had to be irrigated. Whilst trekking I developed a passion for snow leopards. I never saw a live one but vultures showed me one of their kills. Another time I had gone swimming in a remote lake; when I got back to my clothes, there were pug marks all around them but the snow leopard was nowhere to be seen.
I eventually came home to Portsmouth—my mother still lived there. I met Maggie and we married the next year. She already had two daughters; Natalie was six and Meena was eight at the time—I had an instant family. I was all for hauling my new family to Nepal when offered a job out there but decided it wasn't the best idea. So instead we put all our pennies together and in 1986 bought a farm with 22 acres in Tiverton, Mid Devon. After all the years of helping others farm I thought I should have a go myself. All my experience had been to peasant farmers, who were effectively farming organically so I converted to organic, and used local resources as well as I could. Although output per acre was low, productivity was high. We started to learn all sorts of ingenious things we could do with what we had on the land. Our daughter, Sally was born and brought up on the farm. I have memories of her playing with the goats and riding the rams.
There we spent the next 27 years. It was our livelihood and we had no other source of income. We kept a flock of sheep. Maggie made yoghurt and hard ewe's milk cheese which I smoked. We grew vegetables. We had two suckler cows and their followers, and some pigs to eat up the leftover vegetables. To make ends meet you have to add value. I sheared the sheep and we made it into felt. Maggie makes all sorts of items of felt including some unique hats.
We started a box scheme selling directly to the public—we were doing 30 boxes a week from July to January. I made a yurt, I'd seen them in Pakistan, and we used it for family camping. I made the frame from coppiced willow and used home-made felt for the cladding; it's collapsible so we can take it anywhere. We still stay in it when we go to New Wine and Glastonbury Festivals—Maggie continues to make and sell her felt wares there.
We moved about three years ago from our five bed Devon longhouse to a small cottage in Axminster. I could see that Maggie loved it as soon as we saw it and we also wanted to be within 25 miles of our children. Without the land to farm I felt I needed to find a new role for myself. I sold the pick-up, bought a bicycle, put some solar panels on the roof and I built some heavy oak entrance gates with timber from a tree I had felled on the farm. The garden needed attention so I have put a lot of work into that. I do some voluntary work; a little with Tools with a Mission where old tools are refurbished. I also do some occasional milling at Lyme Regis Town Water Mill and clearing conservation work on the Undercliffs.
My two obsessions in life now are mainly looking after the soil and making longbows—a longstanding passion of mine. I only make traditional bows from yew wood. The grain is so variable that each one is unique. It's a great challenge to convert a log, using hand tools only, until it will bend in a semicircle without breaking, and, capable of sending an arrow in a straight line with a range of at least 200 yards. I often go up to the Brendon Hills at Dunkery where they have life-sized 3D images of animals at unknown distances. It's as close to the real thing you can get in this country. I still love to teach others how to make long bows, I mainly run workshops from home, on a one to one basis—a lovely skill to keep alive.
Twenty years after leaving Pakistan, I received a phone message from an International Development Agency in Hunza telling me I had been nominated for the World Food Prize. To be considered it has to be verified that a significant improvement in welfare of a large number of people has happened. What I did had transformed the farmers' lives. This was mainly the result of creating a network of smallholders multiplying potatoes for a seed cash crop. Harvesting the summer mountain crop, in time for dormancy to be broken for the winter crop to be planted in the Punjab Plains. I didn't get the award but it was an honour and a surprise to be nominated.
My life has been enriched to the extent I have been able to exercise faith in God and in certain situations whilst on my travels this has sustained me. I feel God has kept an eye on me.'