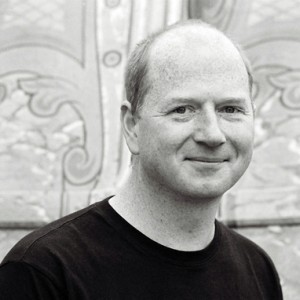 Julia Mear went to Axminster, Devon, to meet Darren Windsor. This is his story.
"I was born in Eton, Bucks, Mum and Dad had second-hand shops when I was growing up—Dad used to do house clearances—this was when they did proper house clearances—houses full of antiques and weird and wonderful objects. He used to have a large 'junk' shop, from a very young age I had access to all sorts of unusual stuff. My grandparents also had a part to play in this. My older brother, Nick, and I would stay with them every weekend, from Friday until Sunday. Grandad was very important to me; it's where I get my practical side from. He was a carpenter by trade but also had a vast assortment of model planes and boats. One of his friends had built K9 from Dr Who.
I had my own bench in Grandad's workshop from a very young age—he'd leave me to it and I'd just make stuff. Grandad was a bit of a hoarder and every Saturday morning he'd take me and my brother to scrapyards in Slough. We'd get the good bits like badges off cars, old radios and fix them up, parts of steam engines—shiny bits is how I saw it. Every Saturday afternoon we would go over to Windsor Great Park and fly model aircraft. It was all about the journey for Grandad, he would often crash them and just laugh. It meant re-building, sourcing parts, repairing and seeing it work again. Something I couldn't understand at the time. On Sunday mornings we would go to Black Park, next to Pinewood Studios, because it had a lake. During the week Grandad would have added props and tinkered with his model boats, ready to launch them at the weekend.
We moved down to Dalwood in Devon when I was nine. Dad opened a couple of second-hand shops, one in Axminster and one in Taunton. He still did the house clearances but they were changing – car boot sales started to come in and people would sell their own stuff more. Dad did the market stall in Bridport selling second-hand stuff, house clearance days seemed to be numbered.
We went to Brighton for a holiday and this was my connection with slot machines—I spent a whole morning playing on them—I vividly remember turning the handle on 'what the butler saw'—a bit naughty but it stuck in my memory. Through Dad's house clearances he got a slot machine—I was transfixed. When we moved to Devon he sold it and I was devastated. We did however go up to the dump one day and found three full sized pin ball machines and a juke box, I was about ten. I enjoyed taking them apart, seeing how they worked and fixing them—I've enjoyed collecting things ever since. I had my own shed at home so was always tinkering with something. I had a welder, bandsaw, drill, everything I needed and I was surrounded by interesting stuff.
As soon as I could drive I discovered car boot sales—bought some slot machines over time—they've been in the loft for a number of years but just recently I got some down to put together for my new journey—a vintage penny arcade.
When I became a 'teenager' I got into skateboarding and met Charlotte, my wife, at the local skateboard park through friends—I remember my brother saying I had 'no chance' but we became closer and were married in 1997. We moved to Axminster and now have three children. Living in the West Country we have good steam fairs and carnivals and I would get involved whenever I could. I'd always been fascinated by the bright lights of this type of entertainment. I think it was the visual aspect and at the same time I was always watching and thinking about how it was all made.
Having the children gave me the excuse I needed to make a carnival float, something I'd always wanted to do. With some friends, we built from scratch a magic roundabout train and entered it in the 'pushed class'. Next we built the Peter Pan pirate ship, the following year a spaceship—we won at Bridgwater carnival—then we retired. One day I had a trailer for sale in my front drive, a chap knocked at the door. He'd arrived in a minibus full of clowns! He was the owner of the world famous Arnett Paulos circus from up country. He'd come from Lyme and was taking the clowns to Cricket St Thomas for an event. We got chatting and I showed him our spaceship—he bought that as well, to use as a prop for the clowns. A lady from the National Trust knocked on our door enquiring about the pirate ship and they now use it for the 'Pirate Day' in Charmouth each year. It's nice to think they have gone to good homes and are still being used.
Mum had bought me a metal detector when I was eight, but I'd never had much luck. Years later I found a much better one at a car boot sale and I started to find stuff. I worked for a local company, Axminster Tool Centre from about 18 years, in their Garden and Machinery Hire department—I met a lot of local farmers and was able to get kind permission to use my metal detector on their land. My favourite metal detecting finds are a 6" cannon ball and a piece of eight—a Spanish 17th century coin—I see this as proper pirate's treasure! Last year I found a 17th century gold posy ring; this is currently in the British Museum in London. Mum has played a major part in my collecting 'genes'. I remember her large antique Victorian doll and toy collection and a large "bear" on wheels from a display at Blackpool Tower. She has always encouraged me to search for the rarer unusual looking items—those once in a lifetime finds.
I've owned a 1950s German bubble car and I had my first VW Beetle when I was 16. I've had one or two ever since, until recently. I would restore and tinker with them. I had four at one point but they have all been sold now, I'm almost 40 and I'm ready to start my new journey. I've decided to turn my energy towards a new big project which encompasses all my interests of restoring, woodwork, art work and also my family.
I pondered over this for a year or two, looked at a couple of fairground rides to restore but decided against it. Then I considered the Vintage Penny Arcade, I did some research and networking. I didn't get any leads for about six months. Part of the journey is not to just be able to go out and buy one, it's got to be difficult to find. I placed a few ads in magazines and one day I was contacted by a guy in Glasgow. He had his Grandad's Vintage Arcade, last used in 1978 and packed away in his showman's yard. Three days later I flew up there, paid him and I was suddenly driving it back in a hired van. I managed to get one old picture from when it was fully built and in use. It was exactly what I wanted but twice the size as what I had expected! It's called the 'Lucky Coin Amusements' and had travelled around Scotland during the 60s and 70s. I've just bought the website, so I'll build that up too. The whole going to the Showman's yard, having tea with him in his caravan, listening to his stories and rooting around a showman's shed was all part of the experience. As soon as I saw the artwork and that it was his Grandad's gave it substance and I bought it more through sentimentality rather than what was practical. It will be challenging to complete but my vision is that in two or three years' time it will be completely up and running as an original Vintage Penny Arcade. I plan to take it to local festivals and steam fairs with my family. Charlotte is very supportive and understanding but considering the size of it I know I need to make this a viable project! I have since been on a fairground signwriting course at Carter Steam Fair for a week to learn how to restore the artwork. I've bought more slot machines and in the meantime, to help fund the future plan, which involves needing to buy a vehicle to transport the arcade, I am setting up some of the slot machines in a small trailer to take a 'mobile' penny arcade to local events. James my 12 year old son is very involved with everything I'm working on. Our twins, Georgia and Rosie, are looking forward to running the 'traditional roll down tables', although they are trying to twist my arm for a small 'hook the duck' game.
I'd been advertising for slot machines on various websites and publications and I had a call from a guy—Richard Cadell—I googled his name and discovered he was the presenter of the Sooty Show. He owns Brean Leisure Park so I drove up there and bought a vintage slot machine from him. He showed us some of the props from Sooty. Again, it's all about the journey—the people I meet on the way and the thrill of the chase."