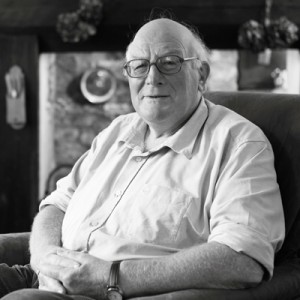 Robin Mills went to Yarcombe, East Devon, to meet John Carter. This is his story.
As a child of the war, I was evacuated from London aged four, to Lewes in Sussex with my sister, who was seven. Together with my mother, we went to live with my aunt Freda; her garden, and the nearby South Downs, became the scene for every adventure we children could invent. In fact we played out the war while my mother and aunt had to live with the fears and anxieties that war brought every day. We acted out the dogfights that were happening above us, wheeling round with bony arms outstretched, and with stuttering machine gun noises exacted revenge on the Hun that lurked behind every bush. Eventually my father returned from the Desert War but Uncle Arthur, Freda's husband, died as a P.O.W., building the railway featured in the film Bridge over the River Kwai. The sacrifice of his life for our benefit affected me more than anything else at that time, inspiring me to make the best of mine for his sake.
My father resumed his job as an agent for the Prudential Insurance. He was a Socialist, keen to help build the peace, and led a team which built a new Social Centre in Lewes. Both my parents devoted themselves to serving the community and I was brought up in a warm and caring environment with plenty of company. I went to school in Lewes, but academically I struggled. I did however pass the entrance exam for Grammar School aged 13, where I acquired a cauliflower ear playing rugby but not much else. I also played other sport, and acted, something my mother organised. My body had developed but my brain was yet to do so.
My father placed great importance on security, after the war years, and felt I should learn a trade, apprenticing me for five years in the printing trade. I really wanted to be a poet, write and play rugby. At the end of the 5 years I was obliged to join the Army for a further 2 years' National Service. By that time I'd met my future wife, Dawn, a fellow actor, when we were both involved in a drama festival at Glyndebourne.
I stuck with the printing apprenticeship and gained the qualifications out of respect for my father, but without his approval I also took correspondence courses in English and poetry, and agriculture. I worked Saturdays on a farm locally, and became determined to work my way in to a career in farming. I had a desire to be involved in something which lasted, which had permanence beyond the material world. I felt the secret of life could be found in the countryside, working with and close to nature.
National Service fortunately only lasted a couple of months as I had a rugby injury that refused to heal because of the square-bashing, so I was de-mobbed. They assured me I would be the last person to be called up if there was another war. Within a few weeks I was pitching bales on a mixed farm in Oxfordshire, as a live-in student, being paid only pocket money but learning huge amounts about all aspects of farming. I had a go at everything on that farm, even took a church service when the vicar didn't turn up one Sunday. The next job was looking after a farm nearer home owned by a crazy army officer—who would shoot an escaping pullet as an example to the others—after which, as by now we were married and Dawn was expecting our first child, I managed to get a one year job with a cottage on a large farm on the Wiltshire Downs. There I learned about shepherding, cereals and beef cattle. I was playing rugby for Newbury then, and loving the work, but we were still paying to learn on £7 a week.
The tied cottage system allowed us to gain experience by moving around to different jobs; dairying in Leicestershire, large scale arable, outside pigs and other livestock in Oxfordshire. I began to realise that the only opportunity to farm on my own account lay with low capital outdoor pig keeping. So I took on a unit manager's position with the West Wycombe Estates looking after 100 Saddleback sows in beech woods, and 500 ewes. I was working long hours, including gaining farm management qualifications part time, but in farming at that time the chances for a penniless chap to break in were pretty well impossible. We stayed there for 3 valuable years while starting to look around for opportunities to farm on our own—by now the family had grown and we had 3 daughters.
My grandmother's memories of her farming life at Winsham may have caused me to look for free-draining soil in the West country; eventually, with the landlord as sleeping partner, I rented 5 acres with a cottage outside Ottery St Mary. In an orchard and some woods we started a nucleus herd of Saddleback sows to produce our own hybrids. We had to borrow capital and pay our electricity bill of £6 by instalments, but I was confident there was profit in the system we were developing. We rented stubble from other farmers after harvest; I designed and built my own pig huts. The system was flexible and low cost; the money was all in the pigs and everything else was manual work, but I could do that. Gradually my pig keeping operations expanded. We were offered another 120 acre run down farm, anything but ideal at 900ft with high rainfall, but by this time I'd negotiated security of tenure with the landlord, and then whenever more land became available we expanded the herd adding sheep, cereals and potatoes. I had a young enthusiastic workforce, no boss worker relationship, just a great team spirit and a desire to achieve. With my loving wife, children, dogs and cats, and young farming people around the kitchen table it took very little to make us all laugh.
Bit by bit things expanded, and I was able to buy Lashbrook, the farm we tenanted at Talaton; we were now farming 800 acres, with pigs, sheep, potatoes and cereals. We took, housed and trained students from Seale Hayne, Bicton and veterinary colleges. As well as this complete seven day farming family life, Dawn and I have had many other interests and involvements which included singing at Ceilidhs, Mummers plays, and Pantomimes, and I've served as a magistrate for 30 years. I've been involved with co-operative marketing and helped to establish the Institute of Agricultural Management, eventually becoming National Chairman. But I've always got up early enough in the morning to see to my stock before anything else, because it was vital to keep hands on with the farm and the team: to feel the seasons, to sense the animals, the weather on my face and the soil under my feet. That's where my heart and skills lay.
My niece was teaching mixed race children in a London inner city school; tough country. We wished to share our good fortune and so we asked her if they would like to bring a group down in the summer to visit. The local Scouts provided a camp, the keeper took them out in the woods, they went walking on Dartmoor, and the local farmers invited groups to feed stock, and to breakfast every morning. At the end of their stay, the children put on a show for farmers and wives; it continued for many years. We have shown many foreigners, farmers and children round our farms but this was the most rewarding.
Being involved in village life, I got badgered to take things on. When the village shopkeeper decided to call it a day in 1993, as chairman of the Parish Council I was expected to do something about it. And so, I found myself leading a wonderful village effort to establish the second community-run village shop in the country. It turned out a great success, still goes strong and later won the Queen's Silver Jubilee Award.
The meat processors and supermarkets started to dictate to producers what breed of pig they should rear; our pig, which we had spent so much time developing for mothering ability, quality and taste, was not on their list. We believed in our pigs even if they didn't, so I began to explore marketing our meat direct to the customer, through Parish magazines and village shops, and then through Farmers Markets as they started at Cullompton, Crediton, Bridport, Dorchester, and Chard. We also set up a website and sold by national mail order. It was a great success, an essential part of keeping the business going when the market was declining around us. A Farm Shop followed and a further web site to market in co-operation with other farmers. The virtues of buying and eating local food was added to talks I gave on our farming and establishing village shops.
My life in general has been hugely rewarding, but there have of course been ups and downs. Foot and Mouth Disease hit us hard in 2001; although we avoided being slaughtered out, the movement restrictions were disastrous. Our young team became disillusioned with farming. Afterwards Dawn and I decided as we were well into our 60's rather than trying to rebuild we'd wind down the business. These days I farm only 50 acres with a neighbour, but I've published two books —Both in it Together, A Farmers Life with Foxes, and Journey into Farming. And being fully involved with village life, and with my lovely family, there's plenty of new road to travel and to look forward to.