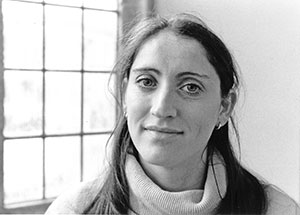 'I've always been into antiquity. The origins of the world around us, whether in geology, history and archaeology, to place names, all hold a fascination for me. My family has a holiday place at Strangford Loch, in County Down, Northern Ireland: strang-fiord, Norse for strange fiord, because the Vikings who occupied many parts of Ireland around the ninth century A.D. noticed how the weather could completely change the character of the loch in minutes. I find that just so interesting.
I was born and brought up in Belfast. Mum and Dad still live there, and I do miss it dreadfully sometimes. My big brother and I went to school there, and we had a fantastic childhood. We were aware, of course, of the Troubles, but what outsiders don't often realise is how those events were ghettoised. The rest of the world only ever heard the worst of it.
Actually life was always fun: we played in the streets, and our doors were seldom locked. If you got into trouble, you were also in trouble with the paramilitaries, which made life pretty safe for most of us as normal crime rates were very low. In those days property in Northern Ireland was, by today's astronomical prices, really cheap. Most people had a holiday place, either a cottage or a caravan somewhere, so we spent halcyon days in Sligo, Newcastle and Portrush.
When I was eighteen, I left Belfast and went to the University of Glasgow. I did a four-year Masters Degree in English and History, and was lucky enough to get a job at the British Museum in London immediately afterwards. Working there was an inspiring experience, and I loved it. It is an amazing place, with globally important collections and artefacts, such as the Rosetta Stone, the translation of which finally enabled the deciphering of Egyptian hieroglyphics.
I was helping to put together special events, from sleepovers and evening lectures, to the Booker Prize Dinner, eventually writing some children's books for British Museum Press. Because the British Museum is such a hugely important national institution, many people who worked there developed very specialised roles, and this tended to make opportunities to develop a different direction in my work hard to find. I was looking forward to being able to put on my own exhibitions and create my own projects, and after six years at the B.M., there was a chance of this job in Dorchester, at the Dorset County Museum.
That was four years ago. As Museum Director, I've got a staff of eighteen, some part-time, who make up a brilliant team: committed, interested, willing, and with the sense of humour essential for most jobs. There are also about 180 voluntary staff, without whom the Museum would collapse tomorrow. They do everything from curating collections to running the library, to staffing the reception.
In my own job, I need to be very finance-savvy: I spend a lot of time chasing money. Dorset County Museum is an independent museum, owned and run by The Dorset Natural History and Archaeological Society. We are funded by Dorset County Council, various trusts and foundations, including the Esmée Fairbairn Foundation, donations, subscriptions, and entry fees. I also have to be as good at managing people as historical objects. I've just finished a qualification in Cultural Heritage Management, and I'm six months into a two-year professional development course leading to an Associateship of the Museums Association.
The Museum contains a huge range of resources. It is extensively used by schools, whose pupils can learn about the geology of Dorset, the Romans, and the literary history of the county. The wonderfully rich archaeology to be found in Dorset is reflected in the Museums displays, as is Dorchester's Roman past. Around the town can be found the aqueduct, the amphitheatre (Maumbury Rings), and on the floor of the Victorian Gallery lies a magnificent Roman mosaic.
Perhaps what brings us the most visitors is of course the Thomas Hardy Gallery, which contains the largest Hardy archive in the country.  We have some of his manuscripts, notebooks, diaries, and paintings. In the Writer's Dorset Gallery, you can find out about William Barnes, the Dorset Poet, and the remarkable Powys family. For me personally, as an MA (English), the wealth of literary collections here at the Museum is one of the main inspirations of my job.
My biggest project since I started this job has been the new Jurassic Coast Gallery, which opened in summer 2006, with a grant of £336,500 from the Heritage Lottery Fund. It was opened by Sir David Attenborough. I've had a great deal of input into this venture, and it really has been a major achievement for the Museum and Dorset as a whole, proving very successful so far. It's a focal point for all visitors to the 95-mile long Jurassic Coast, designated a World Heritage Site. Here they can learn how the coast was formed, see the story of ammonites, and displays showing some of the fantastic creatures of the period. It's both great fun, and a learning experience, for people of all ages, with a wealth of interactive and audio-visual features.
I'm now working on new directions for the Museum, which include closer partnerships with Dorset Wildlife Trust, to reflect sustainability and environmental concerns. Together we've just started on a wildlife garden at All Saints Church in Dorchester, to demonstrate how people can encourage wildlife to thrive in their own gardens. A lot of valuable habitat is being sacrificed to the fashion for gravel areas, paving and decking. We'd like people to think about the effect this is having on our wildlife. I'd also like to encourage more visitors from the community to the Museum, so we have introduced an affordable annual pass and are organising lots of free events for families.
For the first time, I'm going to run the London Marathon on 22 April  this year. I'm raising money for the Stroke Association, because my mum suffered a stroke while visiting Poland recently, and because it's an incredibly good but not very well supported cause.
I've only ever been an occasional runner before, so I'm building up my training regularly, up to 30 miles a week at the moment. I recently ran my first half-marathon in 2hrs 6mins, on a beautiful day in the Blackmore Vale. I felt that was a pretty fair time for a first-timer with a slightly gammy leg. I also have to eat properly, lots of complex carbohydrates, and things like energy gels are helpful. Jelly Babies are great if you need a sugar-rush: Gordon Ramsey swears by them, but then he swears by most things.
Taking part in the London Marathon is going to be really exciting, maybe a landmark in my life, as well as for all the other thousands who are running. I hope to raise lots of money, and I'm looking forward to one day thinking I did that.'