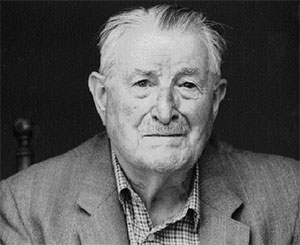 Jack Banfield was born at Brimley in the parish of Hawkchurch, Devon, in 1912. He is the village's oldest native resident. Jack's earliest memories go back to the start of the Great War, (1914-18) when his father's horse and wagon was commandeered for the war effort.
Jack remembers when he was old enough to walk to the village shop for groceries: "Everything was weighed and put into blue paper bags.  Bacon was sliced by hand, and wedges of cheese cut with wire. Mixed with all this was the smell of fresh bread baking in the ovens behind the shop and salted and dried fish on the floor.
The Post Office shared the same counter and they sold sweets, butter, paraffin, candles, brushes, and soaps."
On leaving school, aged 14, Jack worked for Mr. A. Hayball delivering telegrams. Villagers bought 7lb, 14lb and half-hundred weight bags to feed their hens and ducks.
Jack, who was the village builder and carpenter by trade, is still very active and likes to spend a few hours a week in his workshop. Aged 91, he lives in a bungalow just a few hundred yards from where he was born.
In 1996, Jack recorded much of his life in his book Hawkchurch. Extracts will be on display at the Hawkchurch History Society's Festival, Old Hawkchurch, 19-20 June, at the village church.
Julie Searle, a member of the Hawkchurch History Society, is compliling a family history of Hawkchurch's oldest family – the Bowditch family.  Anyone who would like to contribute to Julie's work or to the  society's festival may call her on 01297 678622.