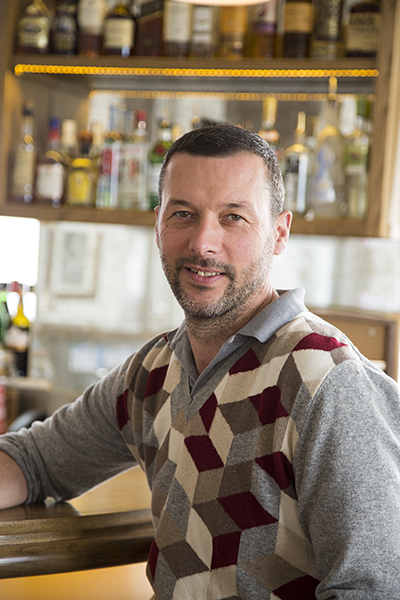 Waking up and making himself a tisane of freshly squeezed lemon with crushed ginger Jonny Jeffery, General Manager of Seaside Boarding House starts his day. If he's not working early he'll practise some yoga and walk the dog. At home he cooks a lot, as it was his first love, leaving school to go to catering college and spending many a year doing the chalet seasons in the Alps.
But then Jonny got into Front of House, finding it was useful to know both sides of the restaurant coin. He was successful, opening the Chop House and running Bridisa in London (among others) before opening Hix in Lyme Regis, thinking it would only be for six months. However, the lure of Lyme worked its magic and Johnny is still in Dorset eight years on.
Jonny has just finished overseeing their first wedding at The Seaside Boarding House. The terrace doors were open, making the open expanse of the sea seem even closer, the sun shone and the couple had a wonderful day. Job done, for Jonny it is one of the best bits, "Meeting people, and seeing them enjoy themselves in an informal and friendly atmosphere." Although, he credits former Groucho Club owner Mary-Lou Sturridge with creating the beautiful space to work in, which he says makes his job easy.
And if Jonny wasn't busy enough, he also set up 'Jonny Does Dinner', a pop-up dinner event in unusual places where he did the cooking. Locations such as a polytunnel at Trill Farm, Fagan's Antique Emporium and Sidmouth Bandstand. Dorset's tendrils are losing their purchase on Jonny though. He seeks even more sunshine and laughter in Ibiza and has plans to run a villa and return to his first love; cooking. His guests will be in for a treat.