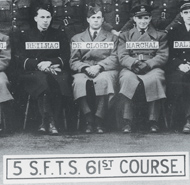 On 15 March, a poignant ceremony is due to take place on a Dorset hillside to remember a World War II pilot who died in a plane crash during thick fog exactly 80 years ago. Up until late last year, the incident was surrounded by secrecy. The airman's story—pieced together by a farmer with Covid—had been forgotten until his name was read out in Broadwindsor Church
on Remembrance Sunday last year.
Margery Hookings tells the story.
Lewesdon Hill, the highest point in Dorset, is often shrouded in mist.
When the sun shines in Bridport and down on the coast, the hinterland around Broadwindsor can sometimes be like the land that time forgot, concealed by fog, hidden from everything and known only to those who live there.
And that's how it was on the early evening of 15 March 1942 when a young airman was flying a Supermarine Spitfire Mk Vb BL463. He was on his way from RAF Burtonwood to deliver the plane to No 317 Squadron at Exeter. He never made it. The 25-year-old was killed on impact when the plane crashed into the northern side of Lewesdon Hill.
Until late last year, no-one knew very much about the incident. Some locals had been told the distinctive dip in the treeline on Lewesdon was the result of a plane crash during the war. But ask anyone the nationality of the pilot or the circumstances of the crash and you'd draw a blank.
It took the dogged research of farmer Andrew Frampton to piece together the story, coming up with a name and then a photograph. If it hadn't been for Covid, he might never have got round to it.
Stuck at home in isolation, Andrew binge-watched The World at War, the 26-episode British television series made in the 1970s and chronicling the events of the Second World War.
It made him think about the plane crash, and a family story involving his late grandfather, Jack Frampton, who was on Home Guard duty in Broadwindsor on 15 March 1942 with his brother-in-law, funeral director Jack Wakely, and friend Doug Studley.
The story went that on that day at 6.15pm, just as the sun was setting, a plane's engine could be heard spluttering above the village before it crashed into the wooded, north-facing hillside of Lewesdon.
Armed only with hazel sticks, the three young men made their way up the hill to investigate. At that point, they had no idea what they might find. They could have encountered a German airman on the run. There was some light-hearted banter though because, much to the two Jacks' amusement, Doug's cap kept getting knocked off by the tree branches in the fog.
When they reached the hill, they found the pilot's body and wreckage of the plane. The report of the crash was kept very much under wraps, with no media coverage so as not to damage local morale.
Even so, the day after the crash, Broadwindsor schoolchildren skipped off lessons to visit the site. One young farmer and Home Guard man, Dudley Tolley, from Stoke Knapp Farm, managed to find one of the three propeller blades which he kept under his bed for 75 years. They all now hang in Beaminster Museum.
The pilot's body was taken to the mortuary at Bridport Hospital and later buried at Brookwood Cemetery Surrey, before being repatriated to Evere, Brussels, on 20 October 1949.
The crash site can be seen by walking about 250m to the top plateau of the hill, then turning right (west). After a further 200m you can see the gap in the beech trees to the north, made by the Spitfire as it crashed.
After the accident happened, villagers put up a wooden cross at the site of the crash as a mark of respect. Flowers were place there on 15 March every year right up until the 1960s until the cross eventually disappeared under a carpet of fallen leaves.
Andrew's research into the crash eventually yielded a name. The pilot was Jean Verdun Marie Aime De Cloedt who was born to Belgian parents on 31 May 1916 in the St Giles district of London. His father, Prosper De Cloedt, was the president of a dredging company and his mother, Jeanne Delanote, was descended from an old family of brewers in Bruges.
In 1940 Jean was unmarried and an engineer with the Belgium regiment Aeronatique in Ostend and as an NCO pilot and a candidate as an officer in the reserve. He came to England to join the RAF Volunteer Reserve with the Belgian section and trained as a pilot at RAF Sealand near Chester on No 61 training course with No 5 Service Flying Training School. But because he was colourblind he was unable to join operational squadrons and ended up at No 3 Delivery Flight at RAF High Ercall, Shropshire, tasked with delivering new and repaired Spitfires as replacements around the country.
In the early afternoon of 15 March 1942, at RAF Burtonwood near Warrington, some 222 miles north of Dorset, Jean climbed into his Spitfire. The plane was called Berar 1 and had been part-donated by the Central Provinces and Berar Relief War Fund, India, as part of the war effort and manufactured at Castle Bromwich aircraft factory, Birmingham.
He was flying it as a replacement to No 317 Squadron at Bolt Head, Devon, unaware that the squadron had already lost eight planes that day because of the thick fog blanketing the West Country. The squadron had been based at RAF Northolt west of London but had been moved further west to help protect Exeter and Plymouth from German Luftwaffe raids.
We will never know why the plane crashed in Broadwindsor. Was there a mechanical failure? Or pilot error? Perhaps Jean de Cloedt deliberately avoided an even bigger catastrophe by veering away from the village rooftops before ploughing into Lewesdon's beech trees.
Jean's story had been forgotten until his name was read out by Beaminster Area Team Vicar the Rev Jo Neary in Broadwindsor Church on Remembrance Sunday last year. A few weeks afterwards, Andrew Frampton was sent a photograph of Jean's squadron, with the village's forgotten pilot sitting in the front row, a fresh-faced young man with an earnest expression.
Fittingly, the National Trust, which owns Lewesdon Hill, has worked with Andrew to create an information board which will be unveiled at the entrance to the hillfort at a ceremony on the 80th anniversary of the crash. Prayers will be said by the Rev Jo Neary. Among the guests will be Jack Frampton's grandchildren, Gillian, Tim and Andrew, Doug Studley's daughter, Heather, and Jack Wakely's son, Clive, along with children from the village primary school who are studying the war. Guest of honour will be Jean de Cloedt's great-niece who plans to travel from Belgium for the ceremony.
Andrew said: 'I would ask all villagers who are free and would like to see the event to please come along and represent our village to show solidarity and compassion for the brave pilot who faced a horrible dilemma in the fog of our landmark hill exactly 80 years to the day this tragedy occurred.
'The Parish of Broadwindsor will always remember the sacrifice of Jean de Cloedt.'