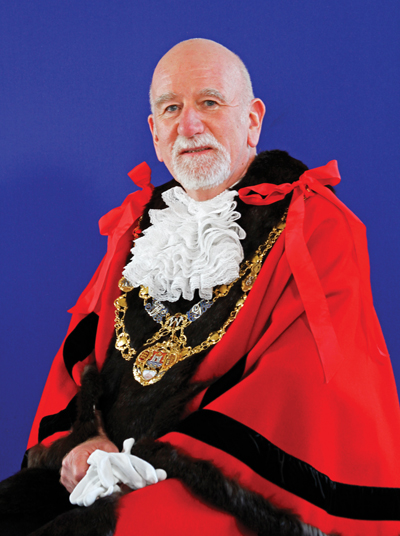 Back in November, Margery Hookings invited community leaders in towns in and around the Marshwood Vale to tell readers about their hopes and plans for 2021. After a year dominated by coronavirus, all of us are looking forward to a brighter future when we can look back on the pandemic with relief that it has passed. Not all towns responded but here are some of the comments we received. Our thanks to the community leaders here for taking the time to share their hopes and plans for the new year.
SIDMOUTH
Ian Barlow, Chair of Sidmouth Town Council
In what has been a challenging year for most, Sidmouth has seen the completion of a number of major projects. Firstly, in collaboration with Visit Devon and our marketing partners, Ignyte Ltd, we have completely updated and improved our town's tourism website, making it much more user-friendly and giving local businesses more opportunity to promote themselves. This has already seen a huge boost in tourism to the town, which we hope will continue into 2021. A new website focussed on our residents will be following shortly.
A number of projects have also taken place within Sidmouth and the Sid Valley, making the town even more attractive and providing more activities for residents and visitors. This includes the opening of a new skate park and the new Alma Bridge, which allows easier access to the south west coast path. As well as this, Sidmouth has taken ownership of Knowle Parkland, providing even more public open space for residents and visitors to enjoy. The space includes gardens and a new amphitheatre allowing for even more iconic events to take place in Sidmouth. While many of these have been postponed for 2020, annual celebrations, including Sidmouth Folk Festival, have already confirmed dates for 2021, so we can all agree that there is plenty to look forward to.
SEATON
Ken Beer, Mayor and Chairman of Seaton Town Council
Seaton Town Council is looking forward to a busy 2021 working with Seaton's famous attractions such as Seaton Tramway, the Wetlands and Seaton Jurassic. Seaton will also play host to new events being organised through the Promote Seaton Group—a working party comprising councillors, business owners, community groups, residents and other local stakeholders.
Subject to any restrictions still in place next year, we hope that we will once again welcome established events such as the Grizzly Run, CycleFest, Natural Seaton, Seaton Carnival week, with other new and exciting events in the planning stages. Seaton always welcomes visitors to enjoy our wonderful independent shops and eateries and our spectacular coastline.
We are helping our local businesses improve their premises and encouraging coach operators, by providing better facilities.
The accessible seafront, with its far-reaching views across Lyme Bay, attracts visitors in all weathers and plays host to a variety of activities for all ages, including paddle boarding, sea fishing, swimming or simply enjoying a family picnic on one of the cleanest beaches in the South West.
We look forward to seeing you in 2021.
BRIDPORT
Ian Bark, Mayor of Bridport
The people of Bridport have risen to the challenges by supporting each other in so many different ways. We have come to realise how valuable our local businesses are and how important it is we give them our support. Perhaps the most important hope for 2021 and beyond is reigniting the Green agenda. There is much work to be done and we need to be brave in our actions. Future generations will not forgive us if we fail to act now.
Dave Rickard, Leader of Bridport Town CounciI
The town council will need to maintain its involvement in the pandemic's consequences but we also want to press on with some of our key strategic aims, such as responding to the climate emergency, developing plans for the town centre and building on our Rights Respecting work.
I would also like to see our reputation as 'Dorset's Eventful Town' restored to the full—and, if possible, extended. Arts and cultural events can help our local economy to recover from the ravages of Covid19.
It won't be an easy year and we need to plan our financial recovery alongside delivering our plans. As the leader of a 'can do' council in the 'can do' town of Bridport, I am confident that together we will make 2021 the year Bridport bounced back and moved on from Covid19.
LYME REGIS
Brian Larcombe, Mayor and Chairman of Lyme Regis Town Council
2020 has by any standards been unprecedented and challenging, and for those who've lost family members or suffered illness it's been both heart-breaking and threatening. It has been a year of depths; the depth of what we have had to face, and the depth of personal and collective response we've all given to this unforgettable year.
Lyme and indeed the local radius have reason to feel more fortunate than other parts of the UK. We did a great deal in 2019 and much of this continued into 2020 despite Covid-19. It hasn't been easy but there is now a better prospect ahead of us because of the efforts made over the last two years and throughout 2020 by everyone.
Although the effects of Covid will be with us in different ways for a long time yet, we have and will continue to adjust and adapt with the same resolve in 2021, with optimism and responsibility.
We should respect and maintain the physical distancing and other Covid measures required, and importantly cherish the closeness of those around us; the important things that may have been lost to the less important, and the things that this year has encouraged us to rediscover and value.
BEAMINSTER
Craig Monks, Chairman of Beaminster Town Council
2020 has been a very different and difficult year. During Lockdown, Beaminster Town Council implemented the Community Resilience Plan to support residents, businesses and local groups in such extraordinary times.
Through our website, our social media and an army of volunteers delivering leaflets, we aimed to up our game in communicating with the town. Most recently we have started to live stream our council meetings so residents can watch live or after the event. And lastly, we are now providing a monthly update in the Team News with news and useful information we wouldn't want local people to miss.
After the initial lockdown, we had hoped for a return to some normality so we started our Beaminster Restart Campaign with the flags, bunting, flowers and of course the Scarecrow Hunt Competition, all aimed to welcome new and old faces back to the town. This year will see the return of many regular events such as the Beaminster Festival. But we have much more planned for our residents and visitors to enjoy. So we look forward to welcoming you back to our town soon. Just visit www.discoverbeaminster.co.uk to see what we have planned. The future is bright, but for now stay safe.
SHERBORNE
Jon Andrews, Mayor of Sherborne
After a very unexpected 2020, we welcome 2021 with open arms.
Our wonderful volunteer sector in Sherborne has stepped up and helped in so many essential ways, at such difficult times.
A community pandemic recovery fund has been established aimed at not-for-profit organisations such as locally registered charities, food banks and community groups who may struggle to survive or to meet demand in the pandemic.
The future economy and prosperity of Sherborne depends to a great extent on the wonderful variety of independent businesses in retail and hospitality. It is one of the factors that makes the town an incredibly special place to live and visit. Government financial support allied to the furlough scheme has been a lifeline to many. But the second national lockdown came at one of the busiest times of the year for small business owners.
A new website has been recently launched together with social media platforms making it easier to communicate with the town.
Looking ahead, the council faces huge challenges with pressure on budgets, but we are delighted to have been selected by the Dorset LEP to receive funding for the ShopAppy scheme that will take the high street in Sherborne online, bringing a great opportunity for shops to reach more people.