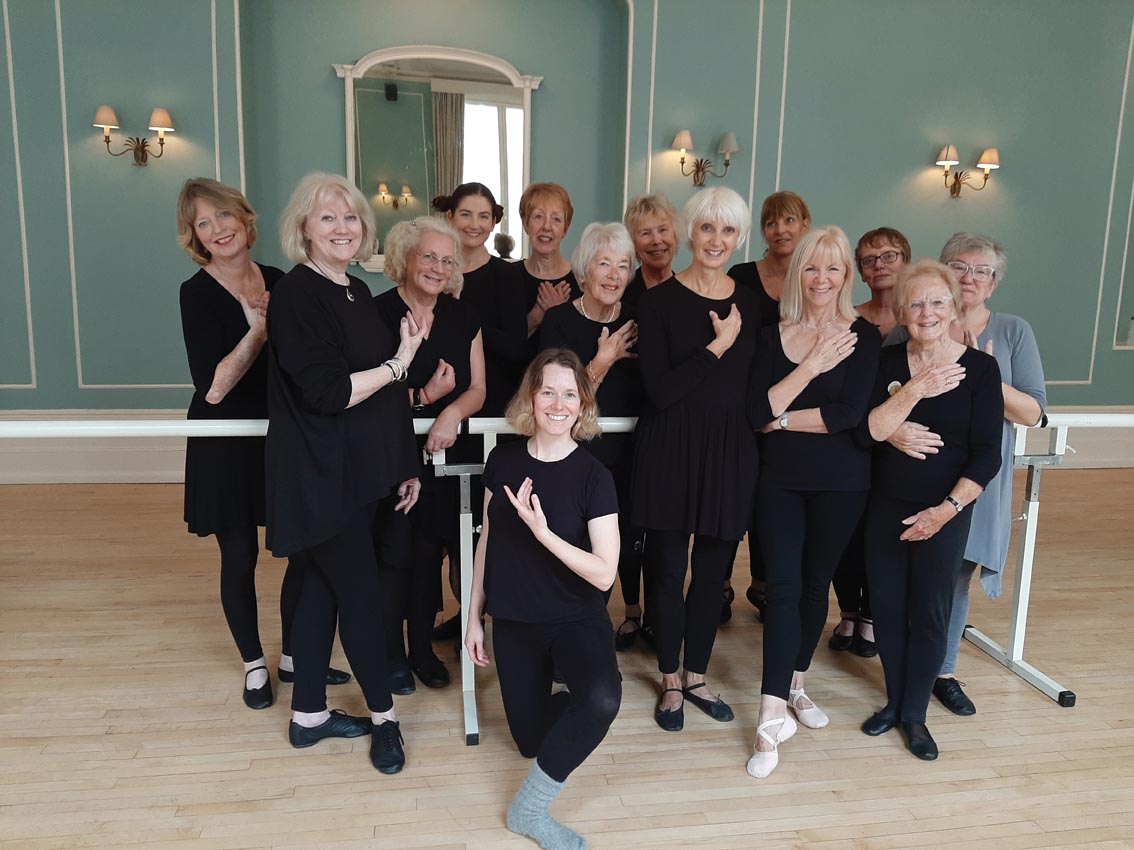 To dance can be liberating. For many mature women in West Dorset and South Somerset, this means dance classes given by Carla Sheills, who runs 'My Ballet'. To some women, it is daunting at first to run through all those ballet exercises on the barre, but for others, it is empowering. Many did ballet as children and never believed it possible to dance again. Others have never done ballet at all. So for everyone, this is an extraordinary experience. It can unlock some good memories and eases the joints. It is a holistic experience and gives the dancers greater balance, stamina and flexibility as well as elegance, poise and a deep inner sense of well being and confidence. Much needed these days…
My Ballet's approach is tailored to suit everybody including all shapes, sizes and abilities. Not just reed-thin youngsters. Although not as punishing as some ballet traditions, the dancers work hard. Seven years ago, back in 2013, Carla Sheills pioneered teaching her integrated method of ballet to mature ladies in Winsham village hall and in the elegant blue ballroom of the Bull Hotel in Bridport. For many ladies, it was sheer joy to be dancing ballet again. Their dreams had come true…
Carla used her skills from the Royal Academy of Dance and from pioneers of British dance movement therapy to create My Ballet. This was a real step into the unknown. Carla's very individual approach has been a great success and has inspired many new dancers and teachers alike.
Even five years ago it was relatively unheard of for adults who had never done ballet before to start training. It was a brave thing to do but one that worked phenomenally well. This was the real thing with ballet barres and classical music.
Since then 'My Ballet' has gone from strength to strength and a short film was made by Justin Owen of Bridport. Within days the film went viral around the world with people watching from as far afield as Moscow and Puerto Rico, Peru, Brazil, Argentina, Mexico, Israel, Ukraine, Budapest, Tennessee and Chicago. Even Tonbridge Wells…
Carla says 'I am humbled that our film Let Me Dance influenced so many people around the world with 2.6 million views and a reach of over 7 million. It was wonderful to hear from universities, dance schools and the Boston Ballet Company, as well as teachers and many aspiring dancers.'
But what of Carla Sheills who developed this unique approach to teaching ballet? Carla was born in London. Her father was a diplomat and her mother an artist. She grew up in South Africa and started studying the Royal Academy of Dance method from the age of six. She had excellent English dance tutors in Johannesburg. At the age of eleven, she was accepted into a ballet school and studied dance every day till she was eighteen. As Carla says 'We trained intensively. Ballet was our bread and butter. We also studied classical Greek dance and Flamenco as well as anatomy. It was very focussed and very challenging but a huge privilege.'
'When I was a child my grandmother called me huppelkind which means 'hopping, bouncy child'. Nowadays I might have been called hyperactive!' Carla spent some of her childhood on an African farm so the lush pastures of Somerset and Dorset were a great relief after the hot baking sun of the Eastern Cape.
After moving to England Carla studied Dance Movement therapy in Bristol and taught dance to children in schools for many years. But things were not always easy. In 2007 Carla discovered she had cancer and had major surgery which greatly affected her upper-body mobility.
Lying in the hospital bed in Bristol, Carla never thought she would ever dance again. The surgery felt very brutal. It was a very painful and long recovery. But being determined and a 'bouncy, hopping child' Carla slowly made progress and five years later began teaching again. This time focussing on adults.
To be a ballerina is a dream that many women secretly still have. But to learn to move gracefully has for many ladies been life-changing. Above all Carla wanted to communicate the sheer joy of dancing again and she found that many of her dancers have had similar problems with their health. Carla has a can-do approach. It is all in the Mind. 'My Ballet' is as much about the sense of community, bonding, friendship and a general feeling of self-worth which is a different approach to other ballet classes.
The success of the 'My Ballet' film took everyone by surprise. Carla was then consulted by the Royal Academy of Dance based in Battersea who have since launched Silver Swans around the world. Ballet has opened up greatly in the last two years.
As for teaching Carla has many different classes, usually ten a week. Every dancer has a story to tell and Carla is beginning to collect those stories for a book. The comments of her dancers are very telling.
The daughter of one of her dancers is professional ballerina Natalie Harrison, First Artist at the Royal Ballet. Carla arranged for Natalie to come down to Bridport to give a wonderful master class and this was incredibly successful.
With COVID and Lockdown in March live classes came to a halt. But Carla has been doing U Tube and ballet classes on Zoom which are very popular. For some, it has been a real lifeline. Carla is currently investigating reopening small live classes at the Bull in Bridport and in Winsham Village Hall. COVID permitting…
Advance booking is absolutely essential as places are limited. Ballet keeps you fit. Why not give it a go? Every kitchen is a ballroom… Just grab the rail of the Aga and off you go…
For more details see the My Ballet website: www.my-ballet.uk which includes the film Let Me Dance or email the secretary Sandy Wells on elegantmovement@gmail.com or phone 0786 6896978.