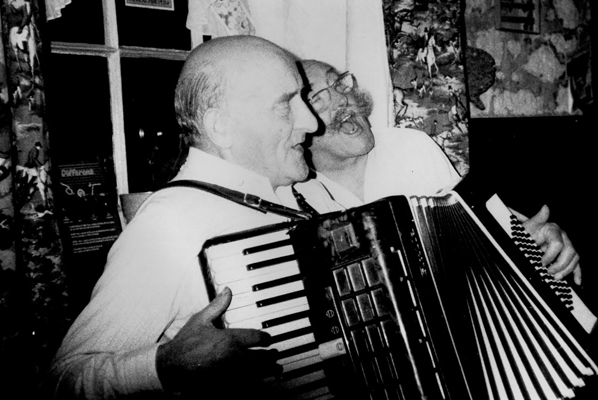 Margery Hookings makes some musical connections when she discovers the raucous singing past of her local pub, The White Lion at Broadwindsor.
When folksinger and folklorist Nick Dow visited West Dorset with his wife in the late 1980s, it made a lasting impact.
The couple's mission was to seek out old Dorset folk songs, following in the footsteps of the great Cecil Sharp and Somerset-based brothers Robert and Henry Hammond, the sons of a clergyman from Priston, near Bath.
Sharp (1859-1924) is considered to be the founding father of the folk-song revival in England in the early 20th century. He gathered thousands of tunes from rural England – including Somerset and Dorset.
Inspired by Sharp, the Hammonds went on long bicycle rides into the Dorset countryside in search of songs, collecting about 600 of them on several expeditions between 1905 and 1908.
Says Dow: 'It came as some surprise to me, as a fledgling folklorist, to find that no serious research had been made into Dorset folksong survival since 1908.'
And so it was that Dow, who at the time lived in Blackpool, set off with his wife, Mally, armed with a collecting grant and a tape recorder to capture some of these 'lost' songs.
I have always been very familiar with the songs and dances that Sharp collected. I went to a tiny primary school in a South Somerset village in the late 1960s. The songs were part and parcel of my family's life. I thought everyone knew them. I had no idea they had ever been on any endangered list.
My late uncle, Somerset farmer George Withers, was a folk singer. As a child he was immersed in the songs of a time gone by, along with popular music hall numbers of the day, as passed down to him by my grandmother and my grandfather, who were both blessed with good singing voices.
Eddie Upton, who set up Folk South West in 1992, said of George in The Folk Music Journal: 'He grew up with songs around him. Not only at home, where both his mother and his father sang, but at his uncle's neighbouring farm, where Jack the carter was a noted singer.
'His older sisters brought home songs they had learned at school, and George recalled that at a very early age he was hearing songs collected by Cecil Sharp, in several cases from the very singers from whom Sharp had collected. "I can't remember a time when I didn't know The Seeds of Love, I rather claimed this for my own."'
Fittingly, Uncle George's version of this song was played at his funeral in 2009 and also at that of my own father who, like George, had been a farmer on one of the county council's smallholdings, which were set up for returning soldiers after the First World War.
Says Upton: 'The family farm had apple orchards but no cider press, so every year the cider apples were taken to a neighbour's farm to make cider there. "Cider making involved periods of frenzied activity, and quiet times while the juice is running and you wait for time to screw the press down a bit more. That's the time when stories are told and songs are sung. I recall Jim and Dad, both old soldiers, singing an old song about an army recruit. It involved some bad language, which impressed me. I was about 12 years old. I only heard it once but remembered it quite well."'
I include my uncle's quote about the bawdy song because of what Nick Dow and his wife found on their folk song collecting trek. They amassed some 150 songs, through interviews with people as diverse as a retired ploughman, thatcher and hurdle maker to a hospital porter to an ex-serviceman.
But his real desire was to discover a community where the songs were sung as a matter of course in the local pub, rather than being sung at request into a tape recorder. Cecil Sharp wrote in 1909 that 'every West Country village holds a veritable nest of songbirds!'.
One only has to chat with people who have lived in these rural areas all their lives to discover a wealth of folk song knowledge.
In 1989, Dow discovered what he describes as 'the crock of gold at the end of our rainbow'.
It was the White Lion Inn at Broadwindsor, a village north of Bridport. He was invited to record 'Flash' Phelps, who would visit from Chard with his accordion 'when the spirit moved him and many a lively night was had by all'.
With the famous axion from folklorist and singer A L Loyd ringing in his ears—'folk music differs from other music as day differs from night, but it's impossible to tell when day becomes night and night becomes day'—Dow says he held his subjectivity before him 'like a torch and advanced into academic darkness and the welcoming glow of the White Lion'.
In a piece for Farmers Weekly back in 1985, Dow wrote about his visit to the White Lion: 'The catholic taste of the singers of ages past is still evident in the repertoire of the assembled singers at The White Lion. Flash would strike up the melody of Putting on the Agony or Home on the Range and that would be followed by a music hall song and maybe Dick Corbett the landlord would sing The Bachelor Song, better known to folklorists as The Foggy Dew.
'The Old Armchair would put in an appearance, hotly pursued by the Farmer's Boy and a song from singer Doug Phillips called The Young Countryman Who Kept Company With Me, to the tune of the traditional song The Female Drummer.
'The ubiquitous Threshing Machine would usher in anything from Charlie is my Darling through to Crystal Chandelier, but might equally be followed by Died for Love or any other song of traditional pedigree.'
Dow says the atmosphere in the White Lion 'gave lie to academic wrangling, or musical pretensions. The singers gave voice with a wilful celebration of life and living'.
The old songs venerated in folk clubs or condemned to dusty books on library shelves, 'shook themselves and marched in again proud to be next to their cousins from any number of distant musical mediums, including the hilarity of the music hall, and the unabashed lyrics of the rugby song.'
Would Cecil Sharp have turned in his grave? Dow thinks not.
'Perhaps the end of the rainbow is not so far from its beginning.'
Musician Simon Emmerson, who lives in the village, is fascinated by the White Lion's musical history and Dow's research. He is the founder of folk musical project The Imagined Village, which produces folk music representing modern multiculturalism in the UK. The band features musicians from a wide variety of ethnic and cultural backgrounds.
He and Dow have been in touch.
Says Emmerson: 'When I moved into Broadwindsor 15 years ago, I had no idea of this connection with folk music. It came as a great surprise when I introduced myself to someone in the pub and he told me that the village has a long tradition with taking people to Sidmouth Folk Festival since its inception.
'In researching music for my project, The Imagined Village, I found records at Cecil Sharp House of folk collectors coming to the school in the village to record folk dancing. This tradition was still alive and active at the time of Nick's recordings. Steve Knightley of Show of Hands told me that West Dorset was a fantastic place for folk music.
'It was an absolute delight to find these past recordings that Nick has. The only missing pieces of the jigsaw is to bring back singing in the local tradition. Wouldn't it be great if all the pubs in West Dorset were full of the songs they were only 30 years ago?'
• Nick Dow has been singing and collecting traditional folk songs for over forty years. He has gleaned songs from the West Country, and been given songs by the Travelling people with whom he has lived and worked. Nick Dow is trained in the dying art of Gypsy wagon painting, and has worked as a painter for a long list of celebrities including Ronnie Wood of the Rolling Stones.