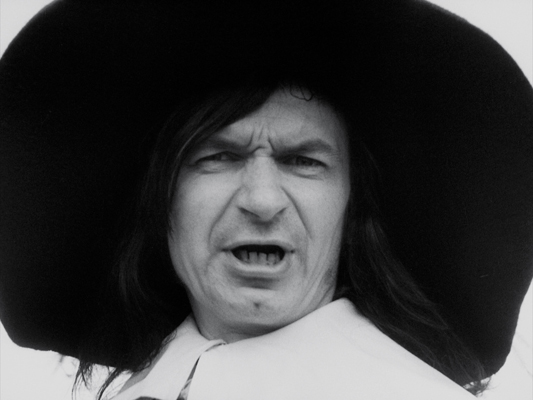 What was the starting point for the film?
The past is another country, so people say. This was certainly a prominent thought when I first sat down to watch the old clips and lost films from the archives of the British Film Institute.
Towards the end of 2015, I first heard about the BFI's plans to make digital the many thousands of hours of footage that made up what they called 'the rural collection'. I got in touch with their head curator, Robin Baker, who was wonderfully supportive of a very vague notion of making a film from the material. It was almost a year later when Paul Wright, a young filmmaker from Glasgow), came to stay with us at Toller Fratrum. We shared the sense of alienation that came over us while watching these old, flickering images of Britain, particularly the scenes of folk festivals and celebrations.
Watching these old moving images is time travelling. And this idea become the centre of gravity for Arcadia. Being alien what we were watching seemed to speak not only of a personal response but also a generational disconnect from the land and the rural cultural that once thrived within it.
Was it challenging, going through all those hundreds of hours of archive film?
The challenge was less the physical act watching. The curators at the BFI are brilliant: they know their material. And we also hired somebody to watch the footage – there was simply so much of it! The real challenge was how to shape the archive footage into a film that could resonate audiences of today.
Meeting this challenge took us back to those early, personal reactions to watching old films. We tried to say No, the past is not another country. The past is always relevant, and perhaps always present. By taking lost and old footage, even if the subject matter contains things we may know little or nothing about, how we respond and give them a new context makes them relevant. By taking them out of the archive, dusting them off, and putting them together in sequences with other images that prompt different emotional responses: there is a kind of alchemy in this that cinema allows. Through the prism of the rural archive, Arcadia has also become a visceral commentary on our shifting – and contradictory – relationship with the land.
Was the original musical score an important part of this?
We didn't want the film to have one particular voice, telling us a story or making an argument. There are no actors, either. So you need something to bind the images and moods together, to accompany and enhance the contrasting emotions and ideas that the images trigger. Music was essential to this, and I worked initially with Colin Greenwood from Radiohead to explore different approaches and genres.
From the start, it was clear that the idea of folk music could be problematic put alongside images of the countryside and folk culture – it could create a parade of nostalgia rather than allowing for the stranger, darker aspects of the film to unravel. Folk was still important, but there needed to be a blend of genres – soundtrack that melts across genres, from folk and hymnal to punk, acid house and rave. Once we had a rough first edit, Adrian Utley (Portishead) and Will Gregory (Goldfrapp) agreed to watch a cut – their influence on British music is huge and exactly the kind of genre-melting that the film needed. They loved what they saw (even if some of what they saw put them on edge!) and agreed to start writing for it.
Adrian and Will are the kind of composers who throw themselves in deeply, and they worked intensely together writing and playing and recording while the editing was finished. Arcadia also uses 'natural' sound: the wind in the trees, the pitter‐patter of rain, the mechanical changes in agriculture and our re-modelling of the land. Using these sounds sparingly and at the right time, the soundtrack worked with these moments to vary the pace and energy, balancing music, silence and sound around the broader themes and moods throughout the film.
How does the film reflect the historic and future work of Common Ground?
Founded in 1983 by Sue Clifford, Angela King and the writer Roger Deakin, it has become well-known and well-loved for initiating projects like Apple Day, New Milestones, Local Distinctiveness and Parish Maps. Common Ground is not a think tank or political pressure group. It's a very small, grassroots organisation that collaborates openly to reconnect people with nature and inspire communities to become responsible for their local environment. Enjoying where you live and celebrating the connections you have with the wildlife and landscape on your doorstep, is at the heat of this work. In uncertain times, this kind of enjoyment and resolve strengthens community resilience and cohesion.
Cinema is just one way of celebrating, questioning and bringing people together. Not only is the process of making films collaborative, but the screening of films creates a community event, a coming together which is becoming harder and harder to do, especially in the countryside. With Arcadia complete, taking us on a journey through the contradictory ideas and images of the land we live in, Common Ground is encouraging communities to host screenings of the film to widen conversations about nature and the land. It is also working on new film project and exploring the imaginative use of archives and storytelling in education and conservation.