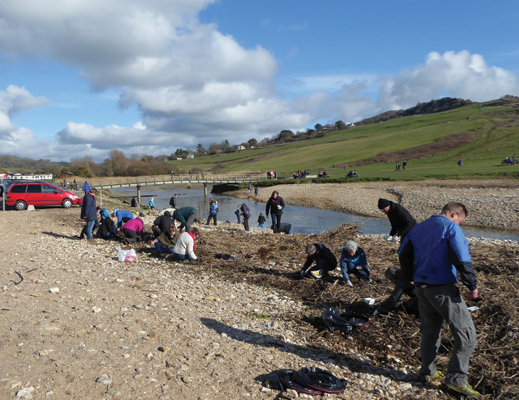 You may have never knowingly encountered a nurdle but these small plastic pellets are the raw material of the plastics industry and are ferried around the world in their millions. About the size of a small pea, nurdles come in many colours and they're finding their way on to our beaches, killing wildlife and polluting the environment. I wanted to find out more about these unwelcome intruders, so I joined a nurdle hunt organised by the Charmouth Heritage Coast Centre.
Charmouth beach was surprisingly busy that morning but it was half term and, for mid-February, quite warm in the low sunshine.  Many people were walking by the sea, taking advantage of the mild weather, perhaps hoping to find a fossil, but an expectant crowd had also gathered by the steps to the Heritage Coast Centre. At precisely midday, Sophie Thomas, one of the Centre wardens, walked down the steps together with local volunteer Eden Thomson and gathered us together. Sophie began by explaining what nurdles were and how they washed up on the beach from the sea. She emphasised the dangers these plastic pellets pose to wildlife such as birds and fish who mistake them for food. Each of us was given a pair of disposable gloves, to guard against toxic chemicals contained in the nurdles, and an empty margarine pot for nurdle collecting. Then off we went, about thirty of us, to hunt among debris washed up on the west bank of the river Char between the two beach car parks.
And what a fine sight we were! Young and old, locals and visitors, families and children, sitting or lying on the ground, enthusiastically scouring the debris for the plastic pellets. It was a fascinating event, although we did get some funny looks.  Everyone found pellets in large numbers, not just on the surface but also buried a few centimetres down showing how pervasive they are. Some were smooth, grey and cylindrical and a few were lentil shaped, white, yellow or green. The vast majority, however, were bright blue cylindrical pellets, about 5mm in size, with fine ridges.The grand total for the group was 6650 pellets collected in 90 minutes from this small section of beach, highlighting the extent of the contamination.
What do we know about nurdles and how they get into the sea to wash up on our beaches? These small plastic pellets are made from oil or natural gas to provide an easily transportable raw material for use in plastics factories all around the world. Most of the plastic products that now dominate our lives are made from nurdles and huge numbers of the pellets are transported by ship, so there is always the potential for spills. In October 2017, two containers of nurdles fell from a ship in the port of Durban leading to massive nurdle pollution along more than 1000km of beaches. Closer to home, the storm-damaged container ship, Napoli was beached off Branscombe early in 2007 leading to hundreds of containers breaking free. Two containers were filled with nurdles which washed up along many local beaches.These environmental disasters have been likened to oil spills, only worse as the nurdles do not break down.
Nurdles can also end up in the sea through careless handling at plastics factories. The environmental charity, Surfers Against Sewage, visited several plastics companies in Cornwall and found nurdles littered around the sites.  These will inevitably be blown or washed into drains and into the sea.  Another kind of plastic pellet, wrinkly or ridged, has been found in large numbers on beaches in Cornwall by Rame Peninsula Beach Care. These are biobeads, easily confused with nurdles but with a completely different purpose. Some sewage works use biobeads as part of the wastewater treatment process and the pellets get into the sea through careless handling by water companies.
Why should we be concerned about nurdles and biobeads? They are a totally unnecessary form of pollution in our seas and on our beaches and their presence shows a lack of respect for the environment. They are now found all over the world wherever the sea meets the land: on beaches in industrialised countries or on isolated, sparsely populated islands. Not only do they pollute our beaches, they are eaten by seabirds and fish who mistake them for food. Once consumed, they block the digestive tract, lodge in the windpipe or fill the stomach leading to malnutrition and starvation. For example, analysis of dead puffins on the Isle of May in Scotland, home to one of the UK's largest breeding populations of these birds, showed they had consumed nurdles alongside their usual diet of sand eels.
Nurdles are also a source of toxic chemicals that may exacerbate their physical effects.  Freshly spilt nurdles may release chemicals such as plasticisers used in their manufacture.  Nurdles that have been in the sea longer attract toxic chemicals such as PCBs and DDTs. These substances may have a toxic effect on seabirds and fish that consume them and have unknown effects on humans who encounter them on beaches.
What can we do about the nurdle problem? Industry needs to improve handling procedures and make sure nurdle spills are cleared completely. Operation Clean Sweep is a plastics industry programme aimed at eliminating pellet losses but, as yet, it is only voluntary. In the longer term, we need to reduce our dependence on plastics, especially single use plastics.
Nurdle hunting can also help by raising awareness and by reducing pellet numbers in the environment. As Sophie Thomas said to me "A nurdle collected is a nurdle out of the sea". Occasionally, it may be possible to infer the source of pellets based on their appearance and properties. For example, the pellets found at Charmouth are unusual compared to those I have seen on other beaches. Although some at Charmouth are true nurdles, the majority are the bright blue cylindrical type with fine ridges, more typical of a biobead. If these are indeed biobeads, how are they getting on to Charmouth beach?