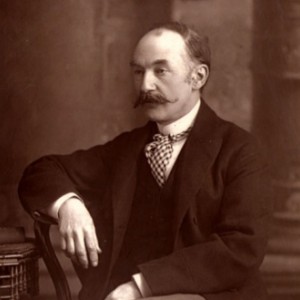 When I was a small boy, we had a large framed silk depiction of all the flags of the participants in the 1914—1918 War, on a mauve background and the legend 'Victory for the Allies', hung on the wall. I am not sure now what the centre piece was, a faded oval photograph of either the King and Queen, or of my father in army uniform. I imagine my father brought it home from India. I wonder what happened to it, as it disappeared long ago and I imagine my mother, a great person for 'getting rid of old rubbish', probably did just that. What a shame.
Something that mother did not throw away in the early days were faded family photographs, some of which showed my Dorset grandfather, with the large felt hat (trilby?) of the 1920s and sporting a large moustache. I now realise where I have seen a similar photograph, of course, Thomas Hardy, the famous writer. Perhaps it was the sepia print, or is it a Dorset face?
More often seen hanging on a wall would be an embroidered sampler, or a poker work wooden plaque bearing the motto, 'Home Sweet Home'.
One can imagine either of these on the wall of the cottage at Higher Bockhampton where Hardy grew up. I had not realised until recently that Thomas Hardy was one of a family of four, he had a brother, Henry and two sisters, Mary and Katharine. Only Thomas became famous, as the others were like most people, useful in their own right, but not 'special'. A small monograph, published by the Thomas Hardy Society, written by Professor Donald J. Winslow, 'Thomas Hardy's Sister Kate' has enlightened me about the family. Katharine was known as 'Kitty' or latterly 'Kate' and was the youngest, four years younger than Henry and sixteen years younger than 'Tom', who was closer to Mary, his junior by only a year.
Their father, another Thomas, was a mason and builder, which probably influenced his son Thomas to begin his working life as an architect. Henry became a builder and inherited the family brickyard in Broadmayne and the business. The two girls went into teaching, studying at Salisbury Training College, but not together, owing to the age difference. Prof Winslow says Hardy used their experiences in 'Jude'. Kate received her teacher's certificate, second class, in December 1878, having served the required period of probation at Sandford Orcas School. Later both sisters taught at Dorchester Church of England Girls School, Mary becoming headmistress and they lived together. Eventually Thomas gave Kate a terraced house in Wollaston Road, which the two girls shared.
Their father died in 1892, aged 80, but their mother lived until her ninetieth year. The two sisters returned to Higher Bockhampton by 1904, the year their mother died.
The brother, Henry, built the house at Max Gate, to designs by and for Thomas. Henry had inherited land in West Stafford, from their father and also built a house there, Talbothays Lodge, also designed by Thomas, similar to Max Gate. Henry and his two sisters, Mary and Kate then lived at Talbothays Lodge until they each eventually died there. (The family had never owned the house at Higher Bockhampton).
From Kate's diary it appeared that they usually had visitors for tea, including occasionally brother Thomas and Florence. Kate was fond of music and played the organ at Sandford Orcas and later Thomas bought her a piano for Talbothays, which she played for him at tea time! In 1931 Kate bought a new organ for Stinsford Church.
Signs of the period are that Henry had a 'wireless set' installed in 1926, which was troublesome and Kate wrote that it 'was no end of expense and trouble' and Thomas was 'not pleased at our having Wireless—says tis too expensive'. Later on they were able to hear the Armistice Day programme 'beautifully'. Thomas eventually succumbed and said his dog liked to hear the news! They also had the telephone put in at Talbothays, but a 'party line' until 1936, when Kate had a private line installed. Thomas and Florence were encouraging about this, although it was some time before he would use the one at Max Gate. In 1924 Henry bought a Sunbeam Talbot open car and by his 73rd birthday was taking family members for drives. The same year he drove to London and back. He was a fast driver, whereas Thomas used a chauffeur, driving at not more than 25 miles per hour.
Although Kate was later involved in meeting famous people, known to Thomas, there were occasions when she was left out, even ignored by Thomas. In 1916, she 'went up to see him but he did not care about seeing me'. Again in 1918 she took flowers to the Stinsford graves, whilst 'Tom and Mr Cockerell …. either did not, or would not recognise me'.
After Thomas Hardy's death, Kate became more involved with his associates, corresponded with Eden Phillpotts, was visited by Gertrude Bugler, etc., culminating in opening the Thomas Hardy Memorial Room in Dorset County Museum, with John Masefield, Poet Laureate, in 1939.
Bridport History Society will learn about 'The Hardys at Home' from Jacqueline Dillion on Tuesday November 8th at 2.30 pm in the Main Hall, Bridport United Church. This will involve memories of Max Gate. All welcome, entry for visitors £2, with refreshments. More information from 01308 488034 or 456876.
Cecil Amor, Chairman, Bridport History Society. Tel : 01308 456876.