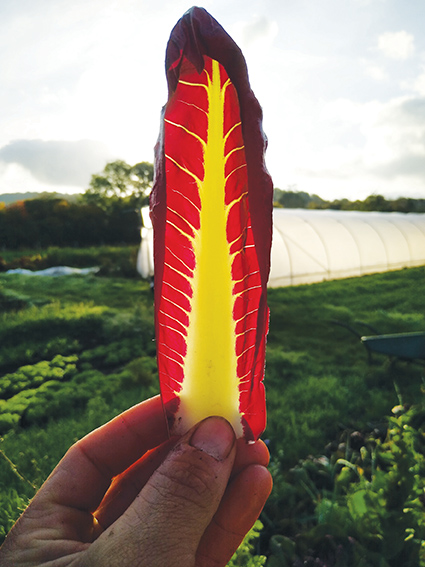 December is a very natural time to be delving into seed catalogues to see what jewels they are offering for the coming year. It's a time to reflect on the year gone by and think about what worked well for you as a vegetable grower and what didn't work out quite so well. Some of the things that didn't work out might just need an alternative growing approach, some may not have worked due to weather conditions, whilst others may be that certain crops do not suit your growing conditions. Simply changing sowing dates for certain crops may make a huge difference to how successfully they grow for you. For example we tend not to grow rocket and mustard leaves for our salads through the middle of summer as they go to flower so quickly and also flea beetle end up peppering them with lots of holes (and they always sneak in under the mesh no matter hard we try to keep them out). Also, we end up getting a lot of mildew on certain crops through the autumn, and we can choose alternative things to grow that do not suffer so much from mildew. For example a lot of the lettuce varieties that we have tried get mildew from October onwards, whereas this is peak chicory time, and they rarely suffer with mildew, so we choose to grow more chicory through the autumn and winter.
There is no need to make things more difficult for yourself as a grower when so many of the solutions come down to just growing what is suited to grow at specific times of the year. Sometimes sowing dates can be really specific to ensure that a crop performs at its best, and again chicory is the perfect example of this. Most chicory varieties are best when sown on the first week of July (and planted out from trays around 3-4 weeks later)—this allows enough time for the heads to bulk up before winter, but it is not so early that they will end up wanting to flower. Often a crops life cycle is determined by day length, so after summer solstice, as the days begin to get a little shorter, many of the crops that would bolt (go to flower, rather than focus on leaf production) if sown earlier in the year will be less inclined to bolt if sown through July. Examples of this include chicory, fennel, rocket and mustards. So, spend a little time looking through what you hope to grow next year and double check when is best to sow it (often the seed packets are very vague and don't give enough detail on sowing dates—have a look at Charles Dowding's website or books for excellent information on sowing dates for lots of different crops).
We will be running more salad growing, seed saving and market gardening courses next year at Trill Farm Garden, so keep an eye out for dates. Also, if you haven't got space of your own to grow veg you can always try a bag of ours—more details at www.trillfarmgarden.co.uk
WHAT TO SOW THIS MONTH: Best to wait until next year now!
WHAT TO PLANT THIS MONTH:
OUTSIDE: Garlic (if not planted already)
INSIDE: peashoots, sugarsnap and early pea varieties, spring onions, broad beans, garlic (for extra early garlic). Try and plant all of this early in the month.
OTHER IMPORTANT TASKS THIS MONTH: If the weather dries, continue preparing beds for the winter by mulching with compost (or hopefully you sowed plenty of green manures to keep the ground in good health through the winter, in which case you can leave the beds to look after themselves). Also any polytunnels or glasshouses could have a wash this time of year to get the maximum amount of light in for any winter salad and veg that you have growing in them. Don't be tempted to tidy things too much—its always good to leave plenty of crop residue for worms and leave nettles for habitat for overwintering insects. Take the opportunity to take it a bit easier!